SPRINGFIELD, Ill. — Some Illinois legislation approved this spring was personal to State Senator Scott Bennett, a sixth-generation farmer who also chairs the Senate Agriculture Committee.
With low commodity prices, trade uncertainty and weather concerns, there is "a lot of pressure on farmers right now," he said.
Bennett, D-Champaign, said he was glad to see funding directed to revive the Farm Resource Center that was founded to help farmers in crisis in the 1980s.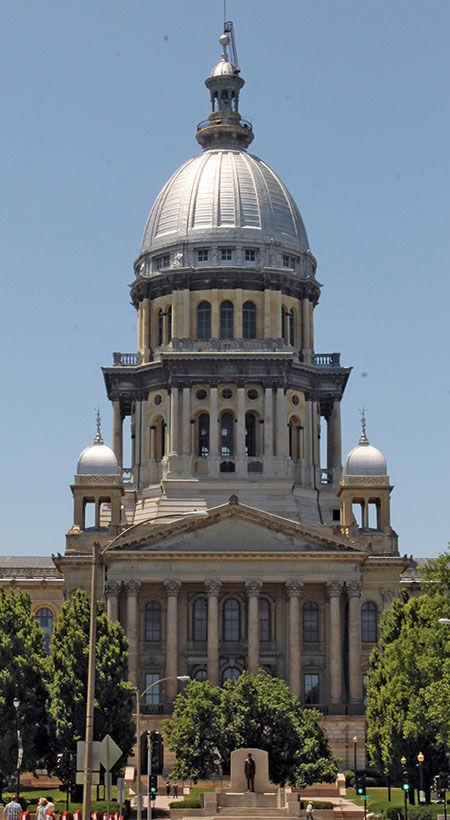 It will be done in coordination with Southern Illinois University School of Medicine, which already has a strong mental health program. With depression and suicides rates high for farmers, it will offer services that will make a difference, Bennett said.
"A few hundred thousand dollars" will be allocated to the program for the basics — hiring one or two trained psychologists and farmer advocates. Bennett said he believes it is a good idea to start with a small amount of targeted funding. More funding with more bureaucracy could "be too late and not in the right place," he said.
The program may include things like having an advocate available to go to a bank meeting with a farmer. In small towns, the banker may be a friend or go to the same church, making it more difficult for a farmer to speak up. The advocate will know more about rights, options and questions to get a better outcome, Bennett said.
Bennett is also pleased is see the value of improving broadband in rural areas recognized in the budget.
"I thought that was a huge recognition from the governor's office," he said.
Without accessible broadband, rural residents can't apply for jobs or other everyday things done online, he said, voicing his support for $400 million to be directed for expanding rural broadband.
Priority setting
Advocates for agriculture are happy about some of the things that happened in this legislative session, which ended June 2. Other things, not so much, said Rodney Weinzierl, Illinois Corn Growers Association's executive director.
The new governor focused his attention on his set of priorities, putting other issues on hold temporarily. In some cases this was good for farmers, Weinzierl said. It meant some proposed regulations that would likely have a negative effect on the ethanol industry or the livestock industry were not acted on, for example.
Gov. J.B. Pritzker "was very effective in working on and passing his big priorities," said Weinzierl. One of those was infrastructure spending, which will be good for farmers, with money directed to improving roads and bridges.
But farmers "are not super excited" about all the money to be spent in general, he said.
The Democratic governor required a constitutional change to get his priorities to happen, including the $45 billion capital construction plan, Weinzierl said.
Pritzker also made headway in his plans for statewide expansion of gambling and legalized marijuana.
"In 13 years as a senator, I have never seen a governor accomplish so much in his first year," said Sen. Linda Holmes, D-Aurora.
She said farmers she has talked to are in favor of the construction bill.
"Farmers are always concerned about our roads and bridges," she said.
Holmes, the vice-chair of the Senate Agriculture Committee, said she was also glad to see more bi-partisanship this year. Passing a balanced budget that includes covering pensions was one of the positives of the session.
Big and small victories
Of the efforts going forward, Weinzierl is pleased with the new cover crop cost-sharing effort that the Illinois Corn Growers Association worked on with the American Farmland Trust, the Nature Conservancy and others. It was based on a similar effort Iowa passed last year, he said.
The $5 per acre discount on crop insurance for cover crops will work as an incentive for more farmers to use the practice, he said.
At the end of the session, a proposal that would affect oil refineries and ethanol plants' manufacturing process was introduced, but eventually was put on hold. If passed in Illinois, it would put the state in a position to be less competitive with other states in attracting ethanol plants in the future, Weinzierl said.
"We feel good about it being held," Weinzierl said, but it will be one to watch.
Agricultural advocates focused this session on drawing the attention of the new governor and 50 new legislators in the General Assembly to agriculture issues. Efforts continue this summer to provide information about issues of interest to corn producers and other farmers, he said.
It was a busy year with a new governor and an aggressive agenda, said Kevin Semlow, Illinois Farm Bureau's director of state legislation.
"The biggest victory we had this year is that the Livestock Management Facilities Act (LMFA) stays in place," Semlow said. Some groups wanted change, but "cooler heads prevailed," he said.
He does worry that the Department of Agriculture will have a lot more responsibility with the passing of the hemp bill and the legalization of recreational marijuana. Both will fall under its jurisdiction.
"It will be a huge burden," he said of adding those administration responsibilities to the department.
However, at the end of this legislative session, the Illinois Farm Bureau was pleased to see funding allocated for the reinstatement of the Farm Resource Center which Bennett championed, funding for state fairs, dollars to stabilize Extension and the incentives for cover crops.