MATOON, Ill. — Bill Dean has seen fire and he has seen rain, but he knows how to rebuild from a setback. He's done it a few times in his more than four decades in agricultural business.
He grew up on a family farm with corn, soybeans, cattle and horses in eastern Illinois. Dean did not see himself in a career with livestock, but liked the connection to agriculture, so he studied civil engineering.
By the time he was 20, the young entrepreneur was working in the agricultural tiling business.
In more than 44 years in the business, Dean has seen a lot of changes, including what tile is made of and how it is laid. He started with concrete tile and switched to corrugated plastic tubing in the early 1980s.
"Systematic tiling changed the business," he said.
Conquering challenges
Like farming's profitability goes in cycles, Dean has seen ups and downs in his business, he said. There were some pretty tough years in the late '70s and early '80s. It made him take tight control of his finances to position himself for the future.
But the biggest challenge for Dean Drainage came on Nov. 3, 2013.
"We had a major fire. We lost all five of our trucks," he said.
The trucks and other equipment were inside the building that housed a lot of their equipment in Mattoon, Ill.
"We were lucky our 'yellow iron' (including back hoes) weren't here," he said.
Like a basketball rebound, Dean grabbed what had been dropped and ran with it. He acted quickly when he needed trucks to get the business up and going again.
"I bought three trucks, sight unseen — which I'd never do," he said. "We were knee deep in alligators," he said of the timing of the fire — just before the busy tiling season after corn harvest. "We got a lot of support from all of our customers. In a week's time we were back and running."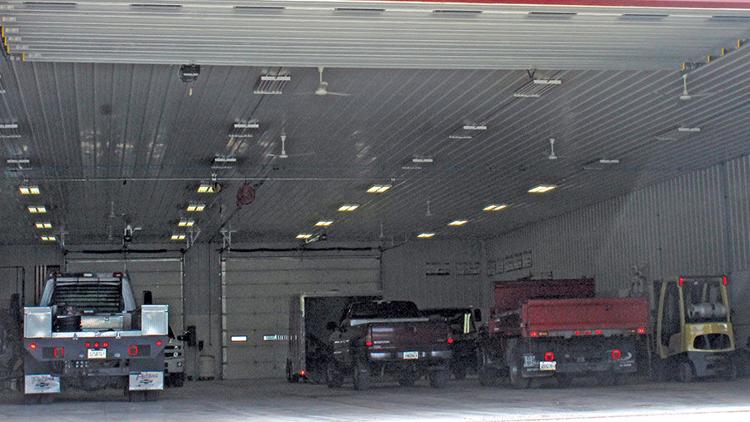 Building better
The next part of rebuilding was constructing the actual building.
"We needed a building as soon as possible," he said.
He chose another Morton building styled to his needs. The new structure was to be bigger, coming in at 81x136 feet, and designed to meet specific needs of their business including heated floors. Dean is very happy with the insulation in the new building and a variety of other features to meet his needs.
It was designed with a loft bedroom suite above the offices that includes a sleeping area, which comes in handy during the winter for his snowplow drivers to get some sleep between shifts.
The building also includes offices, a staff breakroom and large storage and working area for the equipment used in tiling, snow clearing and other agricultural work. Dean has no trouble getting this equipment in and out of the 15-foot-high, 35-foot-wide doors.
Another specialty feature is a 3-foot-wide cut in the flooring so the dig wheel of the tiling machine can roll into it.
After his experience going through a fire, one tip Dean would give others is to "take an inventory of all equipment in the building," he said. It may be surprising how much is in the building and difficult to recall all the details at the time of an emergency.
While fire was the challenge in 2013, rain caused issues this year. The rain delays in planting will push back crop harvests, which delays when Dean can get the tiling equipment in. But he is one to see light at the end of the tunnel, or in his case, at the end of the tillage pipe.