The uncertainty of trade with China over the past two years highlights the need to have a variety of export markets. Usually it is a long-term investment to build a trading relationship.
Such is the case with India. Jayma Appleby, director of industry relations for the Illinois Soybean Association, recently traveled to India with a delegation of seven, including four soybean growers and three association staffers.
From the visit, the group concluded there is long-term potential for trade with India, but it is not as prominent over the near term for a variety of reasons. The country's ban on GMO products is one of the reasons U.S. soybeans will not find a market there soon.
Appleby said while India's government says it wants to make science-based decisions, there is no follow through.
"We don't think that will change in the near future," she said.
The latest trip to Mumbai and New Delhi was a little different from some missions, Appleby said. Some trips look for potential markets or examine the competition. This trip focused on market growth potential.
Instead of meeting with the usual ag companies and groups, they met with experts in law, taxation and transportation and leaders from Microsoft and a non-profit group to get a picture of the country and its potential. They also met with Cargill and other agricultural companies.
Part of the goal was to see if it was time for the U.S. to start development a free trade agreement with India. The group decided it is a little too soon, Appleby said. But there is potential. The average income of people in India is expected to triple by 2025, and the annual population growth rate is 10%.
The thing that surprised Appleby most on her visit was the amount of progress being made digitally — and how quickly it is happening.
"It's a huge cultural revolution," she said.
In the last 18 months, a company has begun selling low-cost smartphones to the public, which she calls a game changer. Suddenly the inexpensive phones are being used to pay taxes, in banking and communication. There are 12 cash pay apps alone.
"We think India could be the next China — maybe in 2030," said Jim Martin, a Pontiac, Illinois, crop farmer and ISA treasurer.
Investments are being made in the country's infrastructure to accommodate the growing population. However, much of that transportation network is currently restricted to the coast, Appleby said. There is not a connection from areas of production to processing.
The lack of grain storage is also an issue.
Looking at her calendar of events for the month, Appleby notes other up and coming Asian countries are sending visitors here. The Illinois Soybean Association is hosting a delegation from Indonesia. Representatives from Taiwan will be visiting to sign a letter of intent agreement for trade, and Illinois Gov. J.P Pritzker will be at that event, she said. Also coming up is a delegation of Korean feed manufacturing buyers.
These Asian countries are big shipping-container customers, she notes.
Illinois' infrastructure works well for using shipping containers to take products worldwide from its ports in Chicagoland, said Eric Woodie, trade analyst for ISA. He hopes to see more opportunities where containers bring items from Asia and can return with soybeans and soybean meal.
"It's been 15 to 20 years in developing this business," he said.
Container shipping is already big with Taiwan, Japan and Korea in particular.
"We hopefully want to expand," said Woodie, who is a trade facilitator for ISA. "You don't want to just sit back and hope — hope that more trade comes your way. We are always involved."
Sri Lanka and other Southeast Asian countries offer opportunities.
"We have seen 40% growth in containers in the last five years," he said.
Woodie said establishing relationships with international buyers is similar to making connections with U.S. consumers today. They like to know where their products come from and the people involved. That is evident when international visitors come to Illinois as well, he said.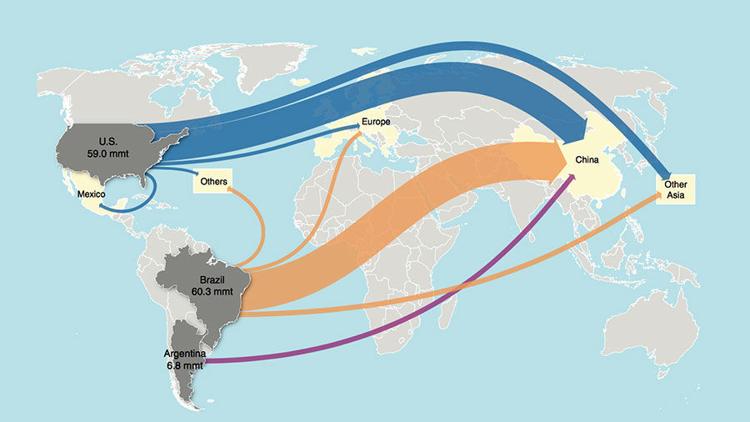 Martin has been able to interact with buyers internationally and welcome them to his farm in Livingston County. This summer during the Farm Progress Show, he hosted a number of international visitors.
"They were interested in our practices, in the history of our farm," he said.
They also had questions for the Illinois Department of Agriculture representatives on the tour about ethanol manufacturers, he said.
Other countries that appear to be up and coming as buyers include Myanmar and Burma, Bangladesh and Sri Lanka. These countries are in the early stages of growth, Woodie said. Political unrest could set any backwards, but their protein consumption is increasing.
"The U.S. is in a particularly good place to supply it efficiently at a competitive price," Woodie said.
Other counties, including Indonesia, Vietnam and the Philippines, have been growing as partners over the last 5 to 10 years, said Woodie, who visited Indonesia earlier this year and sees it as a good fit for trade with Illinois, in particular.
Indonesia buys a small amount of soybeans, but it buys them consistently and receives delivery via containers from Chicago. The beans are mostly used for producing tempeh and tofu.
Visiting these countries, building relationships and seeing the buyers needs can help Illinois suppliers adapt, Woodie said. As relationships develop, "hopefully trade will follow," he said.
"Things are always changing in global demand," said Collin Watters, Illinois Corn director of exports and logistics.
Watters cites Vietnam as a country that keeps changing. It has established itself as a livestock producer importing grain feed. There is also a growing number of wheat mills in the county. With a French heritage and a love of bread, the flour industry is growing, said Watters, who became aware of those trends in his previous job with the Montana Department of Agriculture and as the executive vice president of the Montana Wheat and Barley Committee.
Some trading partners are pretty consistent, such as Japan, a mature economy with a consistent population. Their use of corn is mostly as livestock feed. Watters wants to see that continue.
"We need to have trade agreements and partnerships. It's of real importance," he said.
On the top of his wish list for agreements are the United States-Mexico-Canada Agreement (USMCA), which is important because of geography, and the China agreement because of the size of that market.
However, he notes there will always be conflicts or opportunities for better agreements.
"There will always be more to do next," he said.