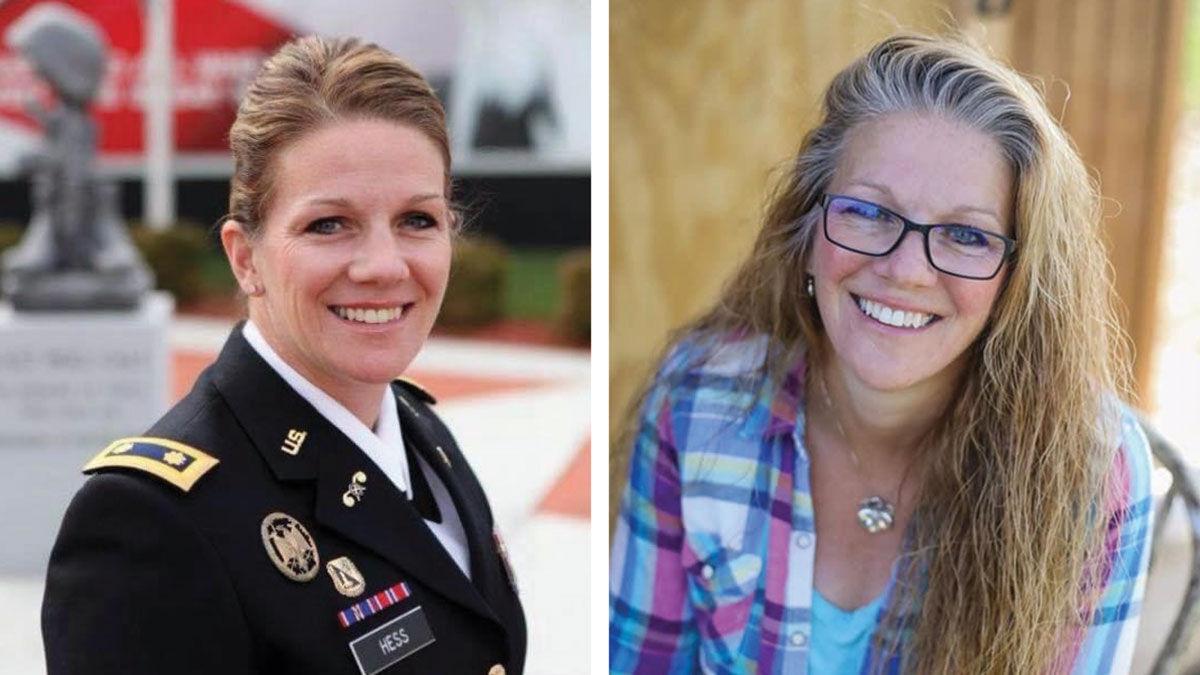 As a 22-year Army veteran who spent time in more than one hot spot, Amy Hess isn't a chicken. But she is proud to be called a chicken farmer.
The Illinois native served in the Army and the Air National Guard, first as an enlisted woman and later earning a commission. She retired in 2012 as a major and is enjoying her "retirement" on a small poultry farm near Aledo, Illinois, in Mercer County.
While Hess didn't farm prior to her military service, she is no stranger to the soil. Her father farmed in different places while she was growing up.
"I don't have any of my own experience," she said. "I just jumped in and rolled my sleeves up."
She is barely two years into her new tour of duty.
"In June 2019 I bought 15 acres, and now I am what you would call a poultry farmer," Hess said. "I raise chickens, ducks and guineas. I just started my first year with turkeys."
She embraces her new role as a niche farmer operating a direct-to-consumer business with a personal touch. That includes an old-school egg delivery service.
"I also raise Cornish-cross meat broilers," she said. "I've been doing that a little over a year. My last batch is going to the processor soon, then I'll be transitioning to a dual-purpose bird, the Speckled Sussex. I started raising them in January and hope to start processing them later this fall."
When Hess left the military, she explored several options for easing back into civilian life. Agriculture was high on the list.
"I had some different ideas of what I could manage," she said. "I wasn't looking to be a big row-crop farmer; that's not easy to get into. I live in a small-enough area where I could raise backyard chickens. I tried with a few in my backyard and enjoyed it.
"When I moved out to this little farm, it just grew. I'm pretty small scale. I had my eyes on being local, staying local and serving local."
She served as a chemical officer and in security forces, training others. Most of her Army experience was in a leadership role. She deployed to Saudi Arabia in 2002, facing a world thrown into turmoil following the 9/11 terrorist attacks.
"It wasn't my favorite highlight," Hess said. "It was the beginning of the global war on terror. It was such a turbulent time."
The culture divide in the Middle East was jarring.
"Being a female commander and operating in a male-dominant culture, that wasn't easy," she said. "We were so uncertain of who was doing what and where. It was a very troubled time."
That conflict is far behind her now. She is happy pursuing a pastoral life. She delivers eggs three Saturdays a month and has farm pickup on the fourth Saturday. She obtained her state egg license over the winter and now supplies a local restaurant with eggs for its breakfast buffet.
"I really enjoy raising chickens," Hess said. "I raise specialty breeds, so I have a very colorful pallet of eggs."
She is a firm believer in the value of community service, recently donating 30 dozen eggs to classrooms that will hatch chicks in incubators.
She credits her time in the Army for help with developing and achieving goals. As with many pursuits, agriculture can benefit greatly from military discipline.
"I'm thankful for it," she said. "It was an easier transition with my core values that I bring from my military experience to my farming experience. We truly are there to get the job done. Whatever needs to get done gets done before the day is done."
She has gladly traded in her military footing for a peacetime role.
"It's very purposeful, but it's very peaceful," she said. "It's rewarding. All of those skills and experiences in the military lay over into our farming experience. It takes same tenacity to get the job done. In farming you have to be resourceful. That's key. It's meaningful to get up and do this every day."