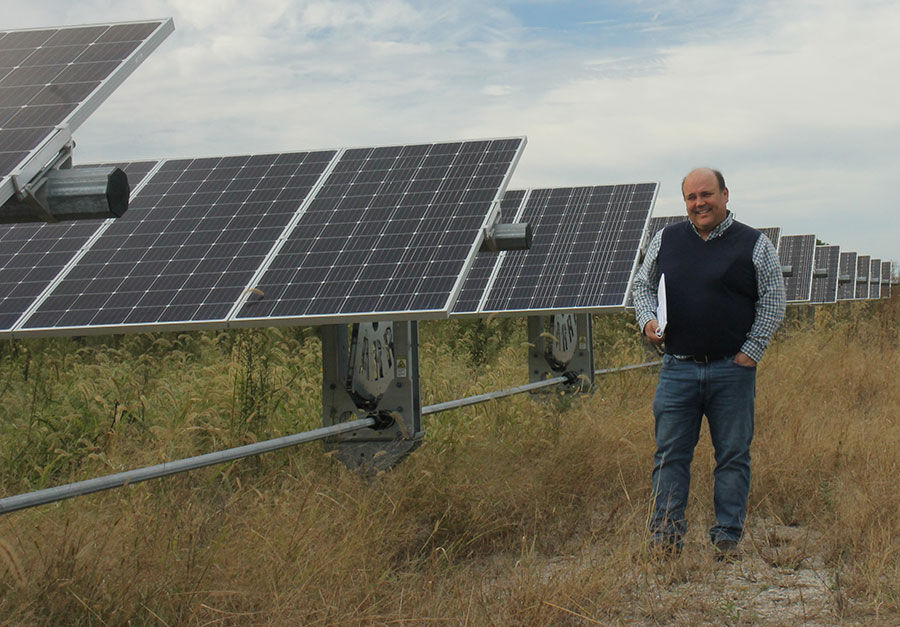 ASSUMPTION, Ill. — At a time when environmental sustainability and saving money are in the spotlight, several Midwest businesses and individuals are highlighting solar energy projects. One of those, in its first full year of operation, is visible from Highway 51 near Assumption in Illinois' southwest region.
"We owned those eight acres for years," said Brian Atwood, ACGO's director of North American supply chain operations, pointing to fenced-in property at GSI's headquarters, which is now home to a solar garden.
Currently the solar farm in Assumption has about 5,400, 380-watt panels on an eight acre field. From December 2020 to September 2021, 2.4 million kilowatt hours of electricity was generated, said Cyprian Nnaomah, environmental manager based at the GSI plant, and implementer of the project.
This project is part of the company's effort to reduce its manufacturing carbon Scope 1 and 2 emissions intensity by 20% globally by 2026, he said. AGCO also has a goal of increasing its renewable energy use to 60% in the same time period.
"It's an ambitious goal," the environmental engineer said.
GSI plans to add two more solar projects in Illinois at its Paris and Taylorville operations in 2022, Atwood said.
The solar project at GSI was done in cooperation with SolAmerica Energy, a solar company based in Atlanta, Georgia, Atwood said.
SolAmerica Energy started conversations with AGCO, GSI's parent company, in 2016, about how solar energy might work to both save energy costs and meet AGCO's sustainability goals, said John Buffington of Washington D.C., vice president of business development for SolAmerica Energy.
The project really started rolling once Illinois' Future Energy Jobs Act was passed in 2016 and a few years later when incentive funding from that program started to become available, Buffington said.
Many businesses and individuals are exchanging ideas about how solar power could work for them. In September each year, the Illinois Solar Energy Association and the Illinois Solar Education Association hold a solar tour where people can visit the homes and businesses across the state to get ideas.
On the virtual tour, Ron Feltes, of Fithian in Vermilion County, told his story from his eastern Illinois home. He's been interested in solar energy since the 1970s. He got a 24-panel system in 2016. He paid $27,500 for it, and with federal grants and energy credit got about half the cost back.
"We live out in the country where there's plenty of space, so we didn't have to put it on the roof," he said. His power bill is about $60 monthly, and the solar array pays about 60% of that. According to the Energy Information Administration, the average monthly electric bill for U.S. households in 2018 was $117.65. 
His advice to those interested in solar power for their home is to go to ilsolar.org, look up the names of three installers and get some general information before choosing what might be best for them.
Today there is more interest in renewable energy among corporations, municipalities and companies, many making pledges to be more sustainable. At the same time, "solar costs have dropped considerably" making it a competitive energy option, said Buffington of SolAmerica Energy.
The company has also completed four projects with landowners/farmers in Illinois.
"Farmers are excited about the opportunity to diversify farm income," he said.
Buffington said his company hasn't built any large utility projects. They work with commercial and industrial companies on their sites and in "farm country" where the power generated is sold to the electric grid. The company's typical project is similar in size to the eight acres used at the GSI location, Buffington said
Buffington is aware of opposition to large-scale solar systems on agricultural land. He said most often the opposition he hears is from people speaking for farmers, rather than from farmers.
According to its Facebook page, Iowa for Responsible Solar, is opposed to large-scale solar projects that cover large acreage of farmland.
"We advocate for the proper siting of industrial-scale solar installations. These utility-scale solar plants threaten the rural character of our lands, wildlife habitat, our watershed, property values, and agricultural farm lands and harm nearby residents," the opposition group's site states.
Buffington said his company hasn't sited any projects in Missouri and Iowa. Illinois interest has been higher to date with the incentives starting early.
"We are getting close in Iowa," he said.
However, in some parts of Iowa, solar activity is progressing quickly. For example, on Oct. 26, MidAmerican Energy announced it is adding sun power to its renewable energy portfolio.
The Des Moines-based energy company is taking the final steps to flip the switch at its first utility-scale solar energy project in Waterloo, according to MidAmerican officials.
In mid-November, MidAmerican expects to power up the 3-MW Waterloo solar project, consisting of nearly 10,000 solar panels with capacity to serve nearly 650 average Iowa homes, said Mike Fehr, MidAmerican senior vice president of renewable generation and compliance.
"As we place more solar projects online over the next few months and years, they will boost the amount of clean, renewable energy we can provide to our customers," Fehr said, "and we're doing it while also keeping our rates here in Iowa affordable — currently the 11th lowest in the nation."
Overall, the company serves 795,000 electric customers in Iowa, Illinois and South Dakota, and 774,000 natural gas customers in Iowa, Illinois, Nebraska and South Dakota.
With additional reporting by Rod Boshart, Gazette Des Moines Bureau.