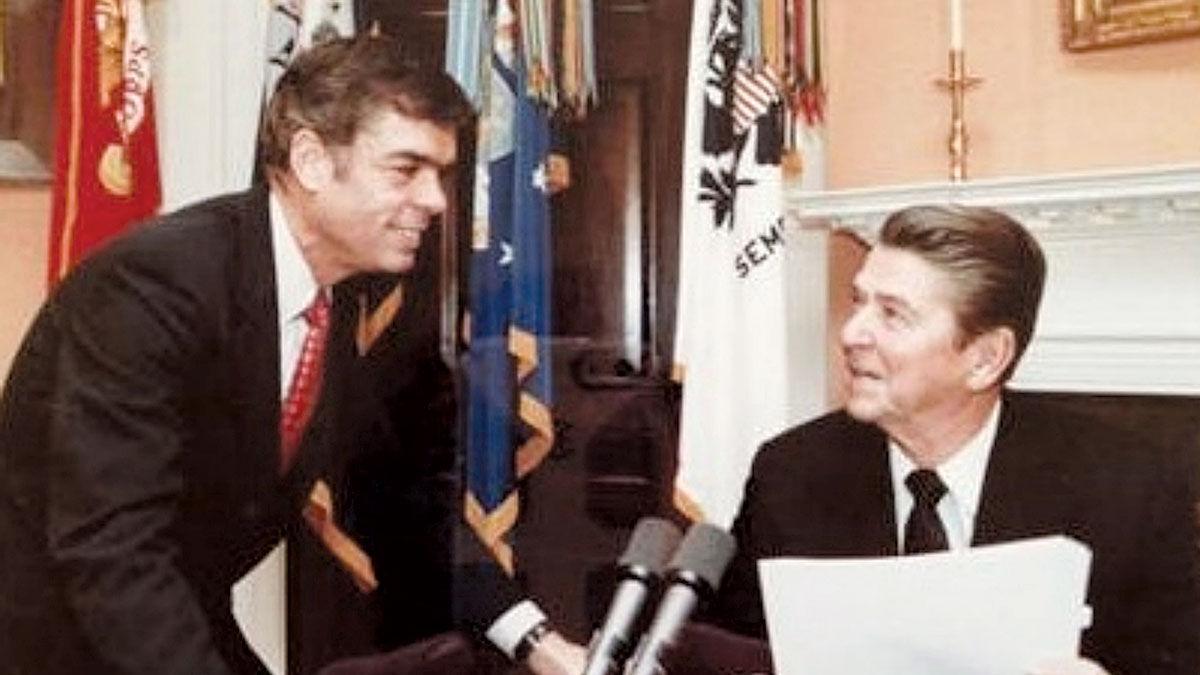 Editor's note: This is part of a series on U.S. Secretaries of Agriculture from the Midwest.
In 1981, Illinois farmer John Block became President Ronald Reagan's secretary of agriculture. Immediately upon taking office, he was embroiled in a policy dispute with Secretary of State Alexander Haig and Secretary of Defense Caspar Weinberger.
The president sided with Block.
At issue was the grain embargo that former President Jimmy Carter had slapped on the Soviet Union in retaliation for the communist country's invasion of Afghanistan. Haig and Weinberger opposed lifting the embargo. The dispute came to a head in the first Cabinet meeting convened after Reagan's inauguration.
"I said, 'This is killing agriculture because the Soviet Union had been a great buyer of farm products,'" Block said in an interview with IFT. "I got beat up in that meeting by Cap Weinberger. He said, 'We're not going to give anything to the Soviet Union now.'"
Block reminded the president that he had campaigned on removing the trade ban.
"I said, 'Mr. President, you promised to get rid of the policy of shutting off all exports to the Soviet Union.' He said, 'I'm lifting the grain embargo today.' Haig wasn't sitting up very tall. Haig got in a lot of trouble on that trade embargo because he wanted to keep it in place."
The rest, as they say, is history. Reagan dropped the embargo. U.S. corn, soybeans and other farm commodities were shipped across the ocean to the Soviet Union. It was an early attempt to mitigate what became known as the farm crisis of the 1980s.
"The president knew that it hurt agriculture a lot," Block said of the embargo. "The other thing he knew is that he said it would be lifted. He knew he needed to keep his promise."
The triumph by the Illinois farmer over two political veterans who were hard line anti-communists was a small victory, Block says. But it helped during one of the most perilous periods ever for American agriculture.
"It was a terrible time," he said. "Farmers were paying 17% to 18% interest. We were losing farmers left and right. Country banks in Iowa and Illinois were going bankrupt. Obviously, we finally turned things around, but it was really tough."
Block, a native of Galesburg, was serving as Illinois director of agriculture in 1980 when he was contacted by Bob Dole, the influential senator from Kansas. Dole encouraged Reagan to choose someone from the Midwest to serve as his agriculture secretary. He recommended Block for the post, as did Illinois Gov. Jim Thompson.
Block's address changed in a hurry.
"I flew out to California and met with President-elect Reagan at the time," he said. "We talked for a couple of hours. I went back to my hotel room, the phone rang, and he said, 'I want you to be my secretary of agriculture.' I didn't know what to say except, 'I'll be proud to serve.'"
Much of the early part of Block's time as secretary consisted of working to produce trade deals with the Soviet Union and other nations.
"They bought a lot after that. We had a major trade agreement," he said. "They were not a big producer of crops in those days. They're much better today. We also had trade fights with Japan. They wouldn't take our oranges, for one thing. I went to a lot of countries trying to open up trade deals. We did pretty well."
He believes Reagan was a true advocate of farmers.
"He was very much on board," Block said. "He listened to me and others who supported agriculture. I never had any problem. I knew we had to get rid of that grain embargo."
Block stayed on after Reagan's re-election in 1984 and spent a total of six years as ag secretary, a long stint for a Cabinet secretary. He remained in Washington, working as a lobbyist.
"Not very many stay around for eight," he said. "Somebody gave me an offer to run a food industry trade organization and pay me more than I was worth, so I took it."
He has praise for USMCA (the U.S.-Mexico-Canada Agreement), the trade deal that replaced NAFTA (North American Free Trade Agreement), and said that, in general, the ag department has served the farmer well. Still, he has concerns about how agriculture will fare during the Biden administration.
"I think they've done a pretty good job. They have stayed bipartisan through the years," he said of the USDA. "We have other kinds of challenges from the outside, such as regulations. Thank God we got rid of a quite a few of them over the past few years, but I can see them probably coming back to hurt us. I don't know what they'll do on taxes. There are things to worry about."
Now 85, Block still lives and works in the Washington, D.C., area, but hasn't forsaken his roots. He was raised about 30 miles east of Peoria, and still has a farm there.
"Until this virus came in, I'd go to the farm about every month," he said.