FRANKLIN, Minn. — With almost two dozen family members benefiting from the success of Sullivan Family Farm in west central Minnesota, efficiency and teamwork is key, especially in a year like this one with multiple weather challenges.
Three brothers – Tim, Pat and Joe Sullivan – work closely together, connected by technology and with the help of eight employees.
They farm 12,000 acres, mostly corn and soybeans with some canning crops including peas and sweet corn. They also do about 5,000 acres of custom work, have a trucking business and tile land.
A difficult fall and sizable snowfall in May was followed by rains every 36 to 40 hours most of the spring, Tim told a group of journalists on a tour for the International Federation of Agricultural Journalists annual meeting July 30. Generally corn planting starts April 20 here, but none was done until May 5 this year, with soybean planting starting about June 5, Tim said.
The annual rainfall for this area is 26 inches. On July 31, the rain monitor at the farm already hit 26.14 inches.
The farmers had about six planting windows, with each lasting about 54 hours. During those 54 hours, the team worked at peak capacity. They were ready to roll when the window opened and moved until it closed.
"Our efficiency goes through the roof. For 54 hours we were moving 1 acre per second," Joe said — made possible with three planters moving at high speed simultaneously. "When we're going, we're going."
Even with all that energy devoted to timely planting, Joe estimates about 10% of their total crop did not make it into the soil this year. Rain also washed away planted crops. In late June, a sudden 8-inch downpour knocked the corn right out of the ground, leaving large barren spots in some of the fields.
Part of a plan
Looking at a photograph taken in 2016, when the Renville County family was a University of Minnesota Farm Family of the Year, it's easy to see what motivates them.
Nineteen family members smile in the photograph, and since then Joe's family welcomed another child.
While a number of family members are involved with farm work, they remain realistic about how many people the farm can support.
The brothers' father Mike returned to the farm in 1967. Tim took on his role in 1992, Pat joined the farm full-time five years later and Joe came on board in 2004.
Tim is encouraging his twin sons, now 20, to get their college education and work in the industry before coming into the operation if they choose to do so. Joe's youngest is 3 years old, so there will be many years of transition if he farms as well.
If they come back to the farm, they will have to find a way to fit into the business plan.
"It's not your right to farm," Tim said.
In the business plan today, Pat does the day to day shop work. Tim leads the paperwork, and Joe focuses on precision aspects.
"Pat ensures there is zero down time," Joe says of the importance of preventative maintenance on their equipment.
Something is going on at the farm most of the time, with variable rate planting with starter fertilizer often followed by spraying. Herbicides and sidedressing may follow, along with fungicide. There may be four more passes for weed control or other needs, Pat said.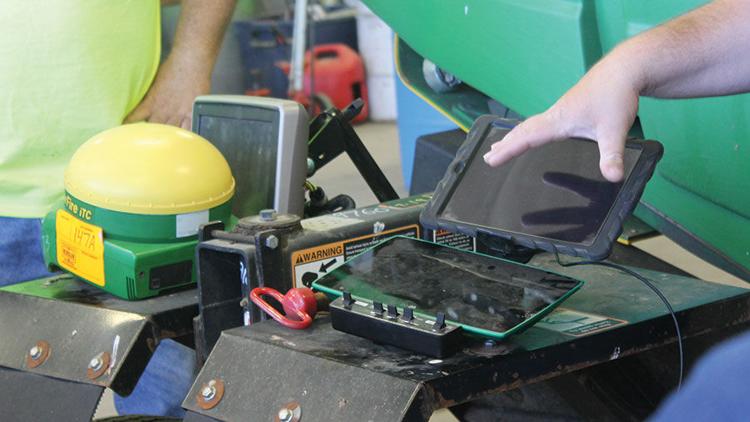 As technology gets better, it is easier to pinpoint a problem and address it, Pat said of using monitors and more data collection. They have been early adapters, using John Deere precision technology since 1998, he said.
Well-equipped
There is a good deal of equipment to maintain. The tiling equipment is front and center as that is the current project. Spraying equipment is in another area. At another farm, the planters and spring equipment are stored.
"Technology isn't cheap," Pat said.
They like to pencil in regular equipment updates, but the low commodity prices in recent years have caused some delays. The soybean head is in season six and the corn head in season five.
"Normally we switch between three and four years," he said.
Some of the money is best spent on upgrading technology and keeping the older equipment. Their 2009 planter is on its third set of technology. They will add new row cleaners, downforce control, SpeedTube, firmers and other products as needed.
"We do everything we can for the best seed bed," Pat said.
The family keeps looking for the best cropping techniques that will save money as well. This year they are using a strip tillage system on about 20% of their corn acreage. It could save up to three passes and significantly cut input costs, Tim said.
The family's location dictates some of the fertilizer practices. They work with poultry farms nearby and use precision application of poultry litter for fertilization to save on other fertilizer costs.
Between now and harvest, there is a lot of work to be done. They are ready to tile now in a field where a pea crop was already harvested — all part of the plan to be more efficient.