HUDSON, Ill. — Brothers Tom and Will Willing started honing skills they use today as farm boys in Ohio. Their business is to travel the country assembling agricultural equipment.
They've traveled about 275,000 miles over the last five years, mostly in the Midwest. Recently they assembled augers in central Illinois, popped back home to Ohio for a weekend with family and friends, then drove west again, this time with a destination of Colorado to assemble tillage equipment.
Between projects, the scenery can be part of the perks, Will said.
"We've seen a lot of cool stuff. In Kansas, you feel like you can see for 50 miles," he said.
Will gained some of his expertise assembling things when he worked for John Deere for eight years. The brothers started assembling equipment for Deere and other companies on weekends. They could earn more on the weekends than at their full-time jobs, which led them to start their own business, Cutting Edge Assembly, and hit the road in 2013.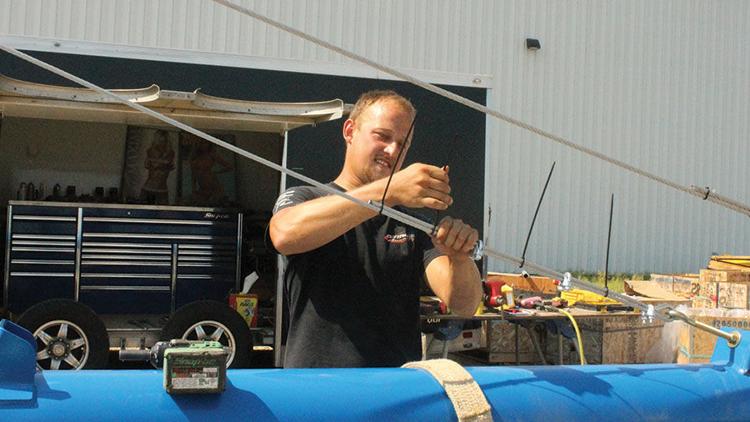 "Farm machinery was booming then," Tom said. Farmers were buying equipment faster than dealerships could get it put together.
The type of work they do has changed with the economy. Five years ago, more farmers were buying $100,000 tillage equipment; now they're buying $15,000 augers, he said.
When the commodity prices dipped, the brothers questioned if it was a smart move to leave good, full-time jobs, and they struggled a little along the way. But all in all, they agree it's worth it.
Usually they are on the road nine months of the year, but if they aren't too busy, they still try to help their dad, who grows about 900 acres of corn and soybeans in Ohio.
Their younger brother, "Big Mike," an aviation mechanic, also helps the traveling team. The brothers mostly assemble for equipment dealerships, but do some jobs directly for manufacturing companies, and they are regulars at national farm shows.
Their most frequent customers today are Landoll, Sunflower, Brandt and John Deere dealerships. They have assembled so many items for them, the brothers often don't even need to look at the manual anymore. It's that efficiency that keeps them getting invited back.
They've built about 300 augers for Brandt Agricultural Products, for example, Tom estimated.
Even with their mobile giant tool box, they can charge less than the going "shop rate," for assembly which keeps them competitive.
"We love doing this," Will said.
Having good jobs, doing what they are good at and getting to see the countryside is a good fit for them now.
"It's awesome. When you stay at a hotel, you don't have to worry about laundry, cooking or cleaning the bathroom," Will said.
They wouldn't have time for those chores anyway because they work sunrise to sunset and use other waking hours for driving.
They don't have to worry about exercise either.
"You get a good workout for sure. Free gym and tanning to all our employees," Tom said of the job, which is often outdoors.
Traveling and being away from home is easier for them than it would be if they had wives and children. Tom, the oldest at 29, has a girlfriend, Will is engaged to be married soon and Mike lives with their parents. As much as they love the road trips, they are all glad to be home when they can.
"We have a lot of fun when we are home," Tom said.