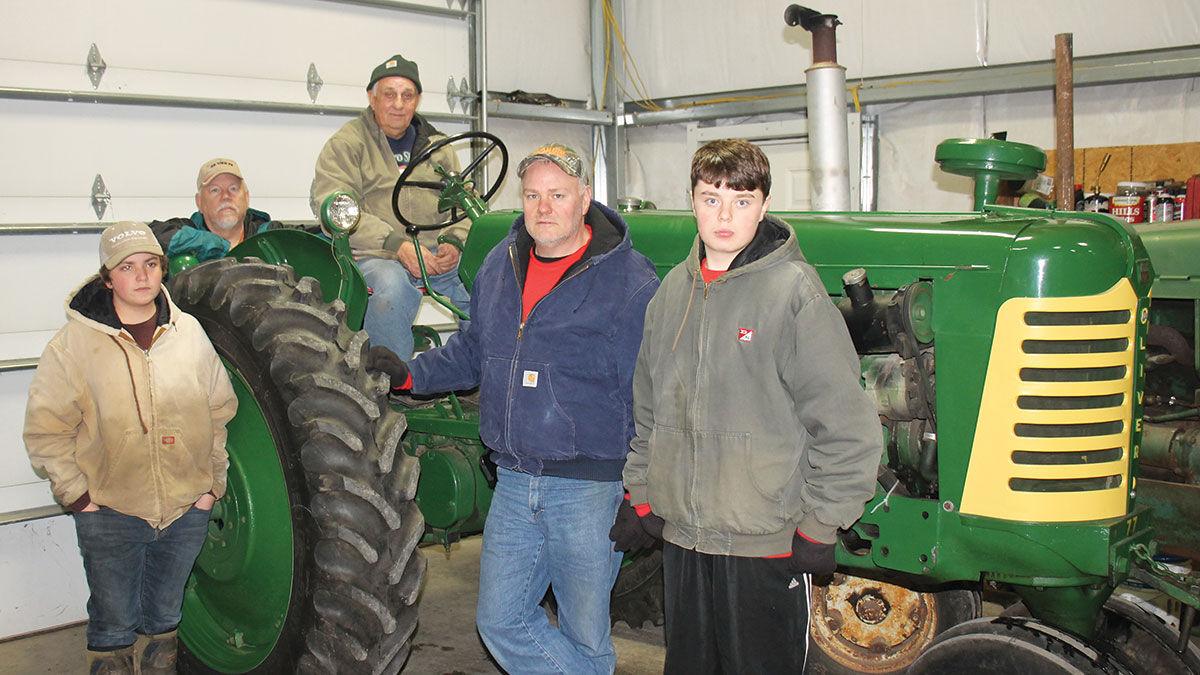 LEROY, Ill. — Frank Toohill, a 77-year-old central Illinois crop farmer, doesn't expect to stop farming anytime soon, but he looks to the next generations of Toohills carrying on a family tradition that dates back more than 150 years.
On a recent brisk December Saturday morning, a half dozen family members met at his farm shed. Three generations of Toohill men sat on lawn chairs and tractors sharing family stories.
Frank started by telling how he first plowed fields when he was only 7 or 8 years old.
His nephew, Kenny Toohill, a handyman in Heyworth, took the story back to 1810 when his great-great-great-grandfather, Edmond, was born in Ireland. They raised Kerry cattle along the Bride River.
Edmond's son, Patrick, emigrated to the U.S. in 1848 during the potato famine in Ireland. He started as a stable hand in Seneca, N.Y., Kenny said.
Patrick moved on to work for the famed Funk family, known for hybrid seed corn, in McLean County, Illinois. He was only 18 when he started plowing prairie and feeding cattle. Patrick married in 1863 and bought native prairie land in Wilson Township, DeWitt County, Kenny said.
Kenny, from a family of seven brothers, said two of his brothers, Bob and Tom, still farm that Toohill land, more than 150 years later.
The Toohills were in good company breaking open prairie land in central Illinois at that time. Today 13 farms in DeWitt County have earned the official title of Sesquicentennial Farm, farmed by the same family for more than 150 years, according to the Illinois Department of Agriculture.
Kenny has photographs dating back more than 100 years. One black and white photo shows both sides of his family threshing together in 1914.
"What were to become my future grandpas are almost next to each other," he said.
His Grandpa Leuchtenberg was 12 years old at the time and his Grandpa Toohill, 15.
The photo is also historic as one of the first pictures of people threshing while wearing factory-made bib overalls.
"Lee had only opened his factory a few months prior to the photo," Kenny said.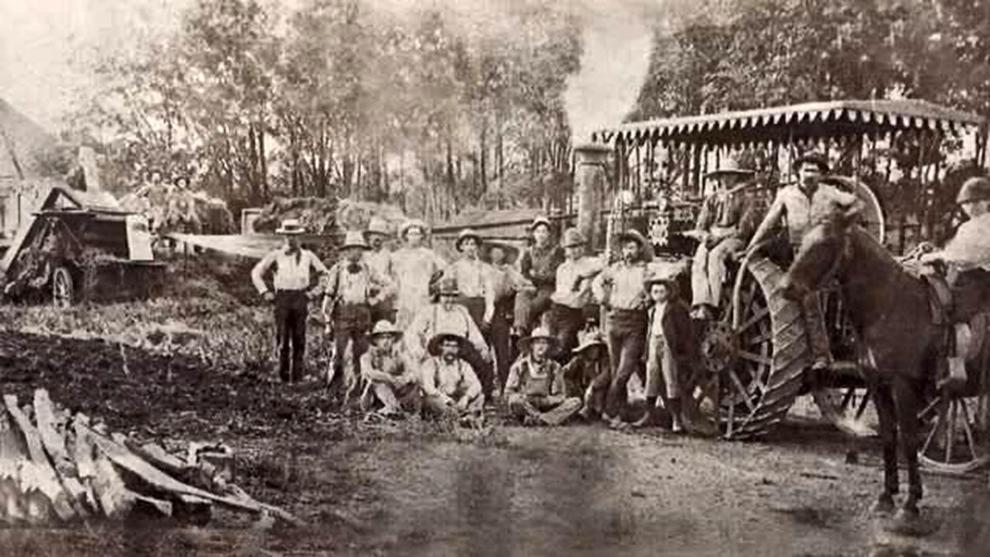 When Frank's dad was a teenager, he would buy cattle along Salt Creek from farmers that had one or two calves for sale. He would stay overnight at the LeRoy Hotel, riding his horse home gathering cattle.
In that generation, all six sons farmed and all four girls married farmers, Kenny said.
"In my generation, they started to leave the farm. We had a big family and it was rough in the '80s," he said.
Many farmers who stayed also have off-farm-jobs. Frank was a truck driver for decades.
One of Kenny's younger brothers, Jim, farms with his in-laws, the O'Neils, near Ellsworth. He is also an equipment technician for Birkey's Farm Store.
Frank said he "semi-retired" in his 60s, but still farms 240 acres. He always loved farming.
"I'd get off the school bus and go straight to a tractor," he said. "Farming came first for me."
Frank and all his brothers also served in the Army. Frank, Kenny and Jim each recall the family being concerned when Johnny was missing in action during the Vietnam War. They were afraid he wouldn't be coming home. He did, and returned to farming.
Back home, the family was firmly rooted to the land.
"Us boys took turns building houses for each other. Dad helped us," said Kenny, who operates the Haggard Handyman business, renovating and repairing homes.
In 1974, they also rebuilt the home of their parents, Bill and Rita, on a farm south of LeRoy after their long-time home was destroyed by fire.
Building is a family tradition. Frank's grandfather, Ed, built his house in 1910. The fifth generation is growing up in that house today, Kenny said.
"I don't know how many sheds we built," he said.
"We've been cheap. What we can do ourselves, we do," Kenny said.
"We're still that way," his brother, Jim, said.
Frank's grandson, Hunter, and Jim's son, Jamie, 14, listened attentively to the farming talk in the shed. Conversations included corn and soybean planting populations, raising livestock and restoring antique tractors.
"I'm sentimental. I wish there was room for more young kids (to get into farming)," Kenny said. When land costs $14,000 an acre plus the cost of machinery, "it's a different deal today," he said.
Jamie has a keen interest in farming, but it's hard to tell, when you are 14, what will happen, his dad Jim said.