While there is still debate on the causes, climate change is a reality. And farmers will likely feel the effects for years to come.
"It's not even a future impact. It's something they're experiencing already," said Kris Johnson, deputy director of agriculture in North America for The Nature Conservancy. "We had more prevent plant acres than ever before in the history of the program."
Indeed, nearly 20 million acres across the United States were not able to be planted because of inclement weather, largely excessive rainfall in the spring and summer.
"A big chunk of those were in the Midwest," Johnson said.
Michael Timlin also is aware of the changing weather conditions across the Corn Belt and beyond. The increase in precipitation is stark.
"We looked at the whole Midwest — the nine-state region we cover — and it's pretty impressive how much it's gone up," said Timlin, climatologist with the Midwestern Regional Climate Center. "The region set a record in 2018. In 2019 we blew that away. That's pretty impressive for an area that big. Two record years in a row."
Five of the 10 wettest years on record for the region occurred within the past decade. Only three of those years were before 1990. The record precipitation last year was 46.18 inches, 25% higher than the average of 36.94. That followed 2018's record of 43.06 inches.
"It's wet, no matter how you look at it," Timlin said.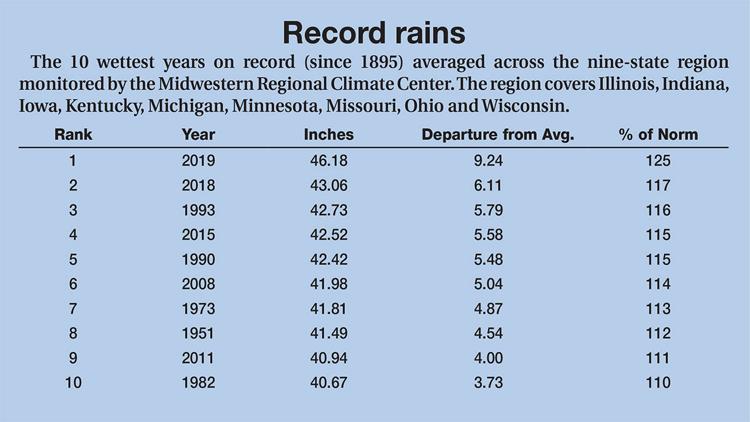 Meteorologist Jim Rasor said it is essential farmers adapt to the changing climate.
"Wet is the new normal. It's wetter now than it was when we were kids," Rasor said at a recent conference. "We're seeing larger single events. It's raining 2 to 3 inches in a 24-hour period as often as it used to rain three-quarters of an inch."
Jody Lawrence of Strategic Trading Advisors pointed out that it could be worse. While precipitation is increasing dramatically, average temperatures are also up. He believes that is one reason many farmers who were forced to significantly delay planting were pleasantly surprised by the yields they got. A warm fall allowed later harvests.
"The thing that concerns people is heat with lack of water," Lawrence said. "Heat made the crop successful last year."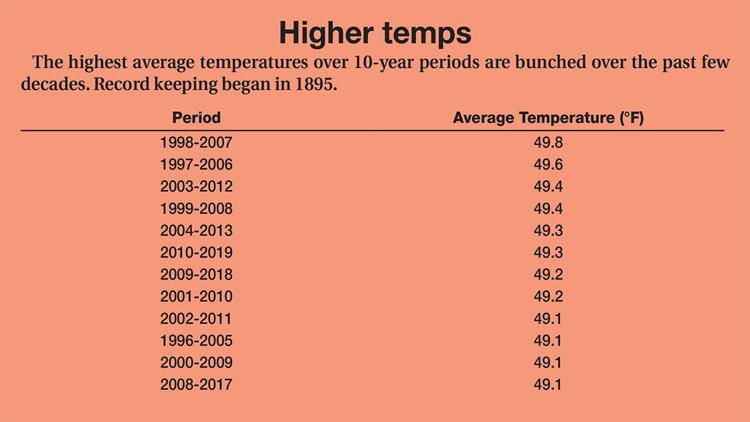 Johnson said farmers are already adapting to a changing climate, and have been for years, even though that may not have been their intent in every case.
"We've heard anecdotally that farmers who are using a variety of different soil health practices are increasing the ability of that soil to withstand those intense rain events," he said. "That helps farmers get into the field sooner."
The Nature Conservancy, working with scientists and other experts, has taken a bird's eye look at agricultural lands throughout the country. Through technology including remote sensing and GPS, it has discovered evidence of practices that mitigate climate change, especially increased rainfall.
"Over the past 10 or 12 years, we think we see cover crops, residue left on soil, reduced tillage and other things," Johnson said. "There are signals that places using these practices a number of years had less need for prevent plant.
"It's a potential win-win where a farmer can make him or herself more adaptable to intense rain events and highly variable weather. At the same time, he's pulling carbon out of the atmosphere and sticking it in the soil, which can slow down what we're seeing with climate change."
While the Midwest is warming up a bit, it is not at the rate of the precipitation increases. The decade ending in 2019 was the fifth-warmest since 1895, with an average temperature of 49.3 degrees Fahrenheit. The highest average across the nine states Timlin's organization tracks was 49.8 degrees, spanning the years 1998 through 2007.
Rasor pointed out that higher averages aren't always obvious to the average farmer, but they are affecting agriculture.
"The climate is getting warmer. We can't argue that point," he said. "But warmer doesn't mean hotter. In Illinois, our overnight lows are not getting as cool. It's not that our afternoon highs are getting hotter."
Johnson said increasing temperatures may result in shifts in crop choices in some areas.
"There have always been recommendations against planting certain crops because we're at the edges of those climate zones. Now farmers are having a little more success with those crops," he said. "We're seeing a slightly longer frost-free season. But the jury is still out whether that slightly longer growing season will make up for impacts during the year. It's too hard to say."
Rasor, chief meteorologist at a television station in southern Illinois, agrees.
"We do have a longer growing season," he said. "Locally, we have seen that first frost event pushed back and back, from the first to third week of October. You can adjust to that in your planting."
Johnson put it simply: "We're seeing some of the new normal already."