PENFIELD, Ill. — As the attention of farmers starts to drift toward harvest preparation time, it's also a time to celebrate hardworking equipment from the past.
This month, preparations are underway for the Half Century of Progress Show in Rantoul, Illinois, Aug. 22-25. The show includes daily demonstrations, tractor pulls and a tractor drive, and is billed as the "world's largest vintage working farm show."
It is held every second year, the year that Farm Progress Show is in Decatur, said J.C. Reitmeier, who is active in a number of antique tractor events and a Half Century of Progress Show director.
Last month, at the I & I Antique Tractor & Gas Club's Historic Farm Days, he had the opportunity to see some of the same people and tractors he will see in Rantoul later this month. The 25th anniversary of the Central Illinois IH Chapter 10, of which Reitmeier is president, was also part of the celebration in Penfield.
This event features a different brand of tractor every year on an eight-year cycle, with IH and Farmall being featured in 2019. Minneapolis Moline is next year, Massey Harris/Ferguson in 2021, Ford in 2022 and John Deere in 2023 to celebrate the 100th anniversary of the John Deere D tractor and the E engine, Reitmeier said. Case, Allis-Chalmers and Oliver brands will be featured the following years, respectively.
"Every year, every brand is welcome," he said.
The I & I Antique Tractor & Gas Club started in 1976 at the farm of Bill White and has grown over the years. It now has a permanent site in Penfield with an old schoolhouse, church, blacksmith shop and other buildings.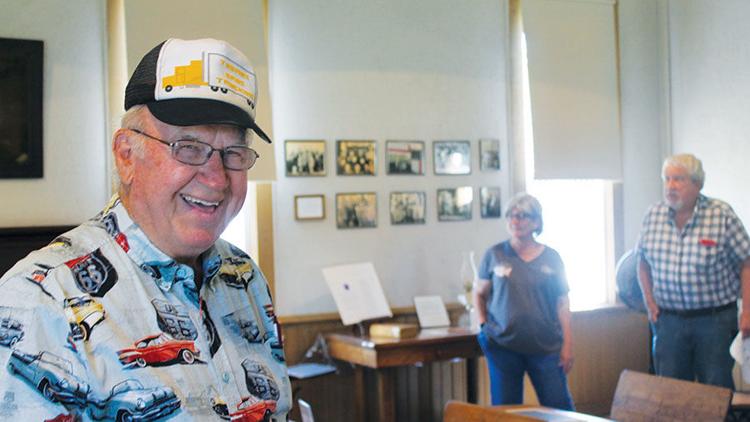 Historic Farm Days includes corn shelling, threshing, a sawmill, field demonstrations, a tractor parade, plowing and potato harvest. People know the routine, standing with potato bags ready to reap the bounty of old time harvesters digging up the fresh root vegetable.
Some years, weather changes things. Wheat harvest was the victim this year.
"We usually have wheat, but we got a fungus this year," Reitmeier said.
The club is working with agronomists to grow clover and chickpeas and plow it under as part of their plan to restore the soil. Trying to grow continuous wheat on the plot takes some management, he said.
One of the best parts is visiting with other antique tractor enthusiasts and farmers to share memories. Don Stagen, of Armstrong, Illinois, likes the chance to immerse himself in old-time agriculture.
Stagen built a garden tractor using some old car parts. He also fashioned a plow and cultivator to use in his garden in Vermilion County. The show is full of tractors and equipment that farmers and fans of farming have customized and restored over the years.