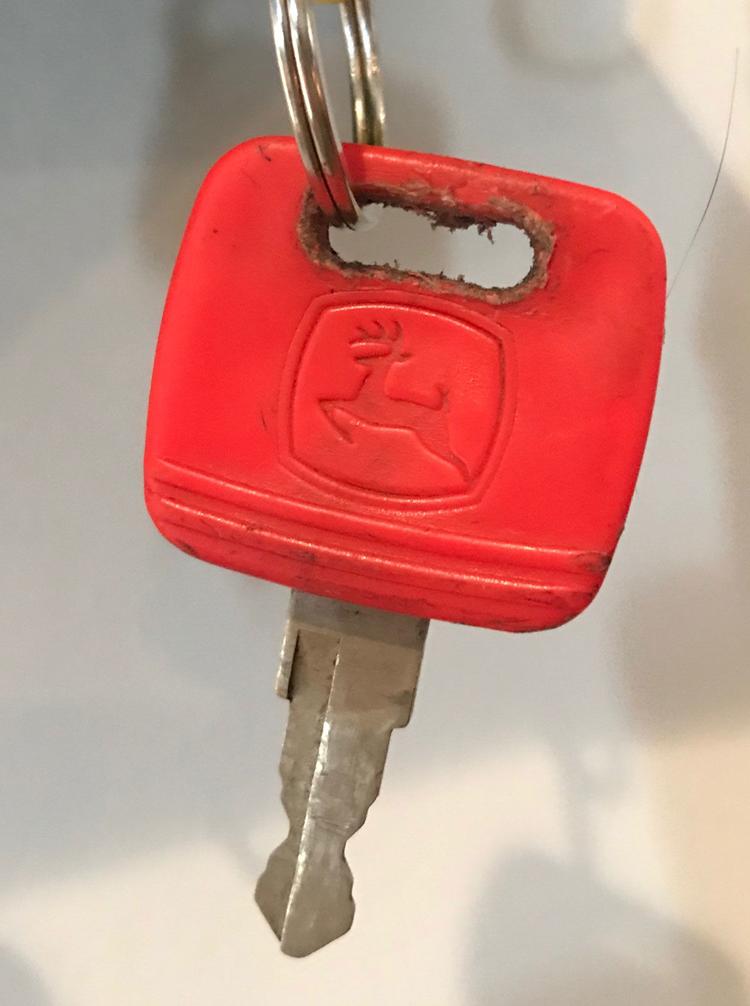 Of the millions of things farmers have to worry about, having the right key to start a tractor or combine is rarely one of them.
It's not one key fits all, but one key fits many tractors manufactured by the same company, often decades apart.
One key will fit "thousands and thousands of tractors," said Russell Buhr, a Champaign County farmer and tractor enthusiast.
"Not many people realize that," Buhr said, adding it's "not really a secret."
However, from time to time, the common key may also cause some moments of stress.
Missing tractor
At the Farm Progress Show in August 2019 in Decatur, Illinois, an exhibitor went to grab a tractor to move equipment. Much to his shock, the 8R series John Deere tractor was gone. He immediately called the dealer to find out what happened or report it missing.
That's where today's technology comes in handy – the John Deere dealer digitally located the tractor and found it in a staging area on a farm at the opposite end of the show. It was an innocent mistake – someone had thought this tractor was for common use, turned a key that fit and drove away.
Perhaps surprisingly, there aren't many situations like this one.
Each company has a common key that fits many models.
"It is handy when you work in parts," said Buhr, who worked at a Ford agricultural equipment dealership for many years. A key that would fit a 1965 tractor would fit about everything for that company into the 1980s "except those little overseas models."
International and Oliver were the same way, said Buhr.
Some earlier models just had a starter switch. Having a key added some level of security and safety so children or mischief makers couldn't just get in and operate equipment, he said.
Buhr surmises that companies never changed to individual keys because of costs. Manufacturing costs to replace all keys or add unique ones and starters to all equipment now and going forward would be high, he said. And, besides there never seemed to be a need to do so.
For manufacturers, it's a matter of "if it's not broke, don't fix it."
"There is not a critical need and it would frustrate our customers," said Kirk Wesley, Case IH's Advanced Farming Systems marketing manager.
So few people realize there are so many common keys, that it is part of the security.
"Rural areas have eyes. People know who drives the tractors," Wesley said. "It's part of our culture."
Farmers got used to the convenience and would be reluctant to change, agrees Buhr, who is an organizer of the biannual Half Century of Progress vintage farm show in Rantoul, Illinois.
"Everybody sticks together," said Carl Vandevender, a central Indiana retired farmer and fellow vintage tractor collector.
It may seem odd to some that when most farmers today lock their houses, shop buildings, pickup trucks and phones, expensive tractors could be started by a neighbor's key.
Not so to Vandevender.
"It's just the way it is," he said.
Insurance woes?
One might wonder if having a common key would be a problem with insurance, but a stolen tractor or combine would be treated the same as any other theft by insurance companies, an expert says.
"A tractor falls within the definition of farm personal property under Country Mutual's Farm Policy, and a claim for theft of a tractor would be handled in accordance with the applicable farm personal property coverage," explains Craig Conroy, Country Financial agribusiness underwriting manager.
All claims are "fact dependent and handled individually." Following the investigation of the circumstances, coverage is determined depending on the policy language and the specific facts surrounding the claim, he said.
Conroy said that as with any farm or personal property, farmers should immediately report a theft to their local law enforcement agency, and then report the claim.
Security awareness
However, farmers, equipment dealers and manufacturers aren't immune to theft and do take precautions. There are key fobs for farm and construction equipment in areas where there is more likely to be crime.
Theft of fuel in the equipment can be more of an issue, said Wesley. He gives the example of when the corporation is moving equipment between farm shows such as Farm Progress in Illinois and Husker Harvest Days in Nebraska. Equipment on one trailer was full of diesel fuel when if left and empty when it arrived. That could be a loss of between $5,000 and $6,000.
But again, technology comes to the rescue.
With today's technology, when gas in a vehicle falls to less than 15% compared to when it was shut off, it sends a warning to the driver on his phone or tablet. If he is in a truck stop diner taking a break, he knows to immediately investigate, Wesley said.
Today's geo-fence technology offers another level of protection. If a vehicle leaves a geographic boundary defined by GPS technology, a text is sent to the owner. This is often used with leased vehicles, he said.