MT. PULASKI, Ill. — Motivated residents of the spunky community of Mt. Pulaski, in central Illinois, opened a new coop grocery store amid the coronavirus pandemic.
Their plans were delayed a little more than a month by COVID-19 disruptions, but if anything, it inspired the community to make their grocery store a reality, said Tom Martin, a local crop farmer who led the effort to open The Market on the Hill, a cooperative grocery store with 126 community owners.
Long before the pandemic made everyone think more about issues in the food/processing chain, Mt. Pulaski residents were spurred on to take action after their grocery store closed.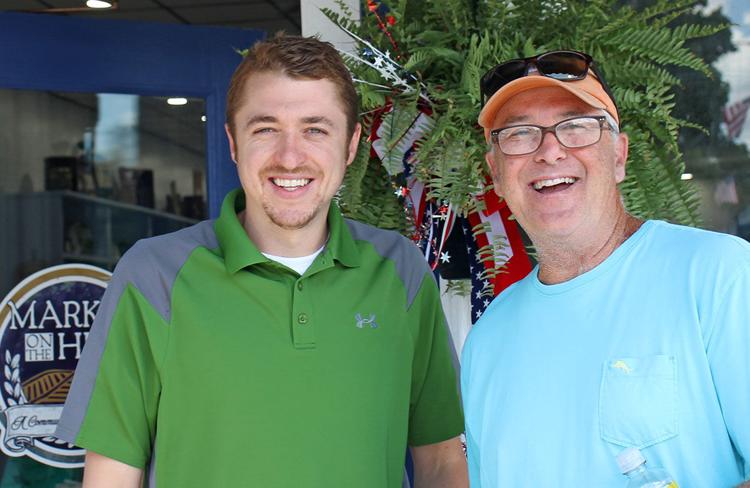 The residents raised $120,000 in only three months to make the newest grocery store in Logan County possible, an effort worth of a Hallmark movie.
So is the setting.
A bright, navy blue awning, large windows and its name etched in glass on the door welcome shoppers to The Market on the Hill. It sits amid a handsome town square, not far from the historic courthouse, and features a mural tribute on its exterior wall to the story of the historic 1910 plane-train race which involved the Wright Brothers bi-plane landing with a broken wheel near the town. In that story too, town members pitched in to win the race.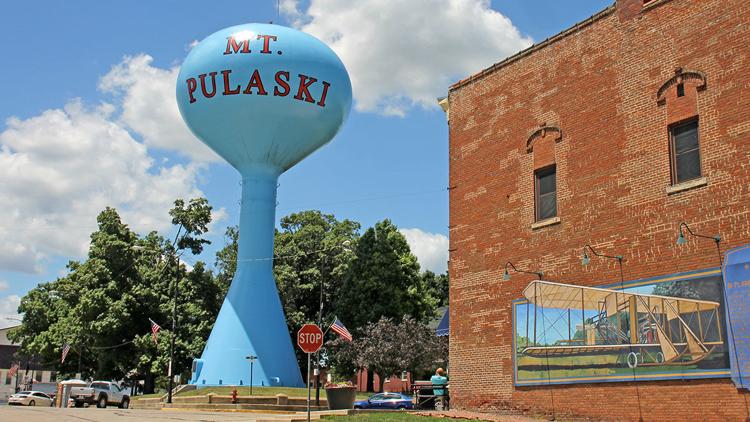 Going forward
The spark to the engine that became this store was ignited in 2016 when the community's grocery closed. Martin, chair of the Mount Pulaski Economic Development and Planning Board, got things rolling.
"We drove a stake in the ground — we're not going backwards anymore," he said.
First they tried to attract a chain store, but were turned down three times and told a population of 1,500 isn't big enough to make it work. So they decided to establish their own store and within three months raised enough money for the store to both serve the community with food, and give opportunity to local farmers and growers.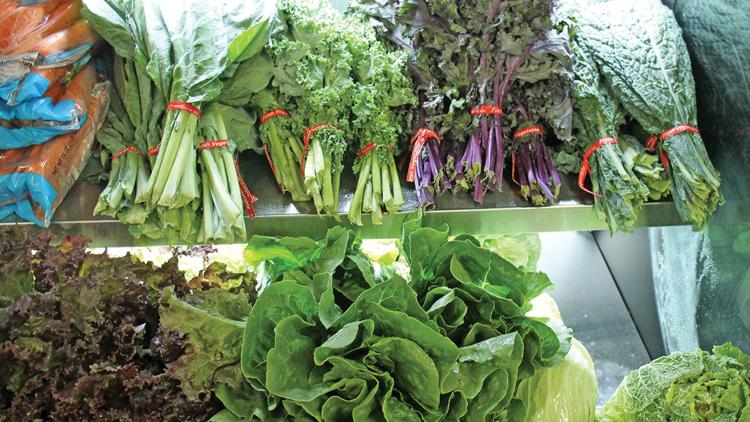 "Pumping a potential $7 million dollars into our local food producers' operations could be a game-changer for our county," Martin said.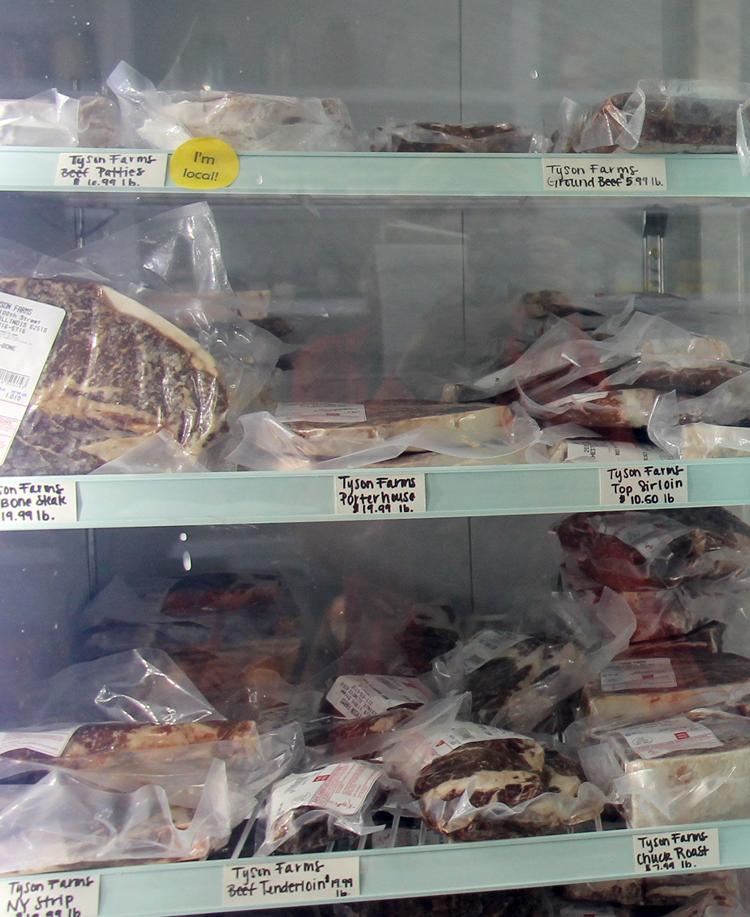 Inside the store, brimming with historic character, local produce is a star. On June 25, one day before the official opening, fresh broccoli from the nearby Hilltop Community Gardens field, was featured on the display. Andrew Meister, chairman of the Market on the Hill board, who also operates an insurance business next door, was one of the first in to snag some fresh broccoli. Along with the greens, shelves are stocked with many local products including honey, eggs, pork, beef, and homemade preserves.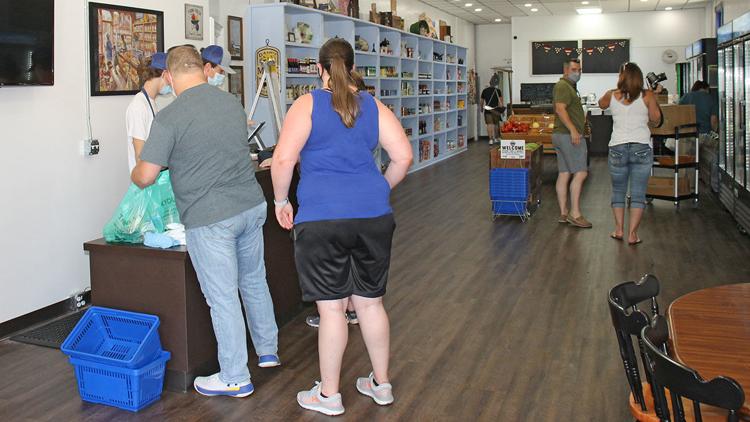 While many of the products are local, other essentials are delivered to the store on a shared truck with a grocer from a nearby town, he said.
Because of its size, The Market on the Hill doesn't have everything a household needs.
"The store is meant to be convenient, not the end all be all," Martin said.
New leadership
Martin said it's young business people like Meister who will help the store and community flourish.
"They are going the direction we need in this town," said Martin, a long-time volunteer and community supporter.
Good leadership, clear communication and a strategic plan have made Mt. Pulaski successful in its revitalization when some communities are not, said Bill Thomas, Logan County's economic development director.
"They are very strategic. They set goals, break them down and achieve them," said Thomas, who has worked in community development for three decades.
In a town where 45% of the residents are over 45 years old, according to 2010 Census figures, and one-quarter of the population is more than 65 years old, many leaders and volunteers have been seniors and retirees for years. The influx of people like Meister allows Martin to step back and give new leaders room.
"I love to lead and give ideas and let them take off with it," Martin said.
The corn, soybean, wheat and hay farmer did the same with nine acres of his land which he rents to Kyle Reed for Hilltop Community Gardens, a big supplier for the market. Reed started planning last fall for the market this year. Before the store opened, he sold produce at farmers markets in Springfield and Lincoln on the garden's online site, which he continues to do.
In addition to what he grows, about a quarter acre of garden space is rented to other citizens who pay a small fee for the plots to grow their own food.
Shoppers also get a 20% discount on the food from any local farmer now through September via income generated for economic development from a nearby wind farm, Martin said.
"That's a big deal," said Shaun Tyson, who sells his local beef at the store.
The 20% savings are incentive for people to buy local foods, said Tyson who operate Tyson's Farmers LLC with his wife Kim in nearby Chestnut, and is vice president of the Market on the Hill.
Big plans
This community has further plans for economic development. Among them, a food hub and a food processing center to help growers without enough volume, or year-round production to supply local institutions including schools, nursing homes and hospitals. The goal would be to pick four or five products such as carrots, beans and green beans and offer processing, likely freezing and packaging on a scale to supply local institutions.
Mt. Pulaski has an advantage some other communities do not. The city council approved a 1% sales tax to help with economic development, and the Enel Green Power wind farm provides between $80,000 and $90,000 for economic development annually. In all, the community gets between $200,000 to $250,000 to foster economic development. It also won a federal grant that covered initial research costs.