Farm show season has started across the country. Here in the Midwest, farmers and farm families look forward to the 2019 Farm Progress Show, Aug. 27-29 in Decatur, Illinois.
Billed as the nation's largest outdoor farm event, it offers attendees the opportunity to visit a variety of product displays, experience field demonstrations and attend presentations from livestock, crop and equipment experts.
Many farm equipment manufacturers rely on late summer and fall farm shows to introduce new products they will have available now and into the 2020 growing season, including:
New and updated tractors
CLAAS of America is launching the AXION 900 and 800 series high-efficiency tractors. The new tractor lines provide a choice of power options and technology options to match a range of applications.
The AXION 900 features an 8.7L Tier 4F engine with horsepower ratings of 320 to 440, depending on the model. It features an 6.7L Tier 4F engine with deep torque reserves to power through tough spots in the field and steep grades. Engine horsepower ranges from 200 to 280.
Fendt is introducing the fully redesigned Fendt 900 Series tractors ranging from 296HP to 415HP. These new machines offer a light base weight with high ballasting capabilities, are compact and maneuverable, easy to configure, and feature the Fendt-exclusive VarioGrip in-cab, tire inflation system that helps reduce yield-robbing compaction.
The new John Deere 3D Series compact utility tractors, including the 3025D, 3035D and 3043D models, offer solutions are equipped with gear-drive transmissions and are available in three horsepower offerings (25HP, 35HP and 43HP).
New combines
Claas of America is launching the all-new Lexion 8000-7000 series combine with the APS Synflow System, an upgrade of the APS Hybrid System. The new Lexion combine delivers 10% more capacity than the previous series and features the industry's largest grain tank with a 510-bushel capacity. Grain handling is also improved, with unloading speeds as fast as 5.1 bushels per second.
New farmstead equipment
John Deere's new Frontier SA20F Skid Steer Carrier Adapter is compatible with John Deere 100, 200 and 300E Compact Utility Tractor Loaders and enables you to use industry-standard skid steer attachments on a compact utility tractor. The SA20F can be attached or detached in under 50 seconds, thanks to a quick attachment feature that minimizes setup time.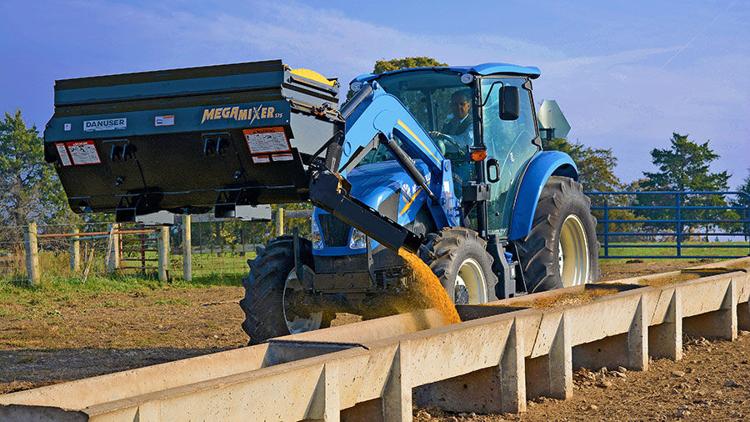 The new DANUSER Mega Mixer material handling bucket is designed to mix, scoop, and dispense a wide variety of agricultural and construction materials, from livestock feed, grains and dry compost to bag-mix concrete.
New and improved features designed to help save operator time and labor cost on the farm or jobsite include an easy-to-operate discharge end, an 8-inch diameter steel auger, and a 22.8-cubic-inch motor for improved torque.
The DANUSER Intimidator, a land-clearing, obstacle-removing attachment for skid-steers or tractors, is ideal for eliminating trees, saplings, shrubs, bushes and other obstructions on the farm or job site.
New DANUSER Hammer post drivers offer a complete one-person operation to drive fence posts, sign posts, guard rails, median dividers, tent stakes, T-posts and railroad ties. Available with tilt and grapple options.
New planters
Case IH is expanding the 2000 series Early Riser planter lineup with new 60-foot configurations for the 2160 large front-fold model. These new planters come in 15-inch and 30-inch configurations to meet the demands of large-scale producers across any terrain or soil type.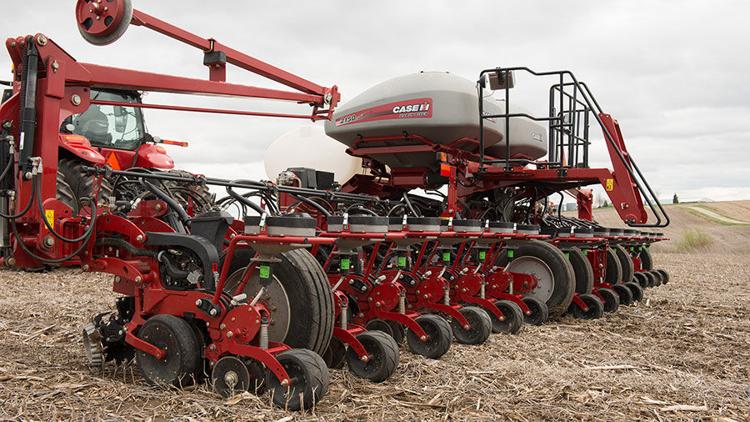 The 2160 is now available in two configurations. The split-row unit can plant soybeans or specialty crops in 47 rows with 15-inch spacing and corn in 24 rows with 30-inch spacing, while the other new configuration plants corn or soybeans in 24 rows with 30-inch spacing.
Boasting a 60-foot toolbar, the 2160 Early Riser is the largest split-row planter available from Case IH.
Case IH also is introducing the new Flex Hoe 900 air drill. Available in 50-, 60- and 70-foot tool bars with 10- or 12-inch spacing, this air drill features a new, intuitive user interface, so operators can make quick, on-the-go adjustments with ease.
A new, patented Quick-Lock depth adjuster is ergonomically positioned at waist height and built with presets for easy, tool-free adjustments on each opener to accommodate changing terrain, eliminating the need for a wrench or any other tools.
The Frontier GS10L Ground Driven Overseeder from John Deere is built especially for residential, property owner and commercial residential use. Two sizes are available: a 48-inch limited Category 1 and a 60-inch limited Category 1, two-seedbox option, equipped with fluted seed cups and an agitator that provide accurate and uniform delivery of turf grass seeds.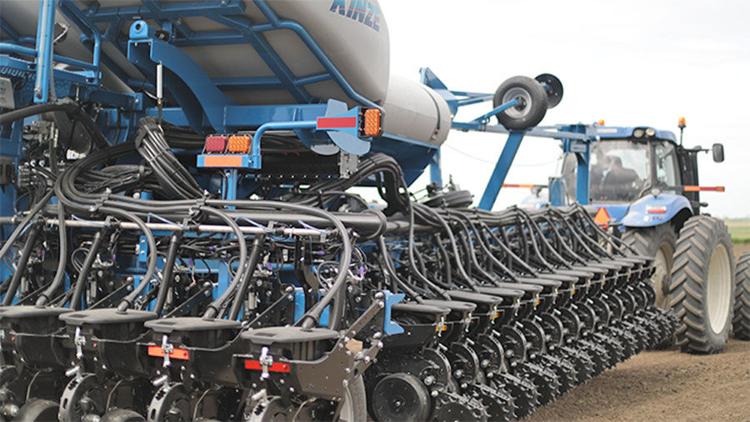 The newest planter in the Kinze line-up, the 4700, will be available in a 36-row 20-inch configuration with a three-section frame and 30 total degrees of toolbar flex and superior ground contact.
Available for planting in 2020, the 4700 will be equipped with Kinze's latest planter technologies — the Blue Vantage display, Blue Drive electric drive and True Depth down force. The frame is durable enough to carry 120-bushel bulk seed and will include hydraulic weight transfer to reduce compaction and have the option to include 600 gallons of liquid fertilizer.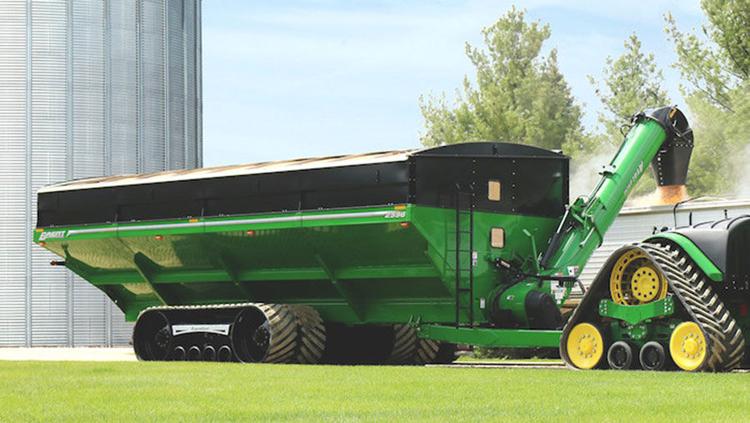 New grain carts
For maximum harvest productivity, the Brent 2596 features up to 1,000 bushel per minute unloading speeds, pivoting auger with over 4 feet of height and reach adjustability and four-way adjustable downspout for unloading ease. Its dual-auger low-profile design provides easy filling and, along with steep-sloped sides, handles high-moisture grain with ease and complete cleanout.
New tillage equipment
Great Plains is introducing the Velocity, a hybrid tillage solution that combines some of the positive aspects of vertical tillage, while maintaining similar features of a conventional disk. The result is a new classification in the Great Plains product line called "hybrid tillage."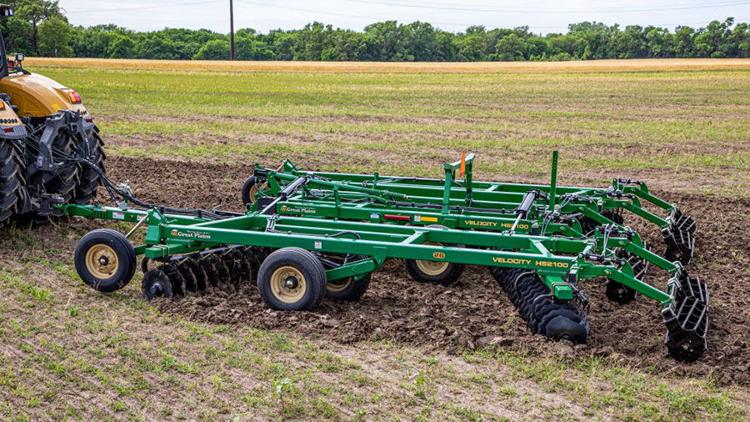 The Velocity is designed to bury more residue than a true vertical tillage tool such as the Turbo-Max, but with shallow-concavity SpeedBlades on 7½-inch spacing. The patented SpeedBlades aggressively power through heavy residue and thoroughly mix the soil without ridging.
John Deere's new Frontier RT30 Gear Driven Rotary Tillers easily turn over and mix soil while preparing seedbeds for planting and are compatible with John Deere 1, 2, 3, 4 and 5 Family tractors. The RT30 Series features nine rotary flanges with six tempered boron steel C blades.
The extra-large rear bonnet levels the soil, preventing ridges from forming during each pass.
New technologies
AGCO introduces AGCO Connect, the next generation telemetry solution to help farmers and dealers improve productivity, efficiency and profitability. Under AGCO's Fuse smart farming division, AGCO Connect allows customers and dealers to connect their AGCO mixed fleet under one platform from anywhere, at any time.
Customers can see the current status of their machines and how their machines have been performing in terms of fuel levels and consumption rates, engine hours and time to service and current and historical positioning — all communicated over a secure data platform.
For tillage producers who are looking for new ways to maximize efficiency and make data-driven decisions about their fields, Great Plains is releasing a new technology called Implement Command. Available on new 18-foot to 35-foot Turbo-Maxes, Implement Command allows you to make decisions and on-the-go, real-time field adjustments to improve yields and soil health.