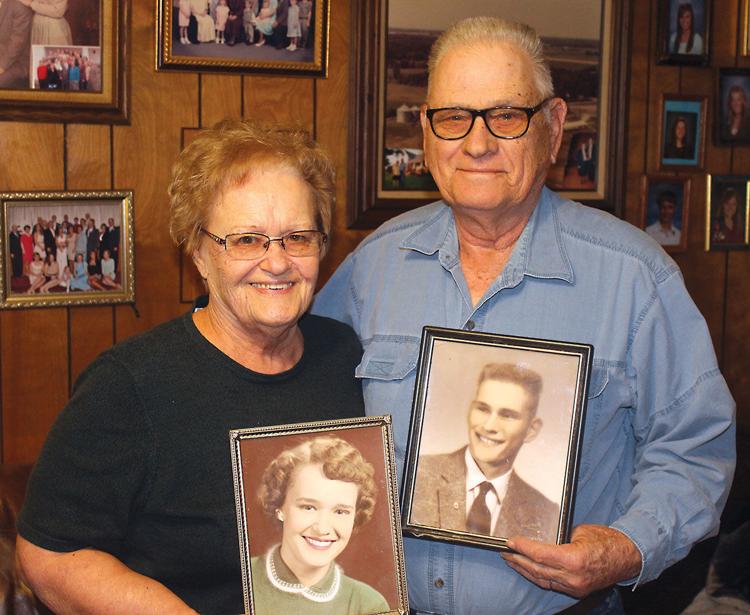 SCHELLER, Ill. — Melvin and Louise Kabat, who will celebrate their 60th wedding anniversary in May, have experienced a lot. One thing they haven't experienced is a fight.
Yep – 60 years of marriage and no arguments.
"She's one of a kind," Melvin said. "You're really fortunate when you find the right partner.
Everybody's different, but you've got to learn to live with the differences."
Unsurprisingly, he gets no argument from his wife. They don't argue, after all.
"If you love and respect each other, you don't need to fight," Louise said. "You've got to be humble. Years ago, things that may have bothered you, you realize they're not all that important after all. You have to figure how to make it work."
And make it work they have. The couple — who have farmed here all their lives and still help in the field — are a fixture in this Jefferson County community. They are members of St. Barbara Catholic Church, where they got married in 1960. The union produced five children — Mark, John, Lois, Mary and Helen.
Education is one constant in the Kabat family. Louise taught school for years when she wasn't working in the fields. Her mother taught school before her, and three of the couple's five children followed their mother into the teaching profession.
Melvin proposed to his best girl while serving in the Army. Much of his service was stateside, but he did spend a stint in Germany.
"We always knew each other," he said. "We were what you might call high school sweethearts."
That affection has lingered for decades. Their advice for a long and successful marriage is simple yet time-honored.
"Be honest and true to one another. That will take you a long way," Melvin said.
Louise responded, "The main thing is communication. Trusting each other. That's it."
The Kabats epitomize the close-knit Midwestern rural family. While there was never an abundance of money, there was never a hungry mouth, even through the farm economic crisis of the 1980s. Louise was regionally famous for her huge gardens. She canned hundreds of quarts of tomatoes, green beans and other vegetables.
When work had to be done, the children jumped right in with no complaints.
"We had full cooperation of all the children making it work," Melvin said. "The boys would come home after school and feed those hogs, and whatever else needed to be done. They never asked any questions. That's how we made it. Especially this lady right here."
The biggest crisis in their long marriage came in the late 1960s, when Melvin got his arm caught in an augur on a power takeoff.
"The next thing I knew, it had me stripped from the waist up," he said.
"I thought that Melvin was killed," Louise said. "The next thought that went through my mind was, how am I going to raise all these kids myself?"
Fortunately, he recovered, and she didn't have to.
The farm has always been diversified. The Kabats — sons Mark and John also farm the ground — produce grain along with cattle and hogs.
"It really hasn't changed too much," Melvin said.
Louise is as much of a farmer as she is a farm wife. She has always played an integral role on the farm, from planting through harvest and beyond.
"I was a truck driver; I did all the hauling," she said. "I prepared the soil in the spring. I was going to get parts all the time. We never had much new machinery, so we always had breakdowns and were running for parts."
Family time revolved around the kitchen table.
"We always had home-cooked meals," Louise said. "We never went out to eat when the kids were little. We couldn't afford to."
Melvin never complained about the meals.
"That lady right there is the best cook in the country," he said with a grin. "That's what's kept me around all these years."