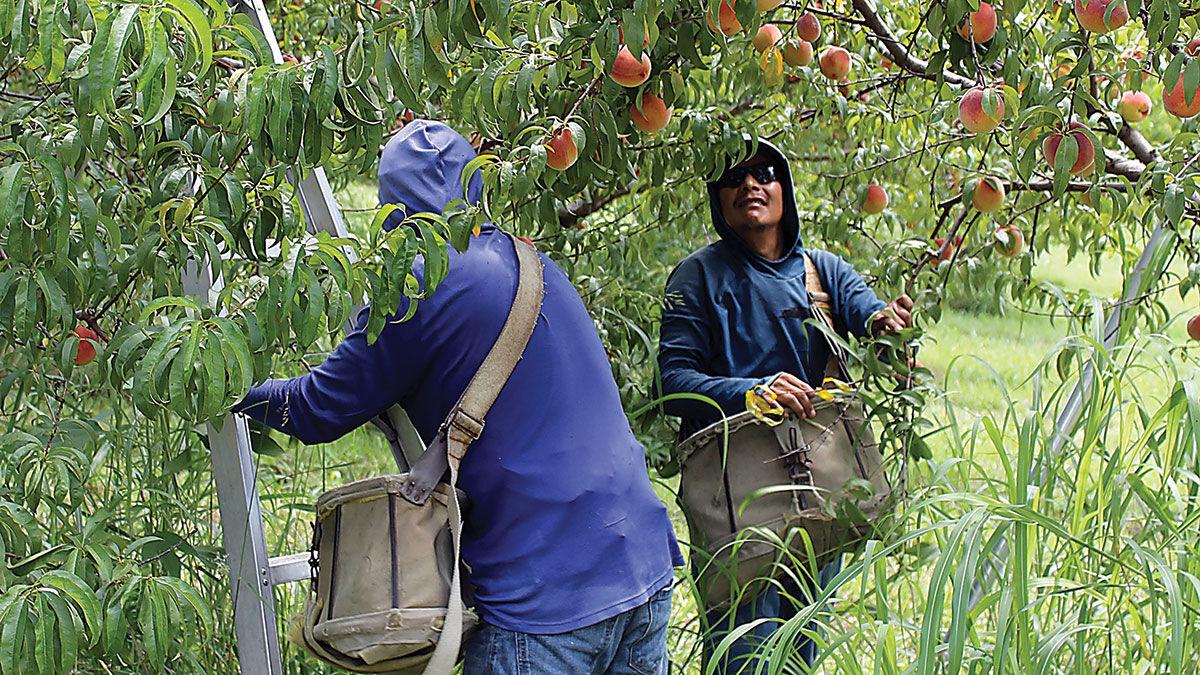 The availability of some farm labor has been affected by the COVID-19 pandemic, although many farmers haven't seen much of a change this year. Getting good help on the farm was a problem before this year and will likely continue to be in the future.
Jeff Flamm, who operates one of Illinois' largest apple and peach orchards, has dodged COVID-19 labor issues. He attributes it to serendipity in timing. He was able to obtain migrant labor from Mexico during windows between restrictions.
"There was a short period there where they had the consulate shut down and we had to change the ways we were doing things," he said. "My first crew was already here before it hit and things had calmed down a bit before my second bunch of guys came."
Flamm recently ended a lengthy battle with the Department of Labor over alleged violations of the H-2A program, which governs the use of migrant labor.
Some dairy farmers wish they had an opportunity to tap into that program. The program is geared for temporary workers and isn't available for most livestock operations.
"Labor is extremely difficult, not only on dairy farms, but also on our processors and co-ops," said Mitch Schulte, executive director of the Iowa State Dairy Association.
"All aspects of the dairy supply chain have open positions. Our dairy farms, although they are extremely competitive when it comes to wages, can be labor-intensive but extremely rewarding."
Schulte said the only livestock operations he is aware of that are eligible for the H-2A program are sheep farms.
"Unfortunately, we are not considered seasonal," he said.
The pandemic has exacerbated the difficulty finding labor in the dairy industry, according to Schulte.
"Many are looking for employees, but during COVID even more so," he said.
The problem exists despite advances in recent years in automated systems on dairies.
"There is definitely technology to help lower the labor needs on dairy farms," Schulte said. "But each dairy farmer has their own practices. Some want to incorporate those systems, and some have barns set up differently.
"We're seeing robotic milkers, robotic feed pushers and other things, but in no way does that relive our farmers of labor. It's a long-term investment. It's a management style. Some are more than willing to adapt and utilize that technology on their farms. It does cut some of their labor needs. But they're still farmers 24 hours a day."
Other livestock producers are facing labor shortages, especially with the effect of the pandemic.
"We've always had a labor issue in our industry," said Jenny Ring of the Illinois Pork Producers Association. "We've really needed that manpower. Now COVID has exposed even more a labor issue in the processing plants. Some could be running three shifts if they had the workers."
One Illinois row-crop farmer has had problems getting good labor.
"It's been extremely difficult," said Matt Emerick, who farms in Fayette County.
To that end, he also utilizes the H-2A program, but his workers hail from South Africa, rather than Mexico, which is the case with many fruit and vegetable operations.
He prefers workers from South Africa over Mexico for a few reasons. He said it is easier to locate workers there who are skilled in technology. Plus, they speak English, negating the need for a translator.
"I'll bet there are more than 100 farms in Illinois that use South Africans," Emerick said.
Ring said IPPA is active in seeking labor. The organization, like commodity groups, targets young people.
"We're always looking at ways we can recruit labor," she said. "I work in youth and education. I'm working at the high school level."
According to federal data, growth of farm labor over the past decade has been fastest in crop support services (a 20% increase) and in the livestock sector, which saw an increase of 18% over the same period.
Flamm said he doesn't know what he and other fruit growers would do without the H-2A program.
"Years ago there was an ample supply of help. But there aren't that many migrant workers out there anymore," he said.
"About 15 years ago we really struggled. We left product in the field because we could not get it picked. That's why H-2A is important. You can't plant a crop and put a lot of money in it with the hopes that someone would come and pick it for you."