LOUISVILLE, Ky. — Farmers found plenty of tillage options to meet differing needs as they looked at a variety of equipment from both mainstream and shortline companies at the National Farm Machinery Show in Louisville, Kentucky, Feb. 13-16.
Much of the equipment on display this year catered to tech connections and high-speed planting.
For a time, the status of tillage tools waned as the popularity of no-till rose for managing soil health and structure.
But today, the merit of using a variety of techniques to tackle issues, including weed and insect control, has returned attention to tillage equipment and how it can fit into the big picture of farming, said Curt Davis, Kuhn Krause Inc. marketing director.
Custom options
Farmers can't limit themselves in "modes of action" for crop production, he said, comparing it to livestock operations. To prevent resistance buildup, livestock farmers don't use the same vaccine, de-wormer or other product over and over again. Cropping is the same — you switch things up or you develop issues like glyphosate resistance.
"You gotta change things up," Davis said.
Chris Lursen, an Iowa farmer and Case IH tillage manager, moved away from conventional tillage a few years back in favor of all vertical tillage. After a bit, he realized it wasn't working on his whole farm. He, too, had a need for more than one mode of tillage.
Those options might be "very valuable this spring," Lursen said.
New tillage equipment has optimized the control, Lursen said. The connection of tillage equipment to mapping and monitoring in the cab continues to help farmers make their agronomy decisions work with tillage.
Rye DeGarmo, vice president of engineering for Great Plains, said tillage plays many roles today, including making a good seedbed and managing an ever-growing amount of crop residue as yields rise and corn stalks get tougher.
In-cab adjustments are also key today, he said.
And speed changes everything. As the window for planting narrows, high-speed planting leads the way and tillage equipment has to keep up, DeGarmo said.
Kuhn Krause's Davis said, "Things get a little hectic, and you finish the end of the field at 10 mph when you are used to 5 mph."
But farmers can't sacrifice the quality of the seedbed for speed, he said, and some tillage models are built to move faster.
Equipment manufacturers stressed the importance of tillage equipment information being in sync with other data, including yield maps and geo-references.
Some equipment is highly specialized, Davis said, pointing to the Gladiator for strip-till use.
"It's not for everyone," he said. "It's for the micro-manager" who pays attention to every detail. "It's for the guy who looks at the last penny when balancing his check book."
Other digital advances benefit farmers, for example by giving them an option to sign up for customer service and register their equipment's serial number on-the-go, Davis said.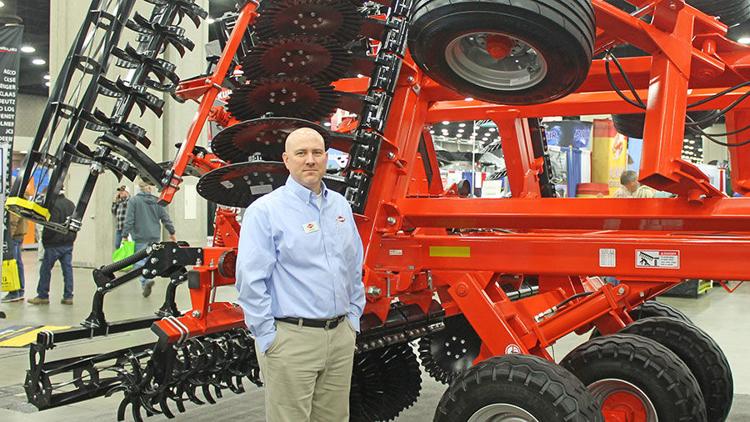 What's next?
Tom Draper, AGCO's seed and tillage marketing manager, said the company fine-tunes its tillage equipment with things its engineers have learned from sister company Precision Planting.
Draper said farmers have an investment in each seed they plant. They may have 34 million investments — more than anyone on Wall Street, he said. To get a better return on investment, they must pay attention to planting depth, closing, in-row residue and soil condition. Tillage is part of all that management, he said.
Tillage addresses many needs, including residue management, neutralizing compaction, removing hard pan, weed control, insect control, aerating the soil and seedbed preparation, he said.
Draper said the cost of tillage equipment and fuel are important today. Unlike more profitable times, farmers aren't doing "recreational tillage." But there are reasons it's still worthwhile, such as breaking up the dense hardpan layer that could hinder good germination and create other underground yield-robbing conditions, he said.
Tools today are designed to get the right balance between maintaining some residue and producing the best seedbed, he said.
He recalls talking to a farmer in Ontario about seven years ago, when tillage tools were becoming more advanced. The farmer said, "Make it simple." Draper said that "simple sophistication" is still AGCO's focus.
In the future, Draper said, he expects developments working with Precision Planting will include sensors to advance the smart abilities of the equipment.
Lurkins of Case IH said he sees further development in adjustments on the fly for residue levels, erosion, slope, etc.
"Prescriptions are right around the corner," he said. "It's closer than you think, but still far away."
He said such things are in development for tillage equipment, but will take a while before they are in farmers' fields.
"The smartest thing about your tillage equipment is you," Davis said.
The farmer decides how deep to till, how to manage residue and other issues. Technology is there, but it doesn't decide for you, he said. In the age of smartphones and smart equipment, a farmer still decides when it is too wet or too dry to till.
"All we do is adapt the equipment. You are still the smartest thing on that machine," Davis said.