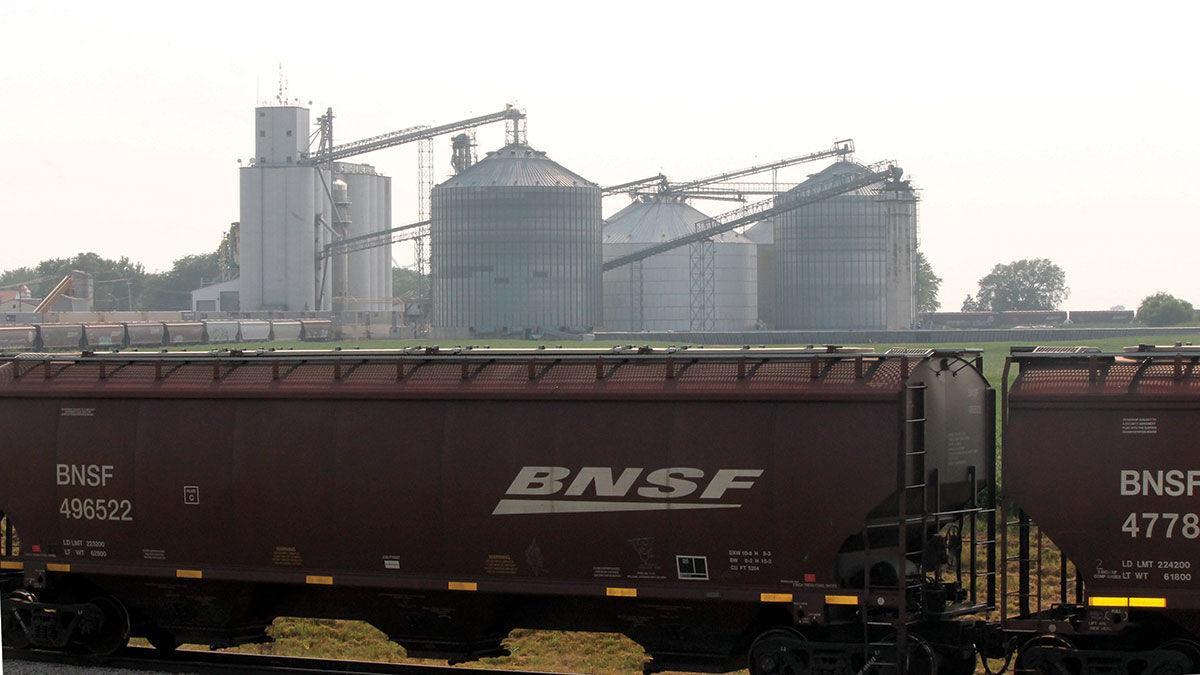 Along with planting, spraying and harvesting, storage of grain is a farm task undergoing modernization.
Technological advances in the sheer scale of modern farming and field equipment has engendered changes in the facilities where grain is taken. Increasing speed is one focus. Getting trucks in and out faster has led to innovations in the commercial storage industry.
"There is less time, so everybody is trying to do it faster," said Matthew Unverferth of Unverferth Farm Supply. The Centralia, Illinois, company builds and repairs grain bins and other ag structures. "The biggest thing we've been running into is increasing capacity for customers, whether at harvest with larger receiving pits so the farmer can dump faster, turn around and get back to the field."
The size of acreage, yields and loads is pushing companies to increase and improve facilities.
"The combines are bigger, trucks are bigger and the carts can hold more than a truckload of grain," said Carl Schwinke of Teutopolis-based Siemer Milling. "The elevators are bigger, but so is everything else. Everything is compressed into a small window now, so it has to be done as soon as possible and as fast as possible."
One change is the two-scale setup at many elevators, including the one at Siemer. Among other things, it often allows the driver to remain in his vehicle, much like some oil-change businesses that allow motorists to park over pits while getting their cars serviced.
"Traffic is always an issue," Unverferth said. "With the two-scale thing the farmer most of the time doesn't get out of his truck. There will be an employee there who will open his gates and clean them out and he'll be on his way.
"Some of that might be a liability issue too. A guy can stay in the truck. You don't have to worry about a passenger getting out of the vehicle and wandering around."
Siemer is among facilities that have added scales. Just that move has resulted in shorter wait times.
"We've sped up our facility here. We added scales at either end," Schwinke said. "They weigh full and weigh empty. If you do 100 trucks a day and save a minute a truck, you've saved nearly two hours."
Jacob Schmidt said wait times have been cut in half since he started farming 10 years ago.
"When I started, we could run into two-hour waits," said Schmidt, who farms near Camp Point, Illinois. "Some have put in river terminal-type facilities. They put in some inbound and outbound scales and increased capacity. I would say they've doubled or tripled the bushels per hour the speed those grain legs are running."
Schwinke said larger capacity has led elevators to add other equipment to streamline the process.
"Speed monitors, alignments and bearing monitors are things people are installing," he said. "If you have a small, 2,000-bushel leg, you didn't worry about that."
Unverferth pointed to receiving equipment that will automatically turn on when it senses grain in the pit.
"If an elevator can streamline that process there's a better chance they'll capture more customers because they won't have to wait in line for an hour or two," he said. "The automation has pushed us to do more with fewer people. We can wirelessly read the temperature in the bins now where before you'd have to go manually to the bin site, plug a computer in and write all the numbers down. Now you can come into the office and pull it up on the screen anytime."
Equipment in some facilities has changed not only to expedite dumping, but also to improve safety. Unverferth points to things like paddle sweeps that have replaced augurs at many elevators.
"These paddle sweeps are very good at sweeping out bins and also safety because you don't have this augur exposed," he said. "That allows people to stay out of the bin. In the old days they would get in the bin. It's safer because you don't have that big augur turning and you do a better job of sweeping because it goes across the floor. Commercially they're really popular and on the farm are starting to take off."
Another factor affecting wait times at elevators in an increase in on-farm storage.
"Many farmers have increased their home facilities to avoid the fall rush," Schmidt said. "You don't run into lines in December as much. A guy cannot complain too much about that."
Schwinke agrees.
"Some farmers say they can't wait on travel time and lines, so they do on-farm facilities, and after it's harvested they'll find the market they want," he said.