EFFINGHAM, Ill. — Extending the window to spray dicamba on soybean fields was only one of the more recent decisions made by Illinois Director of Agriculture John Sullivan, who has had a busy first few months on the job.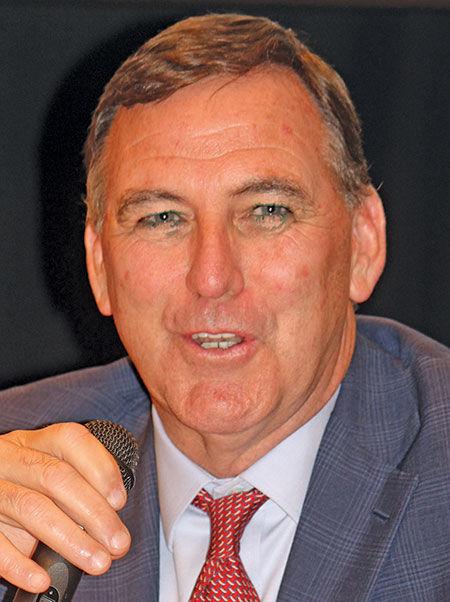 Sullivan has taken the reins of a department that may be the busiest it has ever been, partly because of new legislation that has placed more responsibility on the staff.
Sullivan had earlier placed a June 30 deadline on spraying dicamba on soybeans. But a soggy spring that pushed planting back several weeks prompted him to push the deadline back to July 15. He provided his reasoning at a meeting of the Illinois Beef Association here.
"The cutoff date of June 30 was very controversial," he said. "Some people very much supported it, and some people were against it. Dicamba is a very effective weed control, especially for waterhemp. We have to do a better job of training and making sure application of dicamba is done properly."
Complaints about dicamba drift rose from 300 in 2017 to 550 last year.
"If those numbers continue to go up, there's a real chance in Illinois that we'll lose the opportunity to use that product," Sullivan said. "So I made the decision on June 30. Then this planting season rolled around. …
"There's a lot of stress out there in the farm community. Those beans are going to need to be sprayed at the end of June and the first of July. If we keep that June 30 (deadline), then we may have sprayers going out on the 28th, 29th and 30th when conditions aren't right. My concern was that may not be the best time to be spraying."
Sullivan, who proudly announced at the June 12 meeting that he had just gotten beans planted on his Schuyler County farm, came into the office having to deal with entirely new issues — such as medical marijuana and hemp production — along with the multitude of other activities the department oversees.
The legalization of medical marijuana, followed by recreational marijuana and industrial hemp has added a new category of oversight to the department. The opening up of industrial hemp production has been well received.
"We went live with applications on May 1, and the site was absolutely bombarded with folks wanting to apply to grow it," he said.
As of last week, the department had received about 800 grower applications for a total of 16,000 acres, and 200 processor applications.
"I'm really thrilled about the processing applications," he said. "There are no processors in Illinois."
He did point out that budding hemp growers are dealing with the same challenges as grain farmers this year, with excessive rainfall in the spring that has delayed planting.
"I don't anticipate 16,000 acres being grown this year," he said.
Sullivan did announce that two hemp plots have been planted on the grounds of the Illinois State Fair in Springfield. He said the test plots are designed not only for the public, but also as education for those in the department itself. Hemp was grown extensively in Illinois decades ago, but has been illegal until this year. Hemp doesn't contain enough levels of THC — the psychoactive ingredient in marijuana — to generate a high.
He assured the cattlemen gathered for the conference that no changes are planned for the state Livestock Facilities Management Act, which regulates siting and construction of new buildings on Illinois farms.
"It's something that we as an industry don't want opened up. My desire is not to open it up," Sullivan said. "But there are challenges coming down the road. If we don't lead that discussion or at least be a big part of it, it's like they say: If you're not at the table, you're on the menu."