Economic return two or three times that of corn or beans. Guaranteed income for decades. No work required.
That may sound too good to be true. But for some landowners in the Corn Belt, it's reality. A growing number of them are converting parts of their grain farms into solar farms.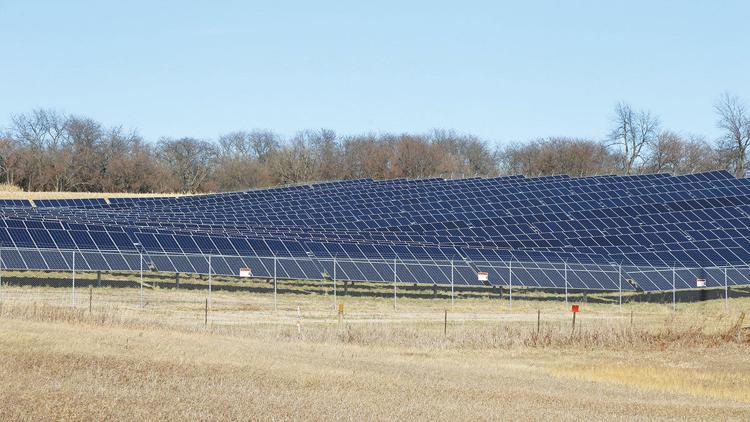 Commercial solar fields could someday be as common a sight as grain bins. And while most incorporate only a few acres, some are massive. A site under construction in Wisconsin will cover 3,000 acres, the largest in the Midwest, according to Brian Ross, senior program director at the Minnesota-based Great Plains Institute, a non-profit organization that promotes renewable energy.
"The solar industry in the Midwest is rapidly growing, and will continue to rapidly grow for the foreseeable future," Ross said. "The Midwest is probably going to be one of the center points for development. As a region, we've lagged behind other parts of the country for some time."
While relatively few such facilities are operating in Illinois, power companies are ginning up for expansion.
"I don't know that there's a great number in construction yet. There are landowners who have made decisions to sign leases," said Bill Bodine of Illinois Farm Bureau. "A lot of the development is just now occurring in Illinois."
IFB and other farm organizations across the Corn Belt are working to provide information to farmers who may consider welcoming commercial solar operations. Considerations abound, beginning with the commitment. Leases average 25 years, not coincidentally the usual warranty period for the panels.
"We try to educate landowners about what sort of thing they may want to consider in entering into a lease agreement with a solar company for a long-term lease for their property," Bodine said. "It's a long-term agreement. It does take that land out of production. How are those panels going to be removed from the property, and how is that land going to be restored?"
Unlike massive solar farms like the one being built in Wisconsin, most average just a few acres. Ross said a facility of about 5 to 7 acres will generate about 1 megawatt of power. That is enough electricity to power roughly 20 homes per acre.
"It's a way for farmers to have some steady, predictable income over the long term," said Megan Day with the Colorado-based National Renewable Energy Laboratory. "Some people are concerned about the loss of agricultural land, but it's such a miniscule amount, it doesn't really make an impact."
Still, the result of solar farm construction in the Midwest almost always means taking at least some land out of agricultural production.
Based on current trajectories, projected price declines and market demand, the National Renewable Energy Laboratory estimates that large-scale, ground-mounted solar will cover 2.6 million to 6.6 million acres by 2050.
"The economics are such that it is going to be a growing industry well into the future," Ross said.
The prospect of hosting such a facility can tantalize farmers. Ross estimates the average landowner can earn two to four times the return he would get for growing corn or soybeans on the same acreage. But not all land is coveted by developers.
"They typically want to have a flat piece of land; that's a lot easier to develop," Ross said. "There are all kinds of potential impediments, such as adjacent water bodies. They also prefer the land not to have trees on it, obviously."
One consideration is the presence of drainage tile. In Illinois, more than 35% of farmland is tiled, according to the University of Illinois. Newly installed tile poses few problems, but older systems can be an impediment. Developers constructing a commercial solar facility may sometimes penetrate as much as 15 feet into the ground to anchor the panels.
"They usually don't go down that far. But in a few cases tile systems have been damaged," Ross said. "That creates issues. In most cases, if the tile system has been mapped, the developer can almost always work around it. If not, it could be damaged, and there are problems that come up. It would be the older tile systems that sometimes get lost."
Though land on which solar farms are constructed isn't able to be farmed, some are studying dual-use scenarios.
"We're still studying the opportunities for agricultural production," Day said. "It's in the pilot phase of growing hand-picked vegetables under solar panels. But the panels have to be raised so high, it's not a viable design. A developer is not going to come in and say we're going to add 3 feet. They may be interested in things like allowing sheep grazing for vegetative management, especially in the Midwest, where there is more rain."