MARSHALL, Ill. — Don Guinnip, part of a sixth-generation farm family in eastern Illinois near the Wabash Valley, knows the history of the land he works, the soils, climate and conditions.
Next year the farm marks 180 years since Guinnip's great-great-great-great-grandfather, Joseph Guinnip, took out a land deed. Over the years the family had dairy, hogs and crops, and Guinnip's son now has cattle.
Guinnip uses many of the practices his farther introduced to the farm in the 1960s, including grass waterways and dry dams. He says the water and sediment control basin
(WASCOB) structures help retain water like a dam and slowly release it, helping the nutrients and sediment stay on the land.
"It's one of the tools in our tool box and it works," he said.
He farms on the Central Claypan, and has land that contains wooded slopes along the Wabash River. The Wisconsinan glaciation stopped just short of his land.
"In general it is poorly drained," he said. It has slow permeating soil. Little of the land in this part of the state is tiled, but tiling is more popular today on about 10 percent of farms here, Guinnip estimates.
"Our soils are productive and we make them work," he said.
Guinnip's farm has about 8 inches of topsoil and two to three feet of hardpan clay.
"If 8 inches is all you have to work with, you take care of it," he said.
Soil classification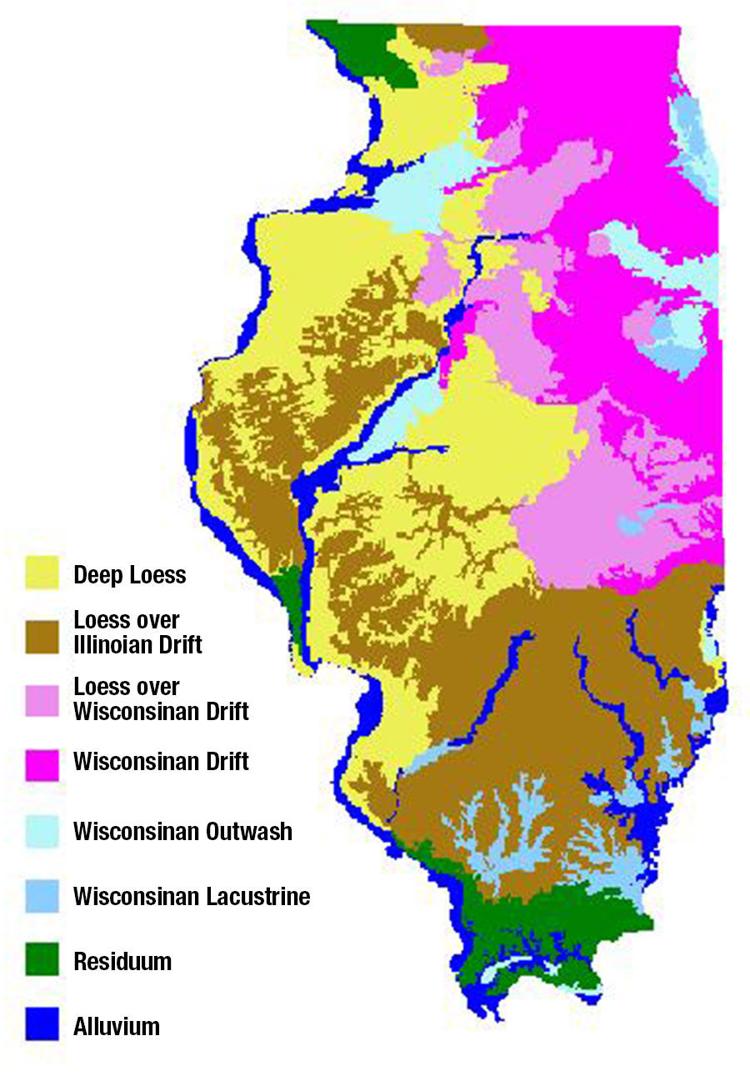 Fertile loess, silty materials that were picked up and redeposited after the glaciers, blankets almost 90 percent of the state, said Ron Collman, NRCS state soil scientist. About 82% of all acres in Illinois are considered prime land, he said.
Some areas are blessed with more topsoil. In parts of central and northern Illinois, there are between 40 and 60 inches of loess over the glacial outwashes, said Collman. When settlers arrived here, this land was marshy and wet with a high buildup of organic matter. After drainage was added, "it has some of the most fertile soils in the world," he said.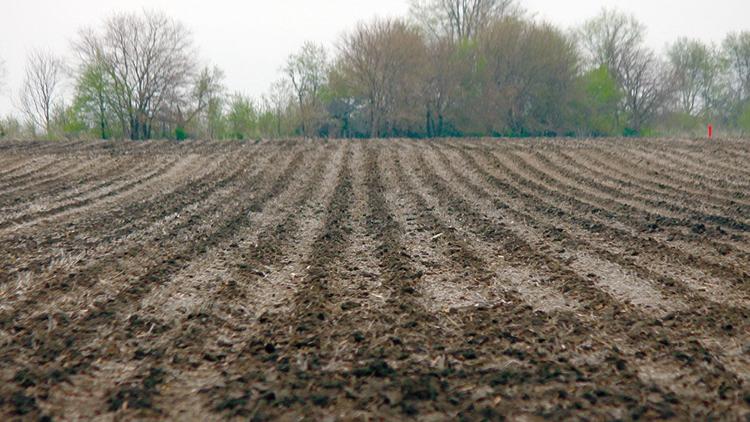 Taking these factors into account, Collman is working on updating the state soil map — "not an easy task."
There are 560 soil series in the state. In each of those, there can be two to 10 or 15 phases, slopes and flood plains.
"Things multiply quickly," he said. Now there are 7,000 different sets of data to represent all his units. "There are 1.2 million map delineations of soil across the state."
Where Guinnip farms in southern Illinois, Collman says there is merit to adding wheat and cover crops to a rotation to help soils, he said.
Southern Illinois soils have less organic matter than prairie soils in central Illinois, but managed well they can be lucrative, Guinnip said. Soil tests are important here with attention being paid to keeping the pH up, he said.
The points Guinnip brings up are similar to what David Rahe, soil fertility specialist, certified professional soil scientist and certified professional soil classifier, examines when consulting with farmers.
Rahe considers five factors for soil recommendations:
topography (including convex slopes where water runs and concave slopes where water gathers)
vegetation/biological activity (high in the case of prairie areas with dark soil)
parent material (based on sources from glaciation periods often impacted by the amount of loess or windblown materials over time)
climate (with cooler temperatures in northern Illinois compared to southern Illinois)
time (the youngest soils are the bottomland soils that are deposited every time it floods).
Marked by glaciers
Multiple glaciations crossed Illinois three or four times with major advancements over a million years — all leaving mark on Illinois' landscape and soil, Collman said.
Some of the unique areas in the state include Shawnee National Park in southern Illinois near Carbondale and Jo Daviess County in the northwest that did not experience glaciation, Rahe said.
When Rahe studies soil fertility in a field, he maps the landscape first and divides the land into management zones, often two to 10 acres. There can be three landscapes in an 80-acre field, he said.
"We can compare it to yield maps and see if we missed anything," he said.
In Jo Daviess County, one of those not influenced by glaciers, many crops are grown in strips of hay, oats, wheat and soybeans. The rows are long to match long slopes. Terraces work well on long slopes, while grassed waterways work better in controlling erosion, Rahe said.
As soil research continues, practices change, Rahe said. When he was in school, it was thought "you can't change organic matter in soil" but work with no-till and cover crops show that you can improve organic matter, fertility and how the water moves, he said.
"It's not without pitfalls, but people make it work," he said.
Soil types in other parts of the state encourage other practices. He said that in Mason County in west central Illinois, irrigation is often used on the relatively sandy soils. Some of the irrigated land is used to grow vegetable crops that have higher returns.
Other areas remain best suited to pastureland and incorporating cattle into the operation, he said.
When Rahe started consulting 14 years ago, there was some talk about variable fertilizer.
"Today, about 70 percent of my business is variable fertilizer," he said of how technology and soil research continue to change farming practices.