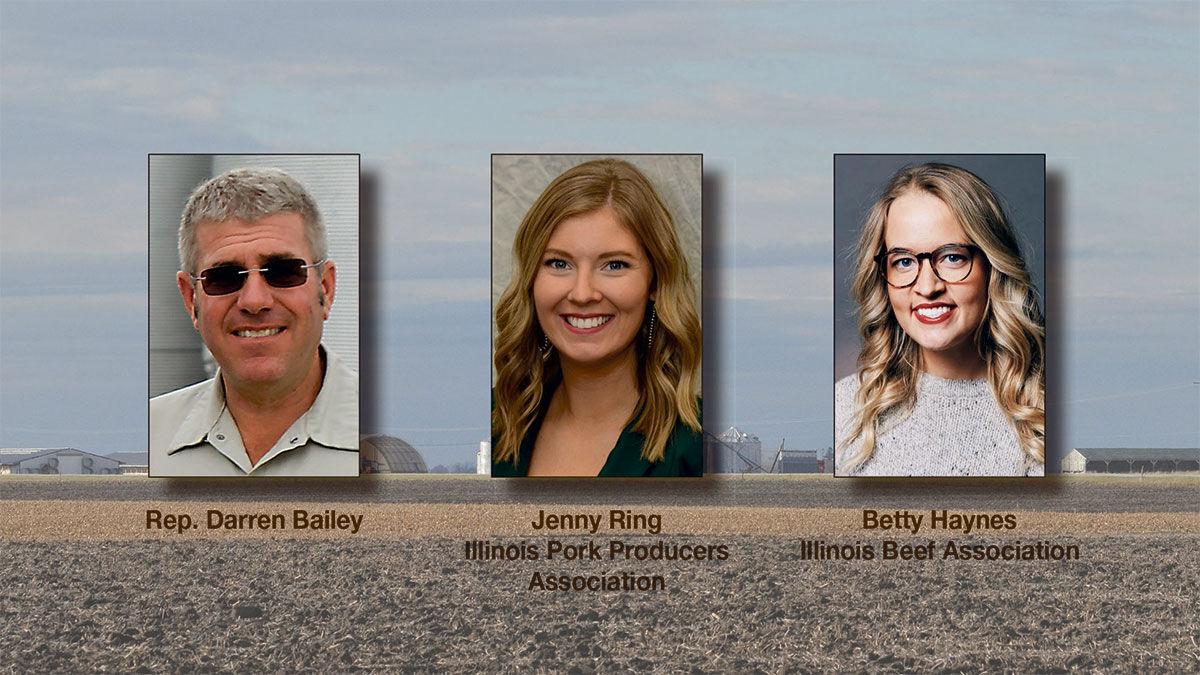 It has certainly been a crazy year.
The crushing impacts of COVID-19, civil unrest and political upheaval have driven some to look for lighter outlets — but it's hard to find a bar, restaurant or event that hasn't been shut down.
But the struggles have a silver lining, according to Illinois state Rep. Darren Bailey, R-Louisville.
"Actually I'm thankful for the adversity, in a twisted way, because that makes us stronger people," said Bailey, a farmer who recently won a state Senate seat. "I'm always thankful for adversity. It makes us sharper, and it makes us sharpen our pencils."
Bailey's optimism puzzles some of his colleagues.
"People in Springfield wonder why things don't really get under my skin," he said. "I say, 'I'm a farmer.' The adversity that farmers face is pretty amazing sometimes. They take it for granted. The city folks think we put the crop in then go to Florida."
Pork producers are making do, despite the impact of the pandemic, which among other things resulted in a disruption in processing. The disease had an early spread in many slaughterhouses, closing some down temporarily.
Things have improved since the spring, and demand is getting back to normal.
"We really are holding our own, especially with food service sales down so much," said Jenny Ring of the Illinois Pork Producers Association. "That's a loss of market for us. At the same time, people are cooking at home, having family meals. We've seen consumer side increasing in sales."
The commodity group was busy with charitable efforts this year. IPPA donated 20,000 pounds of ground pork in April to eight regional food banks as part of its annual Pork Power campaign. For the year, Illinois pork farmers will donate a total of 90,000 pounds of meat.
The association's Pass the Bacon campaign asked members to nominate their local food bank. Each one received 50 boxes of bacon. Nominators also were given packages.
"The winner from Galesburg got her bacon delivered by drone, so that was pretty cool," Ring said.
Betty Haynes also sees the silver lining in a topsy-turvy year. She is a cattle farmer who also is on staff at the Illinois Beef Association.
"During this time of turmoil and uncertainty, we can still be thankful that this is what we do for a living," she said. "We take a lot of pride in what we do. We can be thankful that we can continue to have this way of life and continue to raise cattle for the consumer."
Like everyone, cattle producers have been forced to make adjustments due to the coronavirus crisis. Despite some market disruption, beef is still finding its way to the table. Some changes are positive.
"USDA data tells us that beef demand is solid. Research shows consumers still consider beef one of the best sources of protein," Haynes said. "While we did see some out-of-stocks in the retail cases, things are nearly back to normal.
"COVID has definitely caused some changes in consumer preferences that we've been monitoring. Consumers are ordering more delivery than ever. They are demanding local products more than ever before. I do see this as an opportunity."
Ring pointed to a $5 million grant that livestock groups got through the state for depopulation of animals, and also for federal grants and loans provided through stimulus bills passed by Congress. Producers are thankful for the help
"Those things really did help pork producers," she said. "It will never make them whole but it is reassuring the administration is looking out for farmers."
Bailey looks at the bright side.
"At the end of the day, I'm thankful that I'm an American," he said. "Whatever adversity comes our way, we always look at tomorrow. For those of us who call ourselves Christians, there's always a purpose. God's in control and gives us what we need."