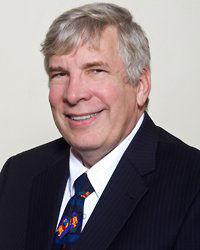 When Dr. Robert Ayers was a teenager working on the family grain farm in Champaign, Illinois, he didn't think anything of shoveling moldy corn away to save the good grain. He didn't consider how the mold and dust might contribute to respiratory health issues.
Now, with decades of experience working as a physician at OSF St. Mary's Medical Center in Galesburg, in western Illinois, he has seen the results of such respiratory issues, usually at the point when a farmer is coughing, has a temperature and can't breathe.
Because of the exposures farmers have in their everyday jobs — to grain dust, mold spores, animal dusts and chemicals — they are more likely to be susceptible to respiratory issues, said Josie Rudolphi, University of Illinois Extension agricultural safety and health specialist.
One of those is a non-infectious allergic disease, farmer's hypersensitivity pneumonitis, commonly called farmer's lung. It affects lung function and is caused by inhaling mold spores from baled hay, stored grain or silage with high moisture content.
Today there is more awareness among farmers that personal protection equipment, like an N95 mask, is needed for such tasks.
Higher awareness
Dr. Andrew Peterson, a physician working in Kewanee, the so called "Hog Capital of the World" in northwestern Illinois, grew up working on his father's farrow-to-finish hog farm in Mason County in west central Illinois.
"It's not something that I thought of," he said of any potential respiratory issues involved in working with the dust, gases and waste in pig barns.
For years, Peterson's father didn't think about it either — until he started feeling the physical effects of the job.
"He got a respirator," the young doctor said of his father's way of addressing his breathing issues.
Peterson treats patients with chronic inflammation of the airways, chronic obstructive pulmonary disease (COPD), asthma, and tobacco users with conditions that are exacerbated by working in agriculture.
While ventilation is better and the air cleaner in livestock barns today, Peterson still wants farmers to know that using the right personal protection equipment at the right times can make breathing easier in the long run.
Wake-up call
Sometimes people aren't aware of the tiny particulates in the air in animal housing until they have a severe respiratory infection or are in an emergency room when they cannot breathe, said Midge Seim, a respiratory therapist for more than 35 years and now an education specialist with Carle Health.
Seim said her first "wake up call" was when she, as a city girl, met her future husband at his pig barn. On one side of the barn, she was made aware of "pig poop." On the other side of the barn, with wind in her face, she coughed. She asked what caused it and was told "dust" — it's that type of "dust" people require protection from, she said.
"It's not like the dust on a table or a window sill. It gets down deep into the lungs and you can't sneeze or cough it out," said Charlotte Halverson, occupational health nurse and clinical director of AgriSafe Network.
She said there is concern about respiratory health in women, especially in child-bearing years, who are working on farms.
For all those using farm chemicals, it is important to read the labels because it includes information about what type of productive gear to use.
AgriSafe has created information sheets and online guidelines which explain the recommended protective equipment for different jobs, she said.
Farmers and COVID
As well as the respiratory issues associated with farm work, it makes sense today that many farmers are concerned about COVID-19 because people over age 65 are particularly susceptible to serious health issues if they contract the virus. With more than half of farmers over age 58, many with pre-existing conditions such as asthma, allergies or emphysema, they are vulnerable, Halverson said.
Many people who haven't had a personal connection with COVID-19 may not take it seriously, Seim said.
"If you go to a farm sale and are shoulder-to-shoulder with 200 others, wear a mask," she advised.
"We're concerned about older populations," said Halverson.