ELWOOD, Ill. — Dave Kestel, a Will County farmer, will soon be getting his livestock trailer ready to honor veterans.
It will be filled with live Christmas wreaths to be delivered to the Abraham Lincoln National Cemetery in Elwood, Illinois, for National Wreaths Across American Day, recognized annually at veterans' cemeteries across the nation in December.
With Veteran's Day on Nov. 11 and Memorial Day on the last Monday in May, this young tradition to honor veterans has quickly gained popularity across the country on the second Sunday in December, Kestel said.
A wreath maker in Maine started the tradition in 1992 by donating 5,000 Worcester wreaths to Arlington National Cemetery in Virginia. That action spread across the country — to the point that about 1.6 million wreaths are expected to be placed on veterans' graves on Dec. 14 this year.
"Each December on National Wreaths Across America Day, our mission to 'Remember, Honor and Teach' is carried out by coordinating wreath-laying ceremonies at Arlington National Cemetery, as well as at more than 1,600 additional locations in all 50 U.S. states, at sea and abroad," the organization states on it website.
When this tradition started 11 years ago at Abraham Lincoln National Cemetery in northeastern Illinois, there were 40 wreaths and 25 people helping, Kestel said. Last year there were about 24,000 wreaths and thousands of volunteers.
"The goal is to have a wreath on every grave," he said.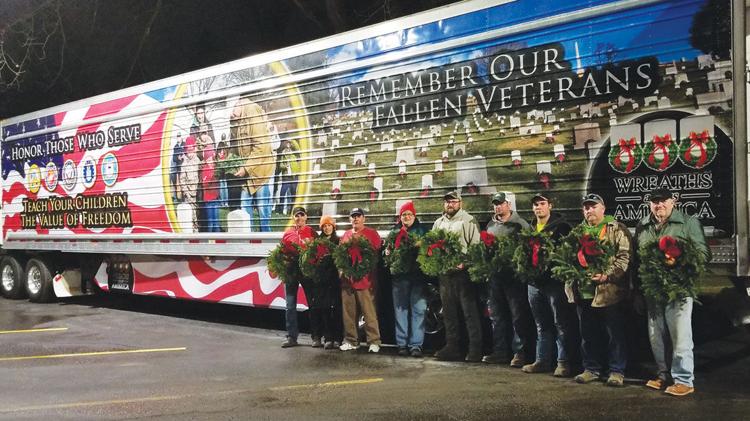 About 50,000 veterans are buried at the cemetery in Elwood, about 50 miles south of Chicago, he said. The cemetery covers 982 acres, and when it is fully developed will provide grave sites to 400,000 veterans, he said.
The effort to honor those who lie here has special meaning to Kestel.
"My father is buried here," he said.
Anthony Kestel, who served in the U.S. Army as part of the military police in Germany during the Korean War, died on Dec. 16, 2016. His son says the cemetery "is one of the most beautiful places on earth."
Kestel first started helping his cousin transport wreaths from the Will County Farm Bureau office to the cemetery, and has now become the "go between" for truckers coming from Maine to Manhattan, Illinois. Semi-trailers are not allowed on the cemetery grounds, so farmers will bring the wreaths in livestock trailers.
Last year the last semi-truck rolled into the parking lot at 10:30 p.m. and Kestel and others worked until past midnight unloading it. At 5:30 a.m., 18 livestock trailers, one army truck and a police escort left the office on the 10-mile journey to the cemetery.
"It's early in the morning. No one sees us," he said.
They arrive in the quiet of the morning to perfect rows of white stones waiting for the fresh green wreaths with festive red bows.
ROTC and other volunteers unbox the wreaths. After a public ceremony at 11 a.m., thousands of volunteers put the wreaths in place, some of them on the graves of family members, Kestel said.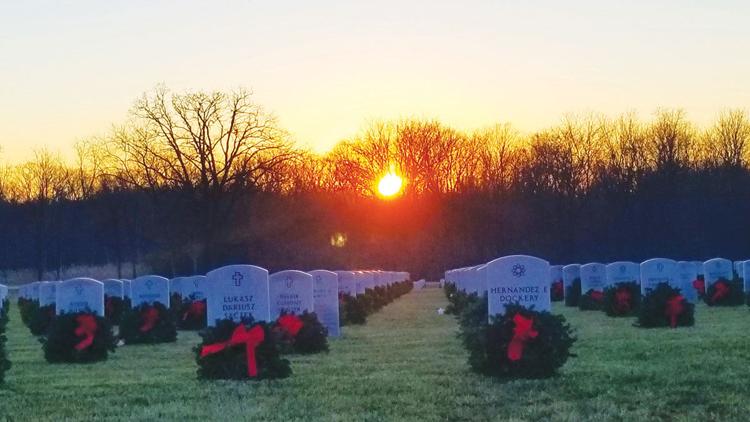 Wreaths Across America Day
More than 900 cemeteries participate in the Wreaths Across America program. Here are some of the locations this year.
More details at https://www.wreathsacrossamerica.org/
Illinois
Alton National Cemetery, Alton, 11 a.m. Dec. 14
Abraham Lincoln National Cemetery, Elwood, 10 a.m. to 1 p.m. Dec. 14
Camp Butler National Cemetery, Springfield, 11 a.m. Dec. 14
Danville National Cemetery, Danville, 11 a.m. Dec. 14
Warren Funeral Home Cemetery, Gurnee, noon to 3 p.m. Dec. 14
Evergreen Cemetery Association, Barrington, noon to 2 p.m., Dec. 14
Springfield National Cemetery, Springfield, 11 a.m.
Missouri
Missouri National Veterans Memorial, Perryville, 11 a.m.
Missouri State Veterans Cemetery at Higginsville, 11 a.m.
Iowa
Woodland Cemetery, Des Moines, 8 a.m. to 5 p.m. Dec. 14
Sioux Center, 11 a.m. to 12:30 p.m. Dec. 14