Stay tuned. That's the common refrain from farm equipment manufacturers about what to expect with the cancellation of farm shows this fall. Many are working on virtual presentations and examining other options to make up for the loss of personal connections at farm shows.
"It's disappointing, but that's where we are right now," said Curt Blades, senior vice president of the Farm Equipment Manufacturers Association.
"Our manufacturers love to interact with farmers," he said of the joy of releasing new products at farm shows. Such events are part of the discovery process of exchanging ideas with farmers, dealers and manufacturers, he said.
The work of telling the stories and introducing new products can be done virtually "and done quite well virtually," Blades said. "But face-to-face is so gosh darn important. That will never go away."
"Seeing and touching the machines to experience them in person and being able to ask the product experts questions are really key in the decision-making process for many farmers," said Aaron Belanger, AGCO farm show manager.
"It's not unusual for farmers to make an annual "pilgrimage" to farm shows to see what is new across the industry," said Belanger.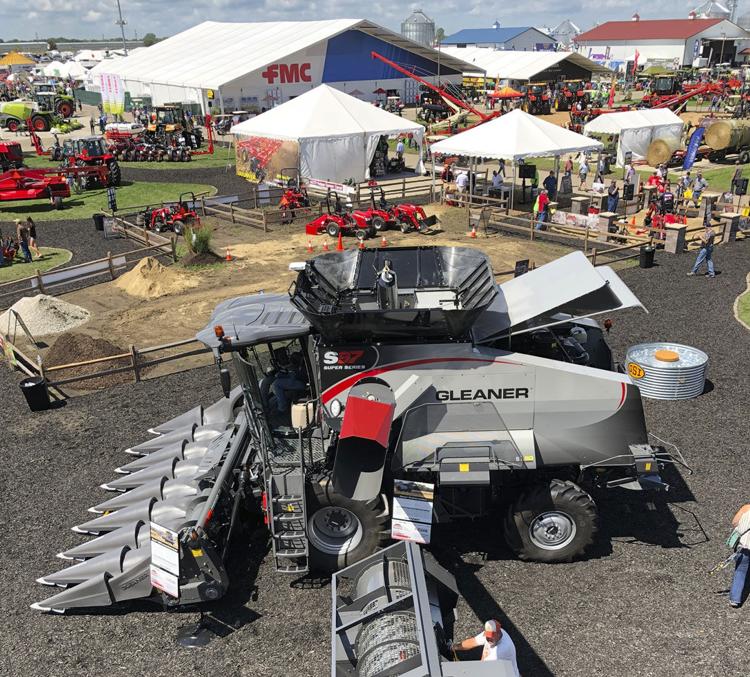 AGCO was recognized at the 2020 National Farm Machinery show in February for exhibiting there for 55 years. 
But companies are getting creative to fill that gap, according to Blades.
"There are a lot of great ideas out there. "The agriculture industry and farmers have a rich history of being resourceful," he said.
AGCO is working on something special to fill the void caused by show cancellations, said Belanger.
"We're really excited about it and believe it will give customers a very unique look at not only our new products, but the full offering of equipment from AGCO. Stay tuned for more details coming soon," he said.
Laurel Case, public relations manager for John Deere, said they also have plans on how to handle the absence of many farm shows and dealer days.
"We are still exploring what that will look like. As we go, we will learn" she said.
John Deere launched its X Series combines and new headers on June 15 and was looking forward to farmers getting to see them in person at farm shows, but there will be virtual events and work with dealers to let farmers see the new equipment, she said.
During the past few months, the public appears to be getting more comfortable with a virtual shopping and buying experience. With that in mind, Deere will be using a combination of online, dealer networks and in-person experience to connect with customers, she said.
"We still have lots to talk about," Case said. "Stay tuned."
Farm shows are part of our business strategy, said Leo Bose, Case IH Advanced Farming System (AFS) harvesting marketing manager, from the company's engineering facility in Burr Ridge, Ill. For years, such shows have been part of the company's culture to allow one-to-one customer visits.
"We listen and learn and funnel those things back into innovations," he said.
Growers are still looking at used and new equipment including precision technologies, items for increasing productivity and to provide production gains, he said. Like other companies, Case IH is looking for the best ways to deliver that information to provide the best customer service with the lack of shows.
During the pandemic, things change hourly.
"Our dealers are in the trenches," Bose said.
The company benefits from having product specialists who partner with dealers. They have the expertise dealers may need to help customers, he said.
Dealers have updated their websites, changed their hours, and adjusted parts and services hours and offerings to be efficient and timely for customers and retain safety.
As farm equipment manufacturers gear up their virtual and other efforts to make up for the lack of farm shows this fall, Blades said the Farm Equipment Manufacturers Association is already looking ahead to the Commodity Classic show March 2-6. Manufacturers and exhibitors are already wondering what that will look like and how it can occur.
"We try to make sure we've done all our homework," Blades said.
But right now, advance work for winter shows is difficult because most venues are still closed with staff on furlough. There's no one who can answer questions, he said.
"It's just not as easy as before," Blades said.
Once things open up again, meaningful events will be that much more meaningful, he said.