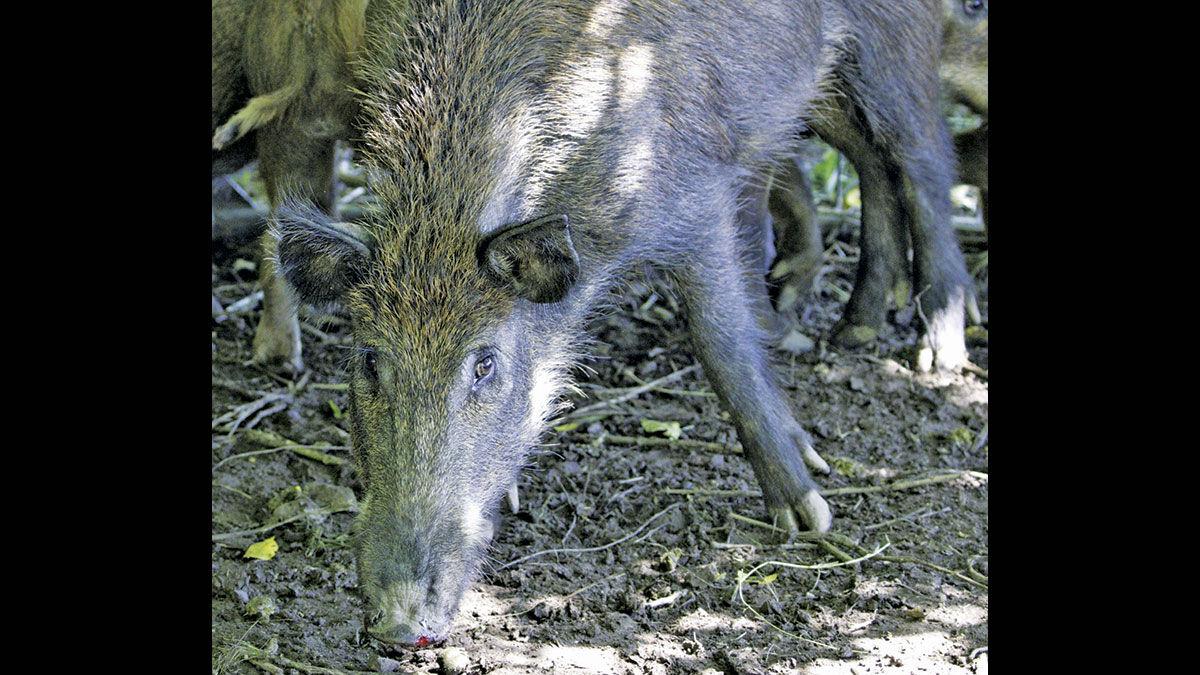 Weeds, insects and disease aren't the only pests bedeviling farmers in the Midwest. Feral and nuisance animals pose various levels of threat.
While farmers deal with browsing deer, calf-killing vultures and even encroaching armadillos, feral pigs probably raise the most concern.
U.S. wildlife agencies say more than 6 million feral pigs roam the country, and the population is growing. Some estimate that the numbers are much higher.
"Feral swine is probably our biggest threat," said Mike Wefel, chief of the Wildlife Resources Division of the Illinois Department of Natural Resources.
Fortunately, the state has minimized the threat before it got out of hand. Clusters of feral swine appeared in two areas: Knox and Fulton counties and Fayette and Marion counties.
"As Barney Fife would say, we've been very successful at nipping it in the bud," Wefer said.
The animals invaded Iowa years ago, and the state got the problem under control.
"A decade ago Iowa was declared to not have feral swine. That has been proven out," said David Pyburn, chief veterinarian of the National Pork Board, who previously worked at USDA as part of the agency's feral swine initiative. "Illinois is just now to the point where they're getting their populations cleaned up. They're not yet to the point where they can declare they don't have any."
Missouri hasn't been so lucky, likely because of the sheer number of animals being introduced, mainly in southern parts of the state.
According to Dan Wood, a wildlife biologist who worked at the Mingo National Wildlife Refuge near Puxico, the population in that region exploded.
"In 2004 we saw the first signs of wild hogs there," said Wood, who is now at Crab Orchard National Wildlife Refuge in Illinois. "That first year we estimated there was a mom and one or two babies, judging from tracks and other things. By 2007 when I left, we had an estimated 180 hogs. By 2010 there were more than 1,000 hogs."
While swine can become feral when domestic animals get loose and begin living in the wild, most wild boars in the Midwest are purposely brought to the region.
"In most cases they didn't walk into Illinois; they came in the back of a pickup truck," Wefel said. "Somebody catches free-roaming hogs in another state, hauls them up here and releases them to create a new hunting opportunity."
A major concern is disease spread into the domestic herd.
"We've eradicated brucellosis and pseudorabies from our domestic swine. We absolutely want to keep it eradicated, but it certainly exists in feral swine," Pyburn said.
Other than the disease threat, feral pigs can cause great amounts of physical damage.
"They root continually, in fields of corn, beans, wheat and other things, causing lots of damage," Pyburn said. "Texas has a huge issue with that, not only in agriculture, but in the public, in yards, golf courses and other areas."
Wildlife Services estimates that the animals can cause up to $1.5 billion in damage in a year's time.
Hunting doesn't work as a means to eradicate wild boars. That's because herds are often separated when only some members of a family unit are taken.
"If you break them up, shoot a couple and scatter them, you're just taking one group and making more," Wefel said.
Travis Guerrant, a certified wildlife biologist and the USDA APHIS Wildlife Services state director for Missouri and Iowa, is involved with the Missouri Feral Hog Partnership. Trapping is the main tool used by the partnership because it captures large numbers of hogs at once. The partnership, made up of state and federal officials and landowners, also uses firearms, helicopters and drones to help local groups of feral hogs.
Last year, Guerrant says the partnership removed 12,635 feral hogs from the state of Missouri, up from 10,495 removed in 2019 and 9,365 in 2018.
"Feral hogs damage many agricultural resources including pastures, hay fields, corn, soybeans, milo and wheat," Guerrant says. "They also have the potential to transmit diseases that could be devastating to a domestic swine herd should they come into contact with them."
Jason Jensen, a private land conservation chief with the Missouri Department of Conservation, says last year was a good year for feral hog removal in Missouri, and the establishment of an incident comment system helped coordinate efforts. Also, he says the state will be receiving feral hog control funding through the farm bill later this year.
Eradication efforts have had varying degrees of success.
USDA's Wildlife Service is working on a method in which the boars are "treated like rodents," with toxins, Pyburn said. One product — called Hog Gone — was used in an experiment in Texas, but reports of large bird kills set the program back.
Research is also under way in which the hogs are made sterile so they are unable to breed.
Pyburn said cooperation from locals helps with identifying areas where the animals gather. Trail cams are also used.
"We must remain vigilant until the final feral hog is removed," Jensen says. "Feral hogs have been referred to as the most destructive invasive species in the U.S."