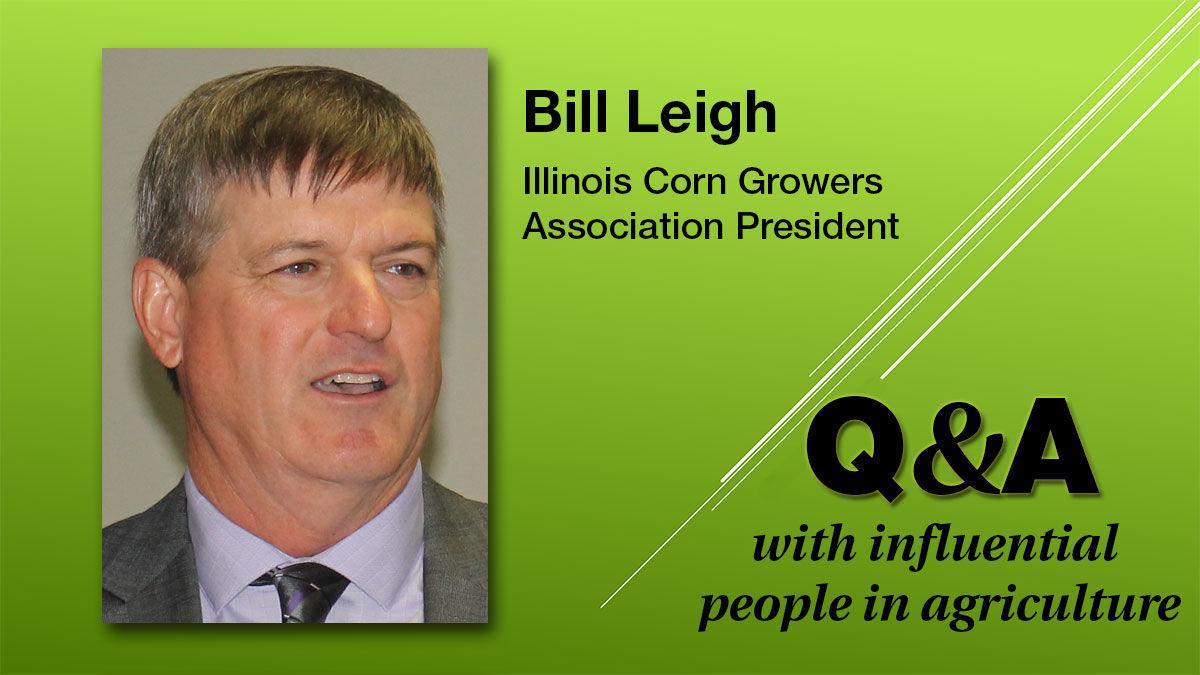 Bill Leigh was recently elected president of the Illinois Corn Growers Association and represented growers at the National Corn Growers meeting in St. Louis on Dec. 11.
The Toluca, Illinois, farmer was among those attending a press conference there to press the administration about current issues including the Renewable Fuel Standard and trade negotiations.
IFT: With the impeachment issue in the forefront right now, does that make it even harder to get your message about RFS urgency out?
LEIGH: Impeachment is on everyone's mind, but Illinois Corn Growers is sticking to what we know, and that's how to represent Illinois farmers in Springfield and Washington D.C.  We know that farmers telling their elected officials personal stories about their farms and connecting those experiences to what's happening in D.C. will make a difference. We also know that helping legislators in non-farm districts understand how Illinois agriculture impacts every citizen in Illinois can make big strides towards helping them vote in a way that does no harm to agriculture. 
IFT: Is there more growers can do?
LEIGH: Farmers can work harder at showing up. ICGA had almost 600 farmers send comments to the EPA on this ethanol waiver issue. That's a huge turnout, and we're really proud of it. Illinois farmers should be proud too.  
But there are considerably more farmers or agribusiness folks in Illinois, and we really need every farmer engaged to make big differences in Washington D.C.
So farmers can just make one more step than they are used to making. If you've never called your Congressman, make that call. If you've called but never met your Congressman, show up to a town hall or invite him or her to your farm. If you've done those things, think about contributing to their campaign through ICGA's political action committee. Take one more step. 
Specific to these issues, ICGA plans to keep putting pressure on our Congressman to get USMCA passed. Now that the White House has sent the bill to Capitol Hill, we have more opportunity to push our elected officials and for them to have something to do about it.
IFT: What do you want farmers to know about trade and ethanol issues?
LEIGH: The trade issue — passing USMCA — should be something farmers know about and understand. Trade isn't just a corn issue. Mexico and Canada account for 25% of all ag trade, and they are our largest and most reliable customers. ...
The ethanol issue gets pretty complicated so I'd understand if farmers got confused on this one. What's important to know is that President Trump tried to help American farmers by making a deal with us to preserve the domestic ethanol market. The EPA then wrote a rule that wasn't the same as the deal Trump made. If you are a farmer that sells to an ethanol plant — and there's got to be quite a few of those — this is an important issue for you. It's about preserving the ethanol market we got in the Renewable Fuel Standard.
Word is that the EPA will issue their final rule before the end of 2019, so we just have to wait and see now how this one turns out.