CLINTON, Ill. — Jesse Schmid watched an auctioneer take bids on his modern farm equipment with mixed feelings.
The father of three young boys was happy about what it will mean for his family's quality of life, but he is saddened that the future won't be what he and his wife, Jodi, had hoped.
This journey started a few days before Christmas one year ago, when the couple took their oldest son, Brody, who was 6 years old, to the doctor to see why he was having trouble playing on the playground. He was diagnosed with Duchenne Muscular Dystrophy (DMD), a rare genetic disorder.
Only 200,000 people in the United States have the condition that is most often diagnosed in boys between 3 and 5 years old. The family soon discovered their second son Royce, then 3, had the same condition.
"It was a total surprise," Jesse said.
Their 2-year-old son, Hank, does not have the genetic disorder.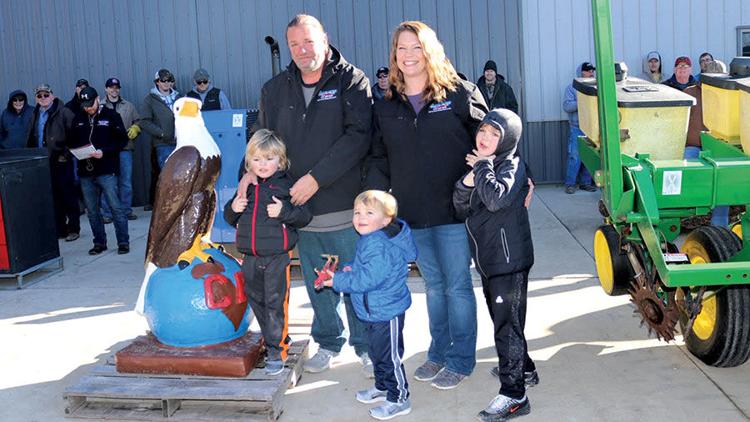 Jesse, whose father worked in agribusiness and grandfather was a farmer, had hoped his three sons would be able to choose whether to farm someday. That is not likely.
The degenerative disease involves weakening of the muscles. Until recent years, boys with DMD usually didn't survive much beyond their teen years, but with medical advancement, life expectancy is increasing, according to the Muscular Dystrophy Association (MDA).
While the boys are mobile and appear healthy, they will with age begin to show the signs associated with this degenerative disease. Shoulders, hip, pelvis and thigh muscles are usually affected first, with weakness moving to the arms and legs.
Tough decision
With this information, the family decided to sell off their newer farm equipment and continue to grow corn and soybeans with older equipment. They chose to sell unique cars and other items to enable them to buy a house in Florida and spend months annually in the sunshine state with their children.
To give them the ability to have more time with the boys, they held an auction at their farm Dec. 17, run by Martin Auction.
"It was a huge crowd and an active crowd" on a beautiful December day, said Rob Nord, the auctioneer.
The Schmids had committed to buying the newer equipment before they knew about their boys' health and decided to make some changes and use the money for the kids, Nord said.
Along with the equipment, some land was for sale. One tract sold at $10,000 per acre, he said. There is still farmland available.
In addition to high-quality late model equipment, muscle cars attracted buyers, as did heavy trucks, trailers and tiling equipment.
For Jesse, it was a bittersweet day. While it was difficult to part with equipment he had imagined his sons using someday, it helped enable another dream.
"It gives us the freedom to vacation as long as we want," he said.
'One in a million' sale
The Schmid family donated the first $25,000 of the sale to the MDA for Duchenne MD research. At the auction, the association had an informational booth, and raffle tickets were sold to help the cause. Research is making headway and getting some "good steam behind it," Jesse said.
Farm Credit provided lunches for attendees, and FFA members served them on auction day.
"They were the absolute nicest people I've been around," said Jesse of the crowd, estimated at more than 1,000 people. The support of the farm community was real to him as he talked to people from other parts of Illinois, Iowa and Kansas, to name a few.
"We want to give our thanks to everybody," he said, naming Martin Auction staff, Farm Credit, FFA and all the others who helped.
"It was a great day, honestly," he said. "My wife said it restores her faith in humanity."
Stan Irvin, an auction clerk with Martin Auction for 45 years, agreed it was a special auction. He said he had never seen anything quite like it in more than four decades in the business. It was his last auction before retiring.
"That was a good way to go out," he said.
Buyers or bidders came from as far away as Florida, California and New York, he said. One of the buyers from was Ontario, Canada, he added.
"The Schmid family has worked hard for years assembling this group of machinery and now, due to health issues within the family, their direction has shifted, and the money generated from the sale of this equipment serves the family better in another place," he said.
Irvin will long remember his last official auction.
"It was one in a million, with pristine, modern equipment, a few toys, a good cause and good prices. All the planets aligned," he said.