JERSEYVILLE, Ill. — Jeff Fraley called the corn planted in his Jerseyville fields this year "some of the prettiest corn I've had." Seeing it was more rewarding because it had been a difficult year to get crops in the ground.
But on June 4, his southwestern Illinois field was under 17 feet of water.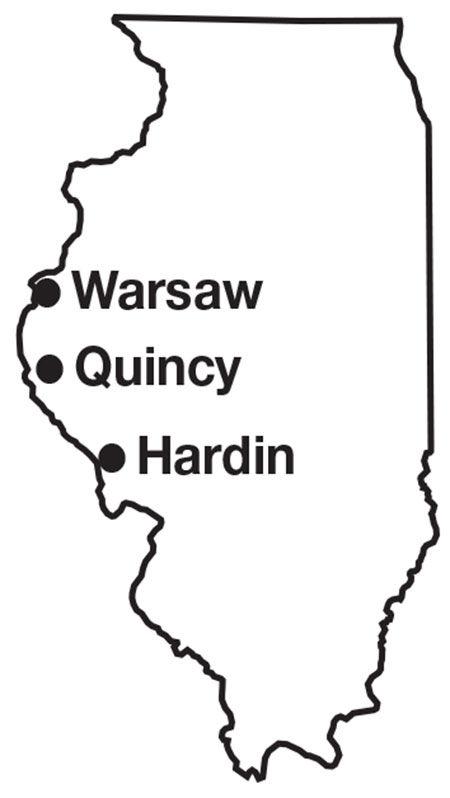 It wasn't as simple or as sudden as that. The Mississippi and Illinois rivers had been rising for weeks and a concerted effort to strengthen the Nutwood levee along the Illinois River brought the community together. People sandbagged from daylight to dark over a two-week period.
"We thought we were fighting a battle we could win," Fraley said.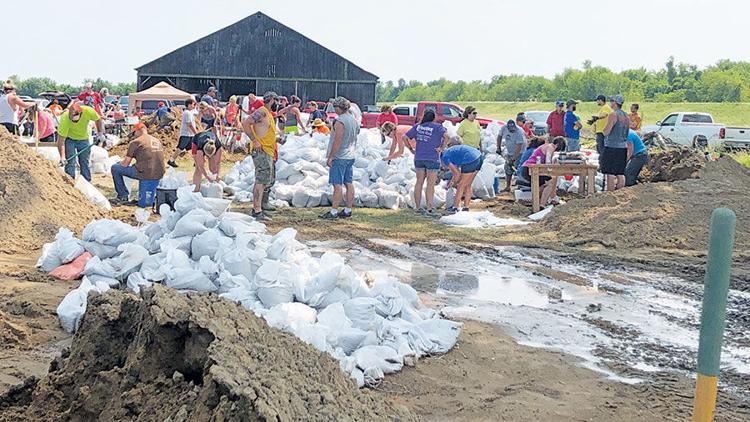 They did win a first round in early May, but the river came back with a vengeance at the end of the month. On June 3, the river started toppling the sandbags and cut into the levee.
"The IEMA (Illinois Emergency Management Agency) pulled us off," Fraley said of the end of the fight. "Our hearts were broke. Reality set in we had lost."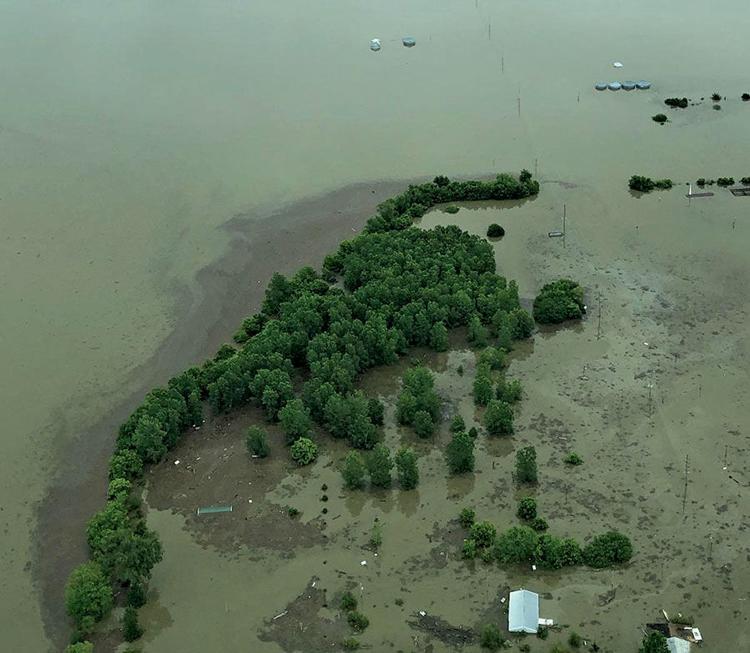 Water breached the levee near Hardin, a village of 900 residents, which becomes an isolated peninsula with the closure of Illinois Route 16. The Calhoun County town at the juncture of the Mississippi and Illinois rivers lost the use of Illinois Route 16 for three months when the levee breached in 1993.
People forced to deal with disaster may never completely recover, says Paul Lasley, Extension sociologist with Iowa State University.
"Many disasters, like a tornado, are intense at first but then you start cleaning up," Lasley says. "This disaster has been dragging out over weeks and months. It affects people differently, not to mention the major expense involved in rebuilding, repairing and preparing the farm for next year."
During the sandbagging effort, Fraley said volunteers shared tears and hardship. When the effort failed, they all felt deflated. Still, his family, including two teenage sons, learned life lessons.
"They saw a lot of good in people," he said.
His wife, Shannon, and mother, Janice, served meals. Their 17-year-old son, Collin, and his basketball teammates dug into the hard work.
Among the sandbaggers were inmates from the Vandella Correctional Institute. One of the guards told Jeff that his 13-year-old son Caleb, called "Petey," became a legend of sorts among the inmates because he worked so hard.
Winning the battle
The same sentiment of hard work, community spirit and determination rose above the flood waters across the state.
Joe Zumwalt, who is part of a family operation that farms 4,500 acres in the Warsaw bottoms along the Mississippi River, has more than 20 years of experience coexisting with unpredictable waters. The Hancock County farmer has seen the levee of the Hunt-Lima Drainage District breach twice — in the 1993 floods and in 2008.
"We were very close this time," he said. "God, luck and hard work" helped. People donated their time, boats and heavy equipment.
"We took precautions early," he said.
The danger started brewing last fall when 6 to 8 inches of rain fell during harvest followed by a wet winter.
"We've been at or above flood stage the longest time in recorded history," Zumwalt said.
While the levee held, "you still have the drastic emotional drain of the fight," he said. And the aftermath to deal with.
Taking in the losses
"Of 32,000 acres in the drainage district, about 10% are too wet to get planted this year," Zumwalt said of the land around Warsaw.
"A lot of guys will keep planting to July 10 to 15. Some will be uninsured beans, some will be cover crops," he said.
"Whether they have two acres or 10,000, we're all in the same boat," Fraley said of those in the Nutwood levee district, which includes 10,360 acres of primarily agricultural land in Jersey and Green counties, according to the U.S. Army Corps of Engineers.
Fraley lost 430 acres of crops to the flooding, of 1,750 acre he farms. Grain bins are under water. However, the Fraleys and others learned from the 1993 floods to get the grain out.
Crop losses such are these are widespread.
"The magnitude of prevented planting acres this year looks to eclipse the previous record of 3.6 million acres in 2013 by a wide margin," said Todd Hubbs, University of Illinois agricultural economist, in his weekly update June 17.
The USDA dropped corn-planted acreage by 3 million acres and corn yield by 10 bushels per acre in its June Supply and Demand report
The flooding also intensifies the shortage of forage, Zumwalt said. Grain storage and transportation take another hit. Barge traffic has been shut down for almost two months with the high river levels. Floods have also closed and slowed rail transportation.
"Summer will be like harvest season with grain coming in all season long," Zumwalt said.
Still resilient
Zumwalt isn't giving up on a crop.
"I replanted 600 acres of corn twice. Three hundred are under water again," he said.
Those 300 acres are going to be soybeans now if he can get them planted.
"Most farmers are resilient to the end," he said. "I'm 42 years old, have been farming 20 years, and have never been through a more stressful and difficult spring."
To make decisions, famers really need to know their costs and yield position, he said.
"At some point, you are farming for crop insurance," Zumwalt said, noting it is not the ideal approach but necessary to keep farming in tough years such as this.
Andrew Campbell, a young farmer near Quincy, said there are several fields they won't be able to get to until July. Because of river seepage, he will be like many with some prevent plant acres this year.
"We work around on what's fit. We control what we can," Campbell said.
Campbell's attitude to move forward no matter what is much like the Fraley family's approach: "It happened. We've got to move on," Fraley said.
He avoided looking at the damage of the levee overtopping at first. He worked on planting soybeans in a different area for a few days.
"Then I finally made myself look," he said. "My family and I climbed the grain bin and took a family photo. It was a hair standing on your neck moment."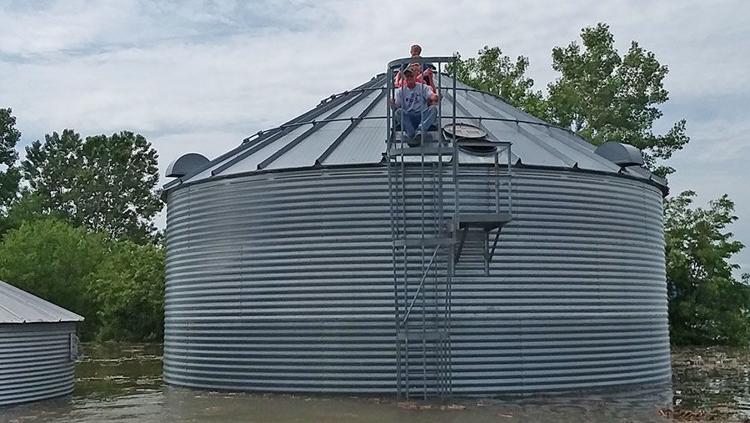 "I think it would make a great Christmas photo," said his wife Shannon, adding, "If you can't laugh, you cry."