MAZON, Ill. – On the morning of Aug. 10, Paul Jeschke took a look at his two shiny new grain bins, and was confident he had enough storage for the bountiful corn crop expected this year in northeast Illinois.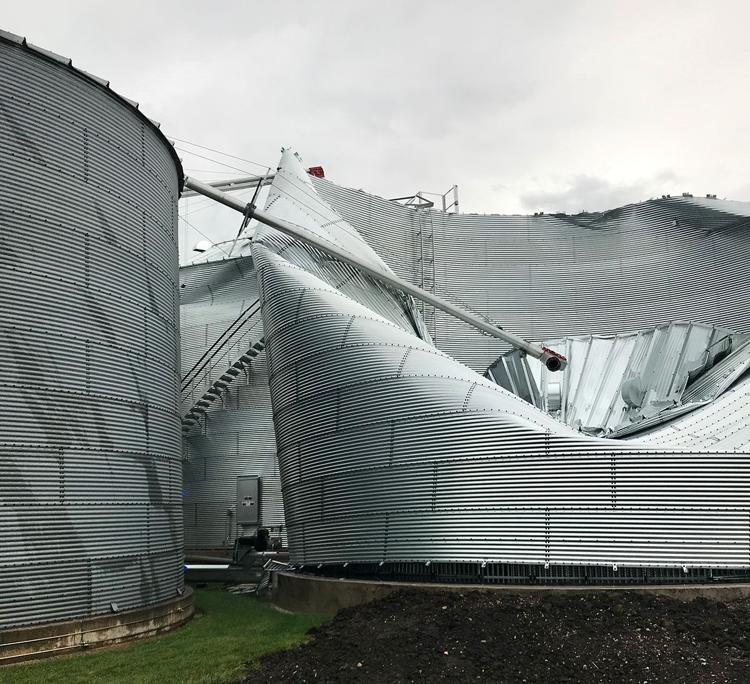 At 3:23 p.m. that afternoon, those thoughts changed when about 100 mph straight-line winds from a devastating derecho storm struck his farm, knocking out half of his on-farm storage including destroying one new bin and damaging another. 
He lost the use of three bins.
"In 45 years of farming, I've never seen that kind of storm," said Jeschke, who farms near here with his brother-in-law and nephew about 70 miles southwest of Chicago.
He was only two miles from home when the storm struck and the winds were so powerful, he didn't know if he could keep his pickup on the road. At about 5 feet above ground, the wind's velocity was clocked at 93 mph nearby, but it would have been stronger at the height of the bins, he said.
He had the two new 60,000-bushel bins built this summer, both in anticipation of a large crop and with the nearby Illinois River system closed for scheduled lock and dam repairs. 
Getting storage at local elevators isn't an option because they will be full with grain for export which is usually on the river sooner. Hopefully the river system opens for transport by Nov. 1 as planned, he said.
Some farmers who lost grain bins will likely also look to the elevators for storage. Jeschke expects there will be piles of grain on the ground at elevators this year. 
Among the hundreds of grain bins damaged or destroyed across the Midwest at the same time, 11 were destroyed in his area and served by the same company he uses. So, there will be big demand for bin construction, said Jeschke, an Illinois Corn Marketing Board director. 
He is hoping his one dented bin can be repaired enough to make it usable, and he hopes to replace the destroyed bin. Two days after the storm, he had ordered a replacement bin with delivery at the end of September. Harvest will be well underway then, he said.
Labor to get the bin up will be the challenge. 
"You can't put it up if you don't have the steel," he said. 
If the bin is on his property this fall, he will make sure it is up for storage.
"We'll have to shut down and build it ourselves, if it comes to that," he said.
As for the corn in the field, it is easy to see the damage from a drone now because the corn stalks that experienced green snap are already drying up and changing color. 
On a positive note, some of his downed soy beans that weren't snapped are standing again. 
The power went out at their home when the storm ripped through on Monday afternoon. As of Friday morning (Aug. 14) it was not restored, but he was hopeful it will be the following day. The family does have a generator for their home which they usually use one or twice a year when the power goes off.
Nearby, the wind pushed the roof in on a neighbor's large machine shed, dropping it on equipment stored there.
"Hopefully this is once in a lifetime," he said.
William Graff, Illinois executive director of the federal Farm Service Agency, said that while the agency is still compiling information about damages, the storm doesn't seem to be have caused widespread damage.
"Illinois is nothing like Iowa," Graff said. "So far, we came out of this thing in good shape."
Besides crop insurance that may cover ruined corn and soybean plants, producers whose farms suffered other types of damage have other options. They include the Livestock Indemnity Program and Emergency Conservation Program.
"The best advice I can give to any producer who has suffered any type of loss is to do two things," Graff said. "If you have crop insurance, call your agent. And call or email your local FSA office and let us know what you have going on. We can work with you from there."
Graff likened the August storms to others that pass through the state over many years.
"Every summer Illinois has wind and storms. Every year we have some acres that get blown down," he said. "I would term this storm as no different than a lot of storms that went through Illinois in the past. Do a few farmers have some crops blown down? Yeah, but anytime a big storm system blows through Illinois, you're going to have that."
That doesn't minimize problems encountered by individual farmers.
"I'm not trying to downplay it. For an individual producer it can be devastating," Graff said. "A lot of our counties have 600 operators. If it's 30 farms, that only 5 percent. But to the individual it's a big thing."