TAYLORVILLE, Ill. — Few high school students know every inch of cows, sheep, goats and hogs as thoroughly as five Taylorville High School students. Their intensive study paid off with a national judging title in January and plans to compete in Scotland in July.
Hours of study with three determined agriculture and FFA teachers helped the Taylorville FFA Livestock Judging team win the competition at the National Western Roundup in Denver in January.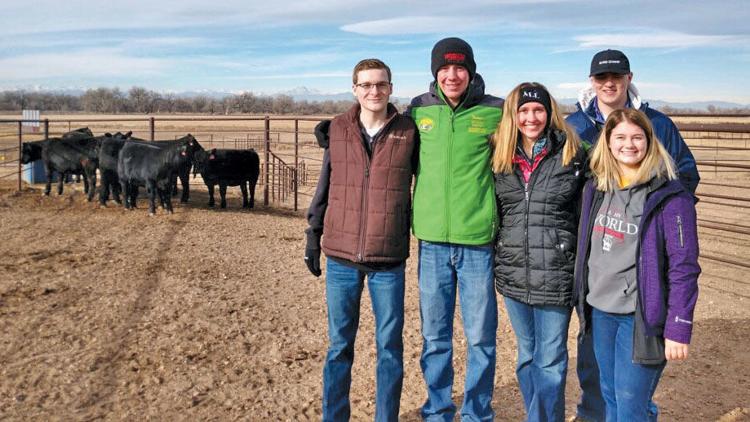 The Christian County, Illinois, students just kept getting better throughout the season as the competition intensified, placing third in Indianapolis, second in Kansas City and taking the top spot in Denver when it counted.
"Their dedication and hard work" are the reasons for their success, said Katie King, one of three agricultural teachers and FFA leaders who helped guide the group. Sue Schafer and
Lori Parks round out the teaching team.
"They practiced long hours," King said.
The judging team is made up of Taylorville High School juniors Layne Lebshier, Eric Schafer, Tanner Mickey, Jett Vickery and alternate Lizzie Schafer, a freshman.
King will be traveling with the students on the international livestock tour to Scotland that includes events and visits in Ireland and England. They will be judging some breeds that are unfamiliar to them at the international competition.
At home in Illinois, the team meets in a classroom that has shelves of trophies and awards earned by this group and previous FFA students. When students are not in a classroom, they may be where the animals are, to practice judging and giving reasons for their determinations.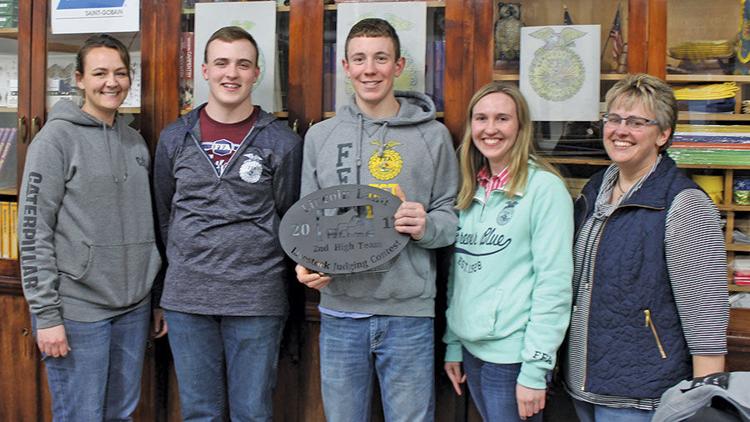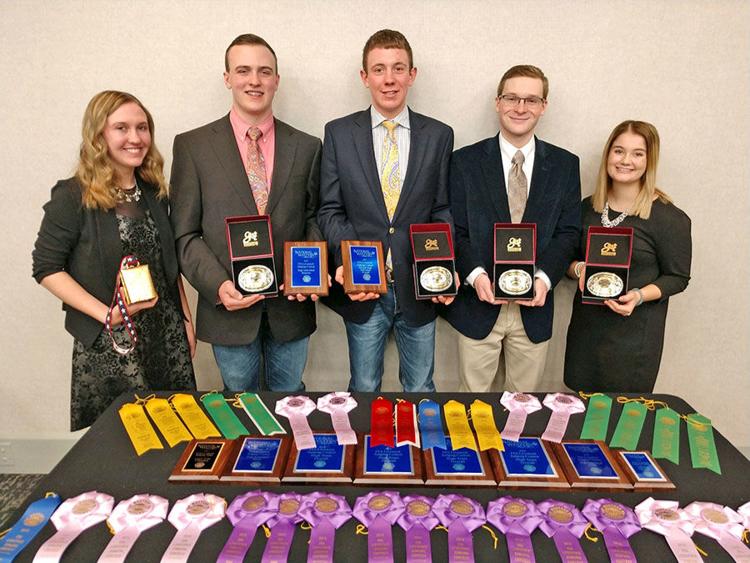 Interest in and experience working with livestock comes naturally to Eric Schaefer, who is a fourth-generation farmer. His sister is also on the team and his mom is one of the teachers. It's a family activity to show and judge livestock regionally and nationally year round, he said.
Not all the members of Taylorville FFA are livestock enthusiasts. Conner Grant, a sophomore, is more interested in crops. He likes restoring John Deere tractors with his father and grandfather and working on 55 acres of corn and soybeans.
He enjoyed the public speaking aspect of FFA and recently won recognition for his address about the acceleration of technology in agriculture.
He, like many of the school's FFA members, hopes to go to junior college or university and compete on the judging teams there. Most are interested in ag-related careers.
These students aren't afraid to tackle tough topics. For example, Grant and fellow sophomore Isabelle Norris teamed up on a science fair project about herbicides that won them an Illinois state victory and 10th place in nationals. They chose to look at dicamba herbicides, Roundup and Liberty in their own soybean study.
"It's a hot topic and we wanted to know which worked best," Norris said.
The dicamba product, which Norris' family happens to use on their farm, was the winner in their trials. In their research, they were careful about placement and boundaries to avoid herbicide damage on any other crops.
"These kids have a strong agricultural background and are academically superior," said Schafer of their students' achievements.
She noted that not all the 290 active FFA students (in a high school of 750 students) have agricultural backgrounds, but they all have interested in related topics, leadership skills and team work.
These students are also well-known for their generosity in helping those affected by a tornado that tore through their community on Dec. 1. During their Christmas campaign, they helped fellow high schoolers affected by the storm or having other challenges at Christmas time.
The group has also held a variety of fundraisers, including a tractor raffle, sweet corn and pork chop sales to help with to travel to competitions. Their teachers said they are still raising funds.
What makes this group worthy of international acclaim? Schafer said, "It's the kids, the community and the dedication from the teachers."