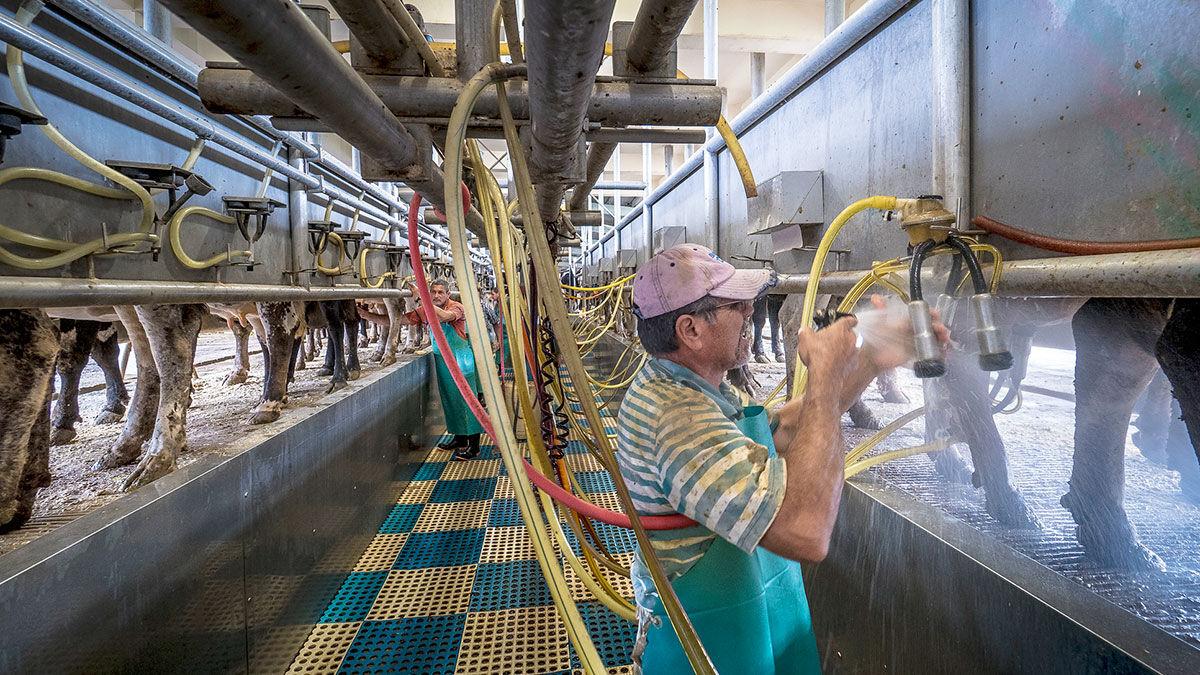 The availability of farm labor is a major concern for many, and there are few signs the situation will improve in the near term.
Farmers across the country are routinely frustrated when trying to find workers to plant and harvest grain, pick fruits and vegetables, and tend to livestock. And a federal initiative to amend foreign worker regulations is getting mixed reviews.
"There's a tremendous labor shortage and it's hitting the agricultural community hard," said Alex Cracchiolo of USA Farm Labor Inc. "The unfortunate reality is that we may have to start importing our food."
While that may not be a current threat, the concern is real. The 2021 Farm Labor Survey, conducted by USDA's Economic Research Service, reflects the reality that there is a serious problem with labor in the agricultural sector.
According to data from the survey, real (inflation-adjusted) wages for non-supervisory crop and livestock workers rose at an average annual rate of 1.1% per year between 1990 and 2019. In the past five years, however, real farm wages grew at 2.8% per year, consistent with growers' reports that workers were harder than usual to find.
Another measuring stick is the increased participation by farm operations in the government's H-2A (officially, the Temporary Agricultural Employment of Foreign Workers) program, which provides a legal means of bringing foreign workers to the United States for seasonal farm labor. According to the USDA, the number of H-2A positions requested and approved has increased five-fold since 2005, from 48,000 in 2005 to nearly 258,000 in fiscal year 2019.
The issue has gotten the attention of Congress, which has taken up a measure that would make changes to the program, among other things. The Farm Workforce Modernization Act was recently passed by the House and has been taken up by the Senate.
The bill addresses several components of the H-2A program, including specifications on how employers may satisfy requirements that they first attempt to recruit U.S. workers. It would also require employers to guarantee minimum hours.
The American Farm Bureau Federation did not support the House bill and is working to make changes in the Senate version.
"We're hopeful we will be able to secure significant reforms to that legislation and be in a position to support it," said Allison Crittenden, Farm Bureau's congressional relations director. "We feel that it does not go far enough, particularly as it relates to the H-2A guest workers program."
One stumbling block is the Adverse Effect Wage Rate. Mandated by the Department of Labor, it is essentially a minimum wage for foreign agricultural workers. The rate rose 63 cents per hour in just the past year.
"This legislation tries to establish some predictability by placing limits on increases and decreases. But it also includes really complicated wage structure that could create more HR burdens on farms," Crittenden said. "It could also end up raising operating costs, depending on how your workforce falls into the different wage categories.
"We recognize that the wage rate has risen greater than the rest of the economy over the last five years, on average 20%. Prices farmers are receiving for crops are not keeping up at the same rate. It's hard to be competitive."
Cracchiolo said he doesn't believe American farmers are tightwads. In fact, he is convinced they are willing to pay good wages. The trouble is twofold: finding qualified laborers and competing for them.
"Everybody I talk to treats their workers fairly and pays them fairly," he said. "But they're concerned that there will be a spiral where they can't afford to hire workers anymore. It's a scary concern since for a lot of these guys the H-2A program is the only lifeline they have.
"Most of our farmers pay average spec wage or higher. But there are a lot of small farms that have difficulty competing with people, say in Canada, where they have a lower wage rate. So when the time comes to sell their crops, they can't be competitive in the market."
Some provisions of H-2A are in place because of the assumption that the guest workers program has a negative effect on domestic employment. Crittenden rejects that notion.
"We think that there really isn't an adverse effect on domestic employment. We have a workforce shortage," she said. "Folks don't want these positions. That's why we have to utilize guest workers to grow and harvest crops across America."