PEORIA HEIGHTS, Ill. — Long before farm to restaurant became a popular trend, Chef Dustin Allen had embraced the concept. His practice of sourcing from 60 local farms and adjusting menus according to local availability served him well during pandemic-invoked restaurant service changes and shutdowns
Allen said growing up in Griggsville, a small rural town in western Illinois, gave him a great affinity to family farms and rural lifestyles. That, and his family's 54 years of restauranting, helped him choose his path.
He knew he wanted to serve food that reflects his Midwest heritage.
"I'm not shy about serving Midwest foods. It doesn't have to be pot roast," he said.
Instead of following his family's diner food tradition when he opened his restaurant, The Edge by Chef Dustin Allen, nine years ago, his vision was "whole food cooking" and to create "locally sourced and artfully elevated food." He was hoping he and his team were on the "edge of something great," he said of the name.
"The Edge has been built on local farms. The menu changes nightly," he said of his restaurant, which includes several family members and foods grown within a 100-mile radius of Peoria. It is based on fresh local ingredients.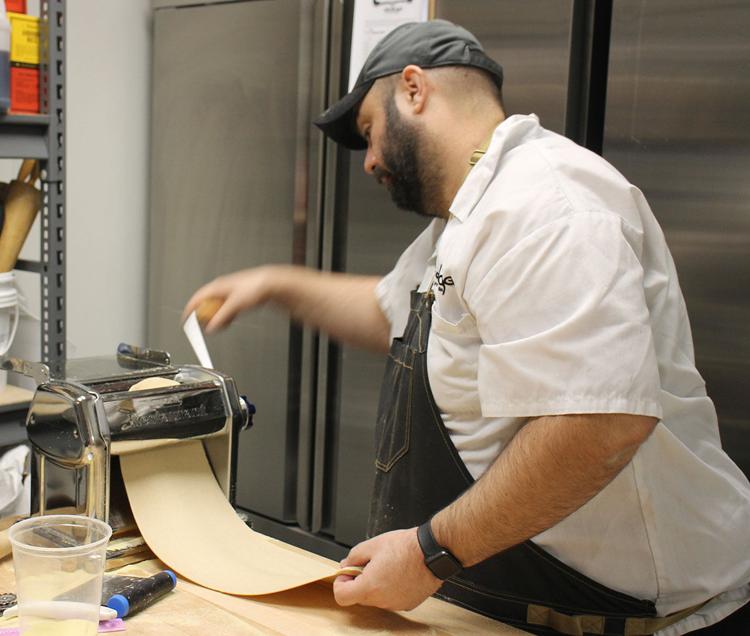 "That defines how I cook," he said.
He first made contact with local growers with whom he built relationships with including Will and Marty Spence, who grow heirloom and native crops, and heritage animals on about 160 acres in Livingston County. From them he also learned of Janie's Farm, a certified organic farm in eastern Illinois, and Janie's Mill, which mills local grains into flours– a product in big demand during the pandemic. He also grew a relationship with the Kilgus family, who provides much of his meat — a relationship that would serve both of them this year.
He hasn't had supply issues that some other businesses have had because of his strong relationship with the farms.
Instead of telling them what to grow, he asks them what they do best and can incorporate it in the menu.
"We're accomplishing our goal of helping the family farm," he said.
Seeing seeing stories of some farmers losing their livelihood during the pandemic as large processors grappled with employees sick from COVID-19 reaffirmed his commitment to help the farmers he could.
"How can I help?" he asked his friends at Kilgus meats during the early heat of the pandemic in March. The owners said that specialty buyers for Chicago restaurants weren't buying goat meat, leaving them no place to sell it. So, Allen added goat meat his menu. It was well received, he said.
"We're accomplishing our goal of helping the family farm," he said.
The pandemic also taught Allen his restaurant had options it had never considered before. When in-house dining was closed, he started offering take out. He was reluctant at first.
"It's like cooking for a ghost," he said. "There's no soul in it."
He didn't consider himself a provider of food — but rather the whole dining experience in the restaurant. But he found a way to create family-style carry out foods, including lasagna and chicken, that fit his sensibilities and pleased customers.
During the pandemic, Allen also learned that he and his staff have the aptitude and resources to provide holiday foods. He said since their Easter menu was so popular, he will add holiday menus. Instead of green bean casserole and such, he kept with what was in season in early spring and showed the strength of local foods.
"We learned a lot. I will do that again," he said.
The Edge restaurant patio and inside service have reopened according to pandemic protocol. While the time of closure was difficult for Allen and his family, he comes out of it with new ideas that suit his philosophy to serve customers and local farmers.