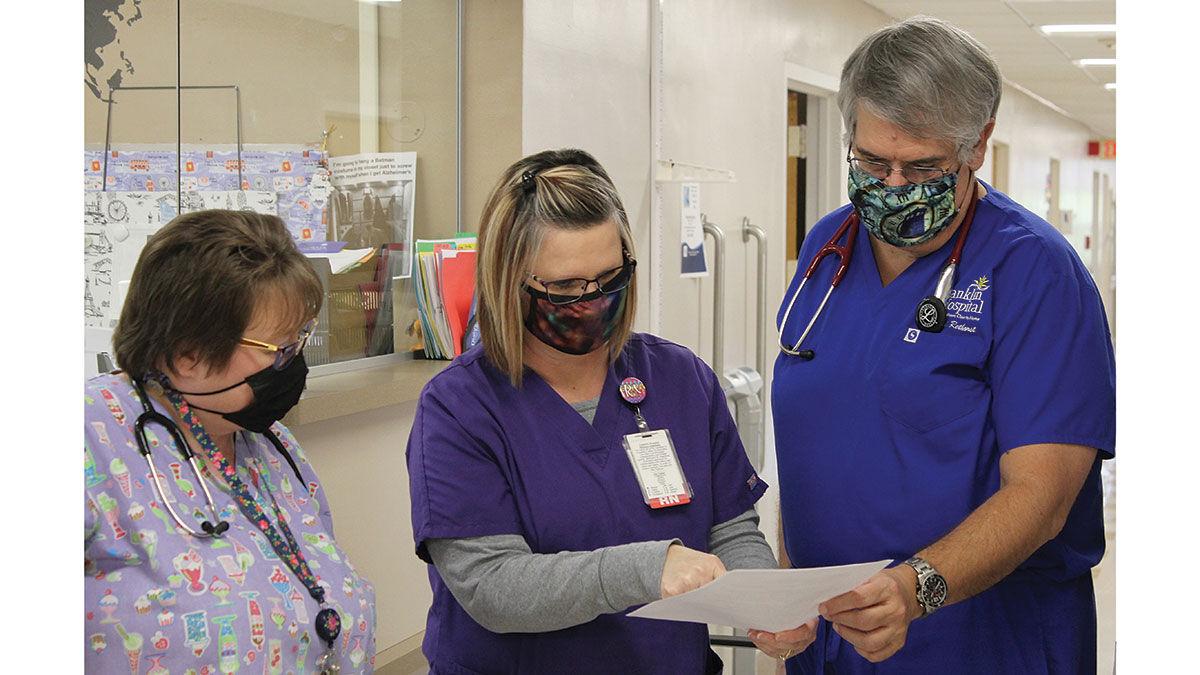 Access to health care in rural Illinois continues to be a troubling issue. But medical schools are taking steps to address it.
The dearth of doctors and other health care professionals outside the urban centers is critical in some areas, especially in specialties such as obstetrics, pediatrics and psychiatry.
"There is a huge shortage in rural areas of hospitals that deliver babies," said Margaret Vaughn, executive director of the Illinois Rural Health Association.
Indeed, the number of facilities with maternity services has shrunk over the past several decades. In some cases, hospitals have closed entirely. The challenge is convincing graduates of medical schools to set up shop in small communities.
"The liability is so high, and it's difficult to attract specialists," Vaughn said. "It's one of the biggest needs. The population in rural areas is aging, but for those who are not, it's a critical concern.
"In general there's a shortage of specialists. It's hard to attract them because they can make a lot more money in urban areas. Many have huge student debts, and most are going to go where it's most lucrative for them. It's difficult to get them to settle in a rural area, particularly if they're not from one already."
The Southern Illinois University School of Medicine is not only aware of the problem, but is taking concrete steps to place more medical professionals — including physicians and physician assistants — in rural parts of the state. The school started a fellowship a few years ago designed to increase access to care in rural areas.
Dr. James Daniels, a professor at the SIU medical school in Springfield, helped launch the initiative. He led a team that took a hard look at the problem, consulting think tanks across the country and examining efforts to beef up rural care access by regional coalitions.
They included models in the Dakotas and Minnesota, and a regional effort in Wyoming, Alaska and Idaho. In addition, the team looked at a program in Philadelphia.
"All had track records of getting people trained and going back to rural areas," Daniels said. "In Philadelphia, they got a lot of urban students interested."
The school's Lincoln Scholars program accepts eight students per year. Instead of spending just the first year of medical school at Carbondale, those students continue in the rural areas of southern Illinois. Each is paired with a small-town doctor.
"They are interviewed not just by doctors, but administrators, nurses and others," Daniels said.
"They shadow the doctor. We think that's important for development. The second year, they go through what we call 'courtship.' They spend time with sub-specialists in rural areas."
The idea is that future physicians are more likely to practice in the area where they study medicine. Proponents of the SIU initiative point to a more laid-back feel to rural areas.
Dr. Richard Rethorst, who practices medicine in rural Franklin County, believes that while doctors can make more money in an urban area, there are intangibles that make practicing medicine in the country fulfilling.
"I think it's lifestyle," he said. "The friendliness of the people is a valuable resource. It's important that you know your neighbors and your patients, and that you don't feel like you're herding cattle."
As a mentor in the university's Lincoln Scholars project, Rethorst knows first-hand the challenges of persuading doctors to work in rural areas. He is a native of rural southeastern Kansas.
"It's very similar to this area," he said. "It's not uncommon for me to be managing neighbors. We may both show up at Walmart, and they're usually respectful and don't talk shop, although they may not want me to look in their grocery cart."
Daniels said there isn't a big problem in the central parts of Illinois. Springfield is a regional medical powerhouse, with state-of-the-art care.
"There are more doctors in Chicago, but one of the densest places for health care in Illinois is probably Springfield," he said.
"If you swing a dead cat you're going to hit four health care providers. The school has done a pretty good job in central Illinois. It goes where the good dirt is.
"You start going down south and it gets a little thinner. Two areas of the state where we're short on person power is the deep western and southern tip of the state. Women having children are going to other states. There are only a couple of places in the southern tip where you can have a baby."
In addition to the SIU program, other medical schools are working to increase the number of health care providers in rural areas. The University of Illinois College of Medicine in Rockford has a specialized program that includes residencies and rotations in rural areas.
An area of the greatest need may be psychiatry.
"That's the case in our area and probably for all the country, especially over the past year with COVID," Rethorst said.
"We've seen so many people go through anxiety and depression. Some have lost family members. There are not many psychiatrists in this part of the state."
Being comfortable in one's environment may be the biggest draw. Medical students who experience the slower pace of rural Illinois may be more likely to be drawn to it.
"The cost of living is great in a small town; it's cheaper than living in downtown Chicago," Daniels said.
"But more important, once you get to a certain economic level, money becomes less important. How come these folks who are paid all this money get so burned out? I've been doing this 35 years and I can't wait to go to work every day. In a small town everyone knows each other and you have to get along, one way or another."