GOODFIELD, Ill. — It's not usual for a business's restroom to be where its personality really shines. But the humor, creativity and warmth of The Barn III, a central Illinois theater, wedding and event venue, take center stage in the mens and ladies rooms.
The significance of the restrooms dates to when the barn first opened for dinner theater at Halloween in 1975. The women's restroom wasn't quite finished. It had toilets but no private stalls. When the barn reopened in 2019, after being destroyed by a tornado four years earlier, new owner Abby Reel was determined the restrooms be complete and reflect the character of the theater.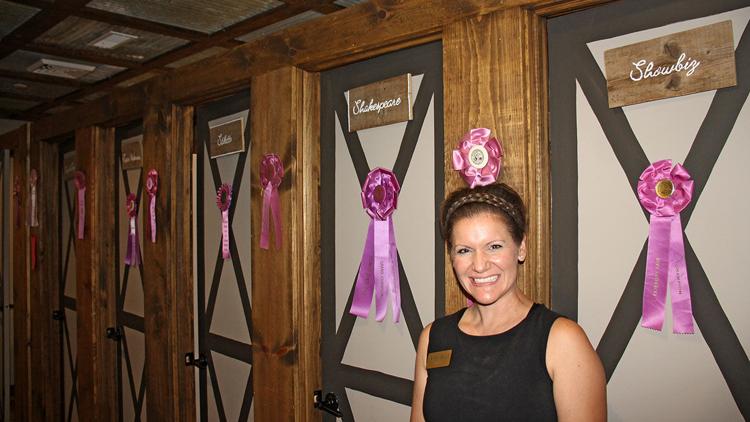 The women's restroom is designed like a barn with stalls bearing a theatrical name on each stall door. It is decorated with prize cattle ribbons, mostly won by Reel as a 4-H youth showing Angus cattle from the family farm in nearby Congerville, Ill. The men's restroom is also an attention getter with tools and tractors. 
The rest of new barn incorporates the character of the old one, including a beam from the original barn as the fireplace mantle in the lobby.
Unfortunately, the facilities are practically empty again, this time due to the coronavirus pandemic. On March 10, just over a year after the grand reopening, the doors closed during what was to be a celebratory 45th anniversary season.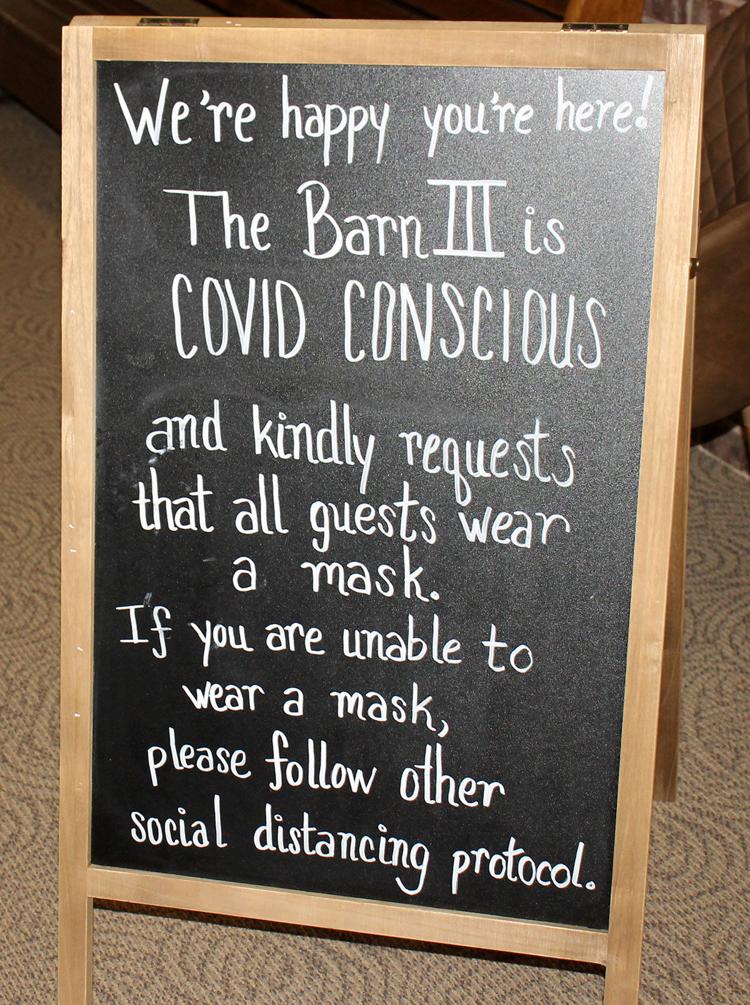 While there are no performances at the theater right now, Reel and her team are planning how to reopen when the time is right and are easing back into hosting weddings following pandemic guidelines. They hope to hold their Christmas program starting in November.
Pandemic pause
Food service style is another thing the pandemic is changing here. The Barn III had previously been buffet style, but when it reopens, food will be served at the table.
"When life gives you a global pandemic, the barn plates the prime rib," Reel said.
One thing that stays the same is that the actors serve the tables of theatre goers during mealtime, a long-standing tradition here.
Safety as well as financial considerations has kept the theatre closed. Reel points out that many customers come on bus trips from other states, some with surges in COVID-19 cases now. Also, the barn pays its actors and pays royalties for its productions so it's not financially feasible to hold outdoor theater or play to a smaller audience.
Cattle connection
However, Reel has some fun planned for patrons this fall to help take away the sting of the cancellation of the Illinois State Fair and many fund-raisers that help organizations year-round. She is buying two calves from a 4-Her she knows, who has trained them for virtual shows.
"We have been exploring ways to integrate livestock into what we do and I'm happy to say that the barn has acquired two adorably tame and fuzzy 'show steers' that weren't able to be shown at the fair this year due to COVID-19," she said. "They will soon be joining us at the stable near the barn and we have some fun activities planned with them starting in October."
Near where the cattle will graze and where the patio dining will operate is a cow statue. It's really a Holstein dairy cow acting the part of an Angus beef cow. Every now and then it needs touchup makeup when the white spots show through to remain in character.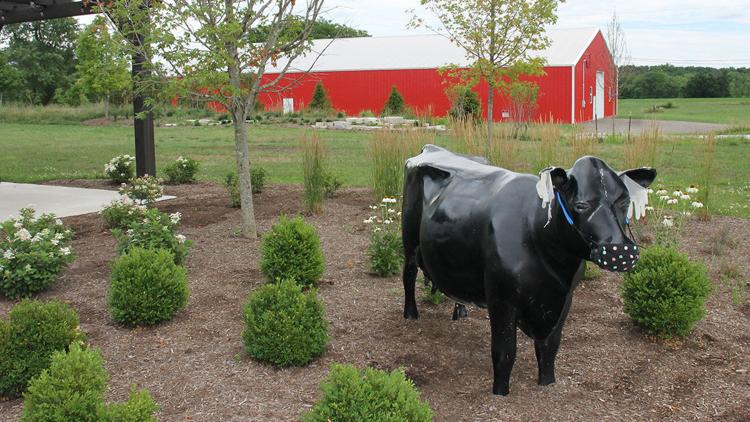 The farm and cattle connection is a natural here as this farm was started in 1857 by Henry Mortimer Robinson, who owned more than 1,000 acres of Illinois farmland. The farm's history also included Henry W. Robinson, Jr., who was known as the "Cattle King" of Illinois, and the family built this classic barn in 1940.
The barn went from raising beef to serving it for dinner in 1975 when Chaunce Conklin, former Illinois Wesleyan University professor and actor, bought part of the farm.
Twenty years after Conklin's Dinner Theatre was founded, Mary Simon, who had been involved from the beginning, became the owner and operator of the Barn II Dinner Theatre. Fast forward another 20 years to 2015 when a tornado damaged the barn enough to make it close. For a time, the company performed at a site in Washington, Illinois, until Simon decided it was time for her retire and the barn theater's future was uncertain again.
That's when Reel stepped up to ensure the show must go on.
Will to live
The barn survived multiple bouts of adversity.
"As my dad, Les Reel, used to say…'some things just have a will to live.' The barn is one of those things. I think there is something special about this business, this location, these people. … We are a part of a family," she said.
Reel started working at the barn her freshman year of high school as a waitress, became an actress and always made some time to be involved despite a busy career and young family. The mother of two daughters, 8 and 3 years old, refer to herself as a "mom-preneuer".
She is also a licensed therapist and counselor and experienced university professor in Bloomington-Normal. Since music and laughter are therapeutic, Reel jokes that she gets to practice her specialty 250 times a night during show season.
Reel, who planned weddings as a hobby before buying the barn, added weddings, proms and reunions to the menu here, attracting a younger crowd in addition to the regular audience who has averaged between 45 and 85 years of age.
Reel compares the spirit of the barn community to that of an old farm dog.
"It doesn't want to give up," she said.