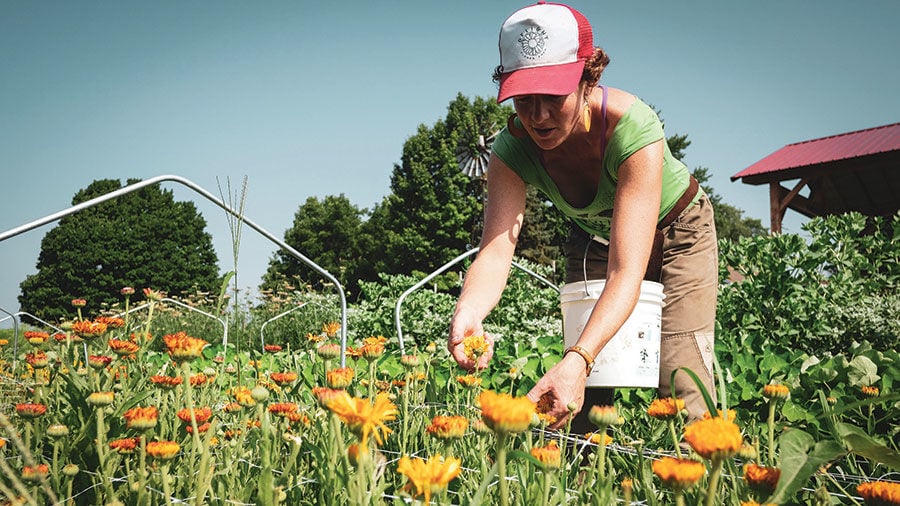 CHAMPAIGN, Ill. — As a child, Maggie Taylor didn't like pulling weeds in her mother's garden. But during the seven years she worked as a librarian at Parkland College in Champaign, she took up gardening again as a hobby.
As her garden grew, she cultivated customers. Now Delight Flower Farm is her full-time business and she has three regular part-time employees.
Working with flowers "is a lot like cooking," she said. While a cook may have to substitute an ingredient, farmers have to adjust to weather conditions. For example, earlier this month when 2-4 inches of rain were expected to fall within 24 hours, Taylor's first concern was her dahlia crop.
"I cut the heavy branches," she said of having to sacrifice some potential blooms to save other flowers.
She started her business with a subscription model. She now also sells to several area stores and provides décor for weddings.
Two years ago, she tripled her revenue and last year tripled her acreage, but she intends to stay small — under 5 acres.
She attributes some of her success to mentors she has found along the way. She rents her land on the farm of Wes Jarrell and Leslie Cooperband, the owners of Prairie Fruits Farm & Creamery, who are both former University of Illinois professors who pass on lessons from work on their dairy goat operation. Taylor took part in a business incubator program at their farm.
In 2015, Taylor got another boost in knowledge by taking part in the Land Connection's Central Illinois Farm Beginnings, a training program for creating a farm business that includes pairing with a mentor.
She names Linda Chapman, who runs Harvest Moon Flower Farm in Spencer, Ind., as a valuable advisor who offered specific advice about the flower business.
"We meet at conferences, visit each other's farms, text and call and can talk about how to manage pests," Taylor said.
Mentorship is a key part of the CIFB program, said Mallory Krieger, the Land Connection's farm training manager. The program started 14 years ago. It requires a one-year commitment. The new class starts in November and is now taking applications.