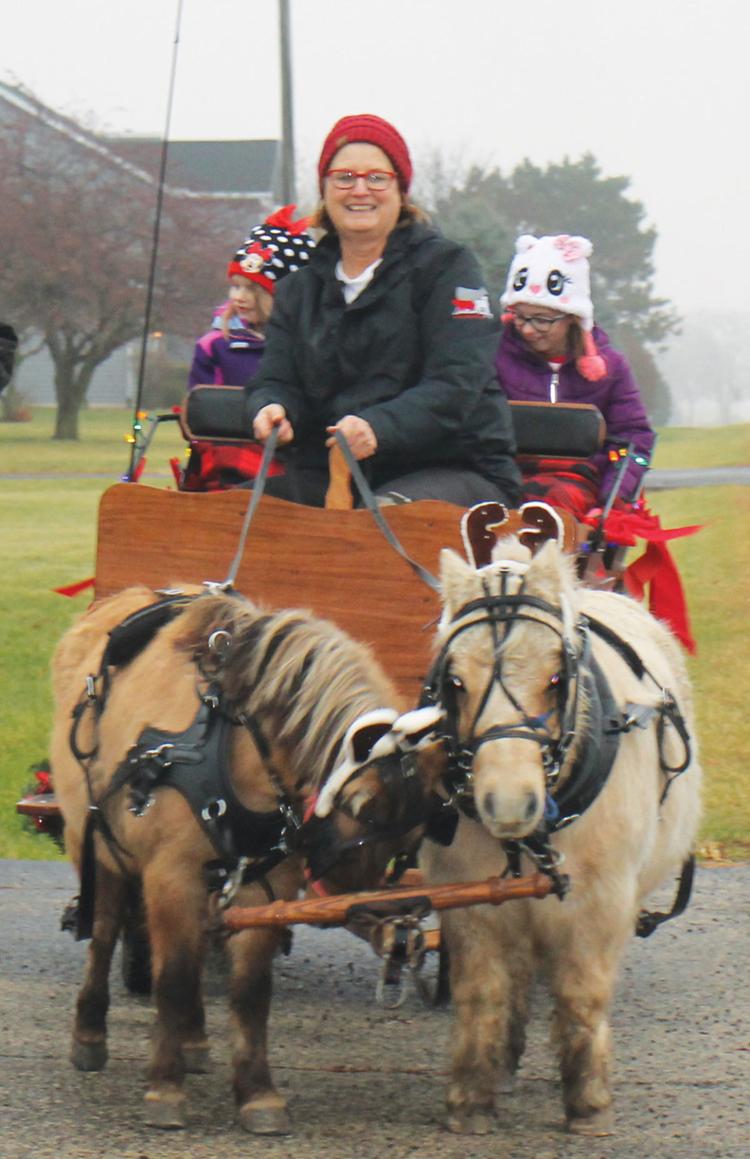 MINIER, Ill. — Even before the calendar turned to December, this small village in central Illinois was claiming a name for itself for Christmas.
On Nov. 30, decorations were hung, signs indicated tram stops for rides to holiday activities in town including craft shows and entertainment, and you might even see two miniature horses pulling a carriage stopping at homes to pick up kids for the parade. Reindeer were getting settled in Minier Veteran's Park, and families were exploring the activities.
The village of fewer than 1,050 and less than two square miles certainly knows how to pack in the Christmas spirit. Even though it was rainy during much of the event, people came from across central Illinois to celebrate the village's new Classic Country Christmas celebration.
Traditions have to start sometime, and the village decided now was a good time to introduce the tram stops and other activities to their established Santa Claus parade.
The celebrations started bright and early at 6 a.m. with the Minier Fire Department pancake and sausage breakfast.
The parade, at dusk, had the feeling of a classic Hallmark movie. Cookies, hot chocolate, and Christmas carolers were active after the parade. And lots of goodies were lined up and ready at the bake sale on the parade route.
Horse-drawn wagons were planned for tours of the village and its residents' Christmas displays. Tractor-pulled, lighted trams were emptier than organizers would have liked because of the rainy weather.
But with small town ingenuity, a photographer's float featured a snow maker which provided some of the white stuff.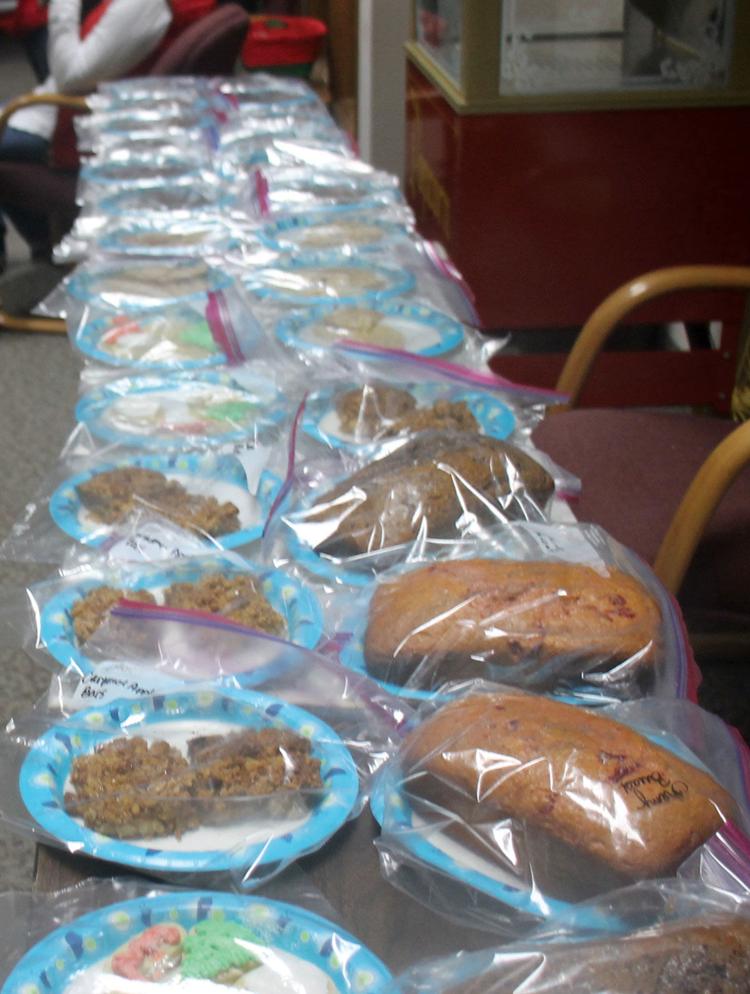 Kids and adults made homemade Christmas decorations at the library, and some families chose their fresh Christmas tree to take home.
During the day, vendors and village merchants displayed an assortment of holiday items for sale. If all the colorful displays and Christmas crafts were not enough to draw people into the Christmas stops, there were dogs. TAPS, a no-kill animal shelter in Pekin, brought dogs looking for a home, or at least a cuddle.
At one of the booths nearby, Pat Priest and her son Mike sold lighted Christmas scenes.
"When my husband died, a friend gave me one and said, you should make those," Priest said.
She has been doing so with the help of her sons ever since. Red pickup trucks, green tractors and all kinds of country comforts adorn the cheery lights.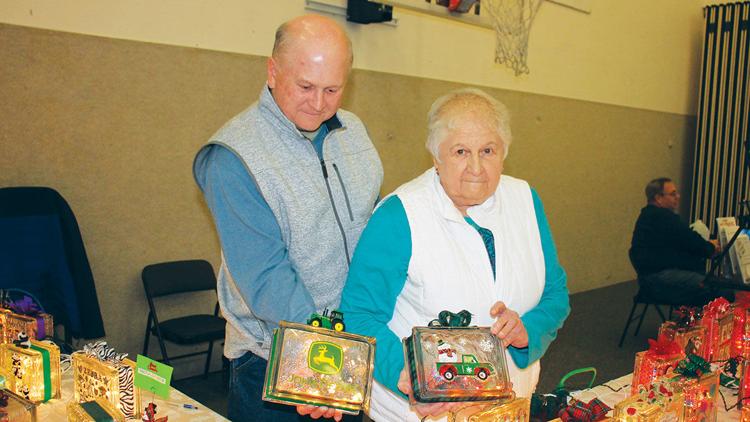 The Olympia Area Kiwanis Club sponsored the parade and the Village of Minier sponsored the other activities. The parade commentators told listeners about the community and reminded them that all proceeds from the event will benefit the Minier Community Claus fund.
Because the event was new, it seems appropriate that one of the most popular attractions also came from a new venture.
Whispering Pines Reindeer Ranch in Shabbona, Illinois, officially started in 2018. It was Randy Espe's dream to own a reindeer and Christmas tree farm with his family. With conventional cropping experience, he is growing his dream ranch in northeastern Illinois with trees planted and maturing for the future.
The farm already sell trees from others and has six reindeer that greet people there or attend special events like this one.
Minier's "A Classic Country Christmas" was among the first of many events the reindeer and elves will be attending this year, Espe said.
"She's only nine months old," Allie Maxwell said she as guided a little reindeer named Holly towards the parade.
"She's been walking on a lead since she was three months, but she's not used to the sirens," Maxwell explained as the flashing bright lights passed at the beginning of the parade.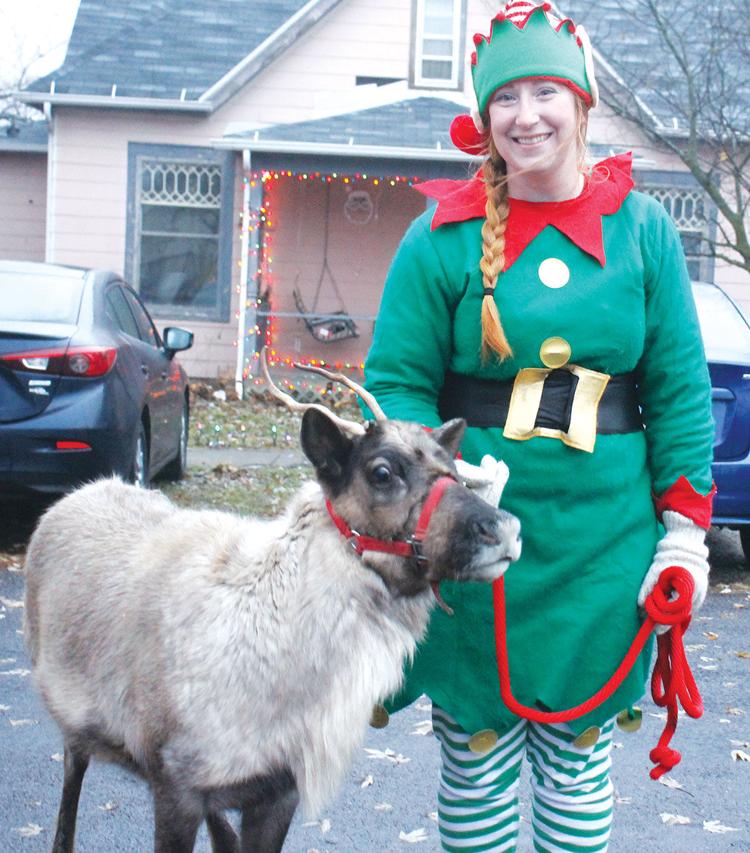 More folks got to meet the reindeer and the Espe family, dressed as elves, at the park.
"It's always been my dad's dream to do this," Maxwell said.