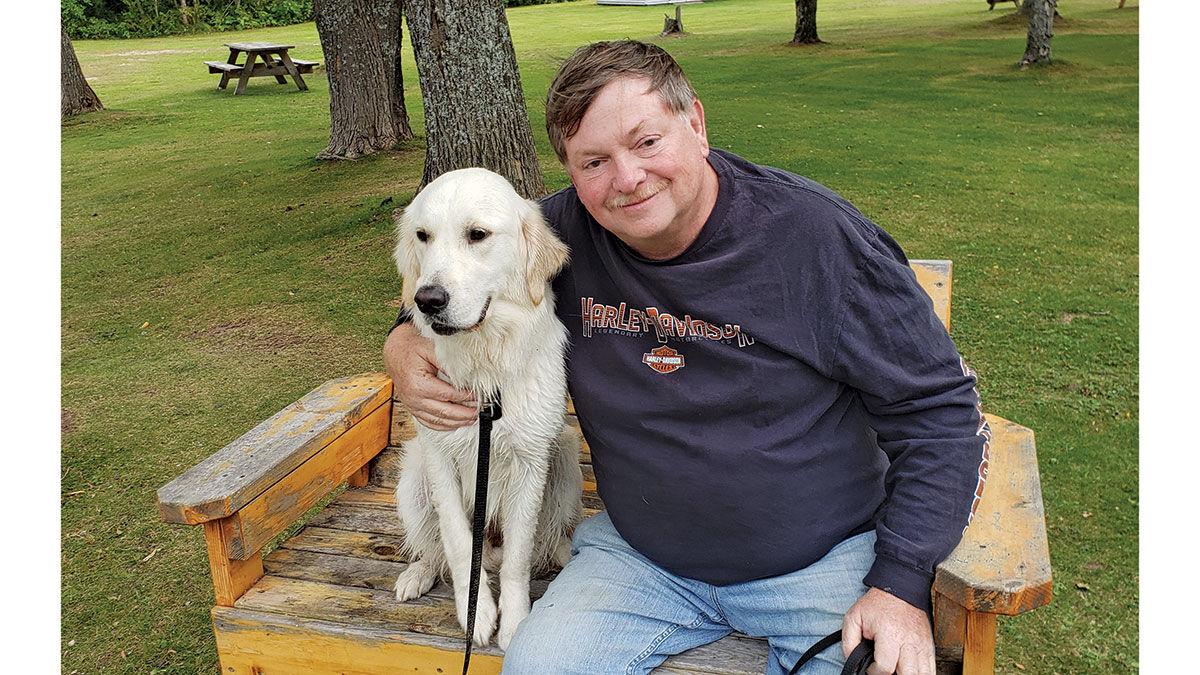 As an organization, Operation Farm Dog is just a puppy, but it is growing strong.
One year ago, Greg Babcock, who served in the U.S. Army and Army National Guard for 36 years, was the first veteran to receive a puppy through the new program.
"She's been so soothing, so comforting to me," Babcock said from his home in Michigan, where he operates a small farm raising cattle, sheep and chickens.
On this October day, he had a bad cold and the young Golden Retriever was lying beside him.
"She could be out playing, but she's here with me. She wants to be," said the veteran, who retired from the military police. "She's the smartest dog I know."
Babcock's bond with little Belle is just what Lonny and Kim Smith, Ohio-based breeders of English Cream Golden Retrievers, hoped for when they initiated Operation Farm Dog more than a year ago to give dogs to veterans.
The Smiths started their own journey with one dog to keep Kim company when Lonny was traveling for his job in agricultural sales. They fell in love with the dog and soon became breeders of English Cream AKC-registered Golden Retrievers.
Lonny Smith first heard about the Farmer Veteran Coalition when visiting friends who were members of the California Farm Bureau. Not long after, he met Michael O'Gorman, a California vegetable grower and the founder of the coalition, along with Nick Babcock of the Michigan chapter. Operation Farm Dog became a pilot project with the Michigan chapter of the Farmer Veteran Coalition.
When the first puppy was awarded to an eligible applicant, Greg Babcock, Nick's father, was the chosen veteran.
Operation Farm Dog is still new — only one other dog has been awarded so far. In June, the second puppy went to Jimmy Martin, an Air Force veteran who operates an orchard in Kentucky.
"He mentors veterans who want to work in horticulture," Lonny Smith said.
"It is really cool for both veterans and for the dogs that get to go to these environments and have a special life, These are not therapy dogs; they are buddies."
Smith, who also is supportive of adopting rescue dogs, said they wouldn't be right for this project. Sometimes they have their own post-traumatic stress disorder from what they've been through.
"These dogs are bred for their fantastic personalities," Smith said of his Golden Retrievers.
Because the Smiths are a small breeding operation, they only produce about three litters a year and hope to donate one puppy from each litter annually to a deserving veteran through Operation Farm Dog.
He estimates that it costs between $2,000 and $3,000 to breed and raise these puppies for the program, but said the donations are "very little compared to what veterans give us."
One of his sons served in the Navy, giving Smith and another son the chance to go on a "Tiger Cruise" to experience a little bit of a sailor's life.
Now that the organization has "legs under it," it is ready to grow.
Smith said he wanted to have "national legitimacy" — as they have now with the Farmer Veteran Coalition partnership — and have the piles of paperwork, registrations and certifications done before seeking breeders and veterans on a larger scale.
"We are at the point to have breeders all over the country and for more chapters to pick us up," said Smith.
"I'd love to see 100 puppies placed."
That might take 60 to 80 breeders.
He hopes to get corporate sponsorships to help breeders with the costs. He would also like to partner with other groups, for example trainers that acclimate dogs to being around machinery and obedience trainers at Michigan State University. But the pandemic has slowed some of these partnerships, he said.
"Every veteran deserves to have a loyal companion," Smith said.
When Greg Babcock first learned about Operation Farm Dog, he was considering getting a therapy dog. He said he may get Belle certified as a therapy dog as he takes her to a nursing home to visit his mother and her friends.
Both Babcock and his son have disabilities caused by their military service, including his PTSD, that Babcock says Belle helps with. As a bonus, his new activity level with her helped him lose 27 pounds.
"When she's with me, it helps with anxiety," he said. "She never leaves my side."
Belle is 15 months old and is already a bit of a celebrity. She has her own Facebook page (Belle Babcock) with more than 2,500 friends. Her "humans" add pictures to show her life on the farm.
"It really took off," he said.