DECATUR, Ill. — Seeing new products, including some in action in field trials, is a highlight at the Farm Progress Show. But this year at the Central Illinois show, the topic of international trade and opportunities in a challenging year also were also hot topics.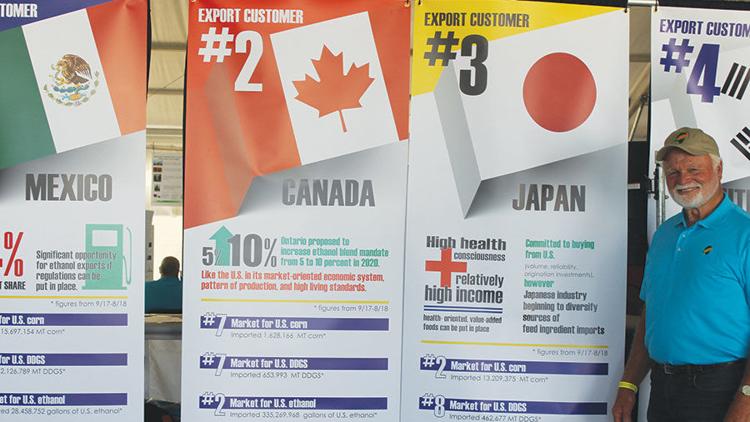 Mike Wurmnest, a Deer Creek, Illinois, farmer and a director of Illinois Corn Marketing Board, said there was a lot of interest in the information about trade at the group's tent this year.
He said people seemed to be the most surprised to find out the top buyers of ethanol. Brazil leads the way.
"They are No. 1. Ethanol is very popular in their trucks there," he said.
Canada is the second biggest market for ethanol. India is a surprise at No. 3, he said. The EU and China round out the top five users of Illinois ethanol.
Mexico is the top U.S. customer for corn today and ranks 10th in ethanol buying, but there is significant opportunity to export more ethanol if regulations can be worked out, he said.
Input opportunities
Conversations that weren't about trade and the low price of corn focused on the challenging weather year. One bright spot might be saving a little money on buying fertilizer this year, said Sam Taylor, vice president, farm inputs analyst of Rabobank.
"There is a level of opportunity" to purchase some inputs at a lower price this year, he said.
With rainy conditions and delayed planting, there was weak spring application of nitrogen, he said. In some corn fields this year, the lack of nitrogen is easy to see. But that means there is a lot of inventory in the channel.
"There might be a decent buying opportunity," Taylor said. The level of opportunities vary across parts of the Corn Belt, he said.
There is also a high level of inventory for phosphates.
"It's a weird dynamic at the moment and a lot of inventory," Taylor said, taking into account trade relations with China and wet weather that hampered nitrogen application and delayed or prevented planting.
It might be good to take a position on nitrogen or fertilizer and buy some if you have storage capacity, he said.
"We don't know what will happen on trade. Basically, take every possible opportunity with inputs and marketing," he said.
Hemp interest
Another opportunity some farmers are weighing is the potential of growing hemp. A Farm Progress Show building marked with the sign "Hemp Inside" had a constant audience.
Hemp also was a topic of interest at the 2019 University of Illinois Agronomy Day and other field days. At Agronomy Day, Illinois Agriculture Director John Sullivan talked about interest for the crop in the state. Within 24 hours of applications being available May 1 to grow hemp in Illinois, 250 people applied for a license. License requests covered 2,500 acres.
"There has been tremendous interest. It surpassed our expectations," he said. To date, there have been 950 grower applications and 282 processors for 22,823 acres.
Sullivan said he was particularly impressed with the interest by processors, which would be required to make the crop successful here. He said it's too soon to tell if it is a viable crop here.