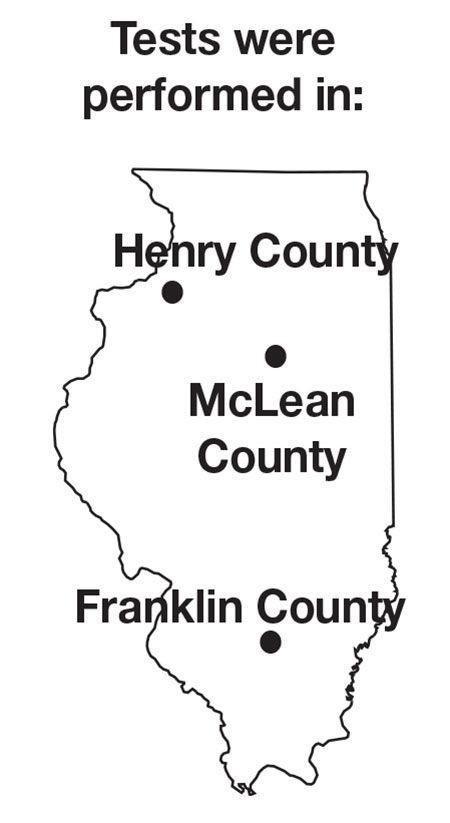 CAMBRIDGE, Ill. — Henry County farmer Courtney Ericson recently did something most of her neighbors don't do on a regular basis. She got her private well water tested.
And she is glad she did.
Ericson lives with her husband, Stephen, and 4-year-old daughter, Paisley, on a farm near Cambridge in northwestern Illinois. They are expecting another baby in November.
Most farmers in her area do not get regular well water tests unless the bank requires it for a sale or financing, and farm properties here do not sell too often, she said. People do not think to check the water unless someone is sick or there is a reason to suspect a problem, she said.
In looking at Illinois State Water Survey maps, Dan Webb, the public service laboratory supervisor, confirmed only seven ground water records in her section and only three records of wells tested in her area of Henry County.
The last time Ericson got water tested was six years ago when they bought the Henry County farm. At that time, water taken directly from the well tested "drinkable."
This time, a test taken from a pump near the barnyard revealed a number of things that should not be in the water. It was declared "unsatisfactory" for drinking.
Nitrates present
A test for nitrates (as N) gave a result of 11.4 parts per million (ppm) which exceeds the federal level of 10 ppm, said Webb, a chemist in the lab at the University of Illinois Urbana-Champaign where the sample was tested.
Nitrates in groundwater can be a concern for the general population, but most specifically for babies and other vulnerable populations.
A reverse osmosis system can correct the nitrate problems, Webb said.
Ericson does have a reverse osmosis system in her home to treat the well water. They also have softeners and filters for sediment. They already drink bottled water because they prefer the taste to the mineral taste in the well water.
"I'm picky about my drinking water," she said.
People sometimes get at least two tests to see if their water treatments are effective — one with untreated water, one with treated water, Webb said.
"You are responsible for the water you drink," said Walt Kelly, Illinois State Water Survey groundwater specialist.
Prices for tests done at the lab in Champaign range from $35 for a basic mineral test to $80. For example, for three tests: untreated water, water after the softener and after reverse osmosis, the cost is $65. More details can be obtained by calling the lab at 217-300-7420.
Geographic likelihood
Certain areas of the state are more likely to have nitrates in well water that test above the federal standard, Kelly said. It happens where there are shallow aquifers, sometimes with sandy soil.
There is one pocket near the Illinois River near Henry in Henry County for example, he said.
From mapping projects, Kelly has seen it is more common in certain areas of southwest and northwest Illinois, and in southern Illinois — where there are old, hand-dug wells with wide diameters — to see contamination from nearby land use.
In Illinois, of about 300 water tests taken recently at the Illinois State Water Survey lab, between 1 and 2% were above the federal standard of 10 pp of nitrate (as N), Webb estimated. Fifteen percent of tests were above the federal standard for arsenic.
Ericson's well is also only 50 feet deep, while many others in the area are 350 to 400 feet deep, she said. Nitrates are generally found in shallower wells, Webb said. Any surface contaminant from a field or river has less filtration in shallow wells, he said.
More bad news
Ericson had a coliform bacteria test taken and got more bad news about her drinking water. This test kit was obtained through Henry & Stark County Health Department and was tested at TEST Total Environmental Service Technologies in Peru, Ill. The coliform and E.coli test cost about $51 from the Henry County Health Department.
The laboratory result showed "TNTC" (too many to count) bacteria colonies. This test also showed E. coli present.
Like the nitrate test, this water sample was taken from the outside faucet in the barnyard, not far from ducks marching by and other livestock in pens. Ericson was not entirely surprised with the results because of the conditions under which the water sample was taken.
"My whole life I was told not to drink out of outdoor hydrants or water hoses. They contain bacteria," she said.
To treat this water problem, a chlorine shock is often recommended or a UV light treatment.
Webb generally recommends chlorine treatment. If Ericson were to use the UV light, it would come after sediment filters in her system. She has hard water so it would also require a softener to improve water quality and end with the reverse osmosis which would address nitrates and other problems, Webb said.
This is his general recommendation, but Webb said it is helpful for well owners to contact a local water treatment provider who knows the area and knows what works there.
"We will weigh the options," said Ericson, who is leaning toward the UV light filter because in her experience chlorine treatment does not work well with her water. "We can't use bleach. It turns everything (in the laundry) blood red or orange. We don't wear a lot of white around here."
She is retesting the water inside the house and is not drinking it now based on recommendations.