It is a scary time for front-line medical workers in rural communities, but hospitals and health care groups are working collaboratively to get the job done.
Elsie Wildman, a pharmacist at St. Mary's Hospital in Marion County, Illinois, said the situation surrounding the COVID-19 pandemic is nerve-wracking for health care workers and safety is on everyone's mind.
"They are more worried about bringing something home to their families than themselves," she said.
As of April 7, there had been four cases of COVID-19 in her county.
While distance can sometimes be an issue for rural residents to get health care, there is "good representation" of hospitals in Wildman's area, she said, with three within a 30-mile radius and larger hospitals in nearby St. Louis where they can refer more serious cases.
In some parts of southern Illinois, rural residents have farther to travel for care, she said.
St. Mary's, which has a 70-80 bed capacity now, set up a tent outside to vet COVID-19 patients, Wildman said. The entire second floor has been converted to negative air flow for patients being tested for the novel coronavirus so the air won't be circulated through the rest of the hospital. The same goes for the ICU unit, she said.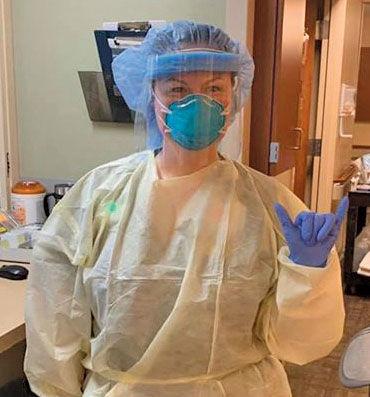 The national shortage of personal protective equipment (PPE) is concerning, but nurses and doctors who may be exposed are wearing the protective gear here. Wildman and others not working directly with COVID-19 patients have simpler masks to ensure the most protective gear is available for those who need it most.
And the hospital is prepared if there is be a surge of cases in south central Illinois, she said.
Pat Shou, executive director of Critical Access Hospital Network, which includes 57 rural Illinois hospitals, says there is a mixture of supply levels at rural hospitals right now. Some will need surgical gowns while others may be short of masks or visors.
The network also represents ambulance workers, who are often the last to get replacement medical supplies, so there is attention to their needs now as well. Some of the smaller volunteer services are short-staffed now, Shou said.
Getting testing supplies that can provide immediate negative or positive COVID-19 results is a concern, she said.
The tests currently available at most rural hospitals must be sent to a lab to be analyzed. At first it took 10-12 days to get results, now it is taking four to six days. As of April 7, the rural hospitals in the network still didn't have any tests that provide immediate COVID-19 results, she said.
"We don't want rural (areas) left behind," Shou said.
While the largest number of people in Illinois contracting COVID-19 are in the Chicago area, people are affected here too, Shou said.
"It's a ripple effect," she said.
Surges may come in rural areas, and "the big concern is to be set up and ready," she said.
The recommendations for social distancing, washing hands and isolating if you are sick are the same everywhere, said Dr. Hana Hinkle, associate director of the National Center for Rural Health Professions at the University of Illinois-Rockford.
"The guidelines are universal even if you are not in a shelter-in-place state," she said. "The sooner people settle into it, the faster the mitigations steps will work."