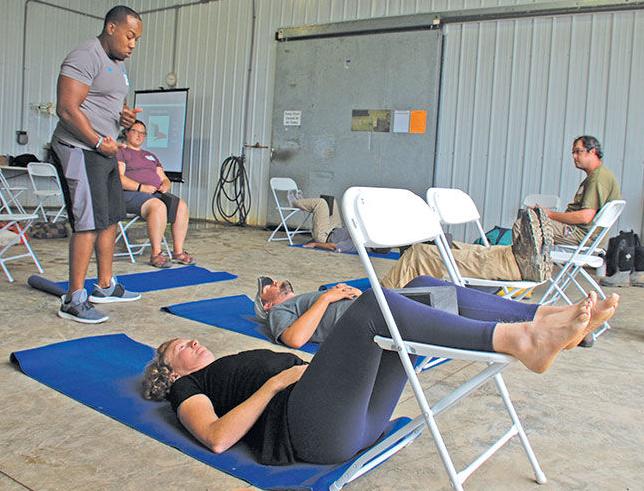 ATLANTA, Ill. — Health and safety professionals led farmers in thoughtful movement aimed at creating awareness about how they can reduce injury and lessen stresses at a Farm Workplace Safety workshop here Aug. 22.
The arms-, legs- and hands-on program, held at PrairiErth Farms, was designed to provide easy procedures for farmers to use to ensure better safety for all employees and "care for their bodies while caring for the land," said Taidghin O'Brien, The Land Connection's marketing outreach manager in Champaign, Ill.
Donovan Muldrow, a personal trainer at Athlete Factory in Bloomington, Illinois, said when designing safety measures, keep in mind that people come in all different shapes, sizes and heights. Body positioning when lifting is important to be aware of to avoid injury, he said.
Body awareness was also part of the approach of Maggie Taylor, a yoga instructor. She described the mechanics of how the body moves with tips about movement that can prevent injury.
"It is always a good idea to talk to your doctor before you start any new form of exercise program to make sure it is safe for you," she said before leading a yoga demonstration.
Yoga helps regain strength and flexibility, Taylor said. The stretches can also be a good tool to use during the day when stress arises, she said.
"You will be amazed how that few minutes will help get you through the rest of your day," Taylor said.
Taylor, who has worked for Delight Flower Farm in Champaign, Illinois, for 10 years, uses some of these techniques in her daily work on the farm.
"Learning about the body mechanics and participating and learning yoga to relieve stress was most interesting to me," said Rose Karabush, an assistant farm manager at Sola Gratia Farm, a non-profit vegetable farm in Urbana. "It helped me know ways to keep working efficiently while taking care of myself because there is always a lot of work to be done and especially in the busy season."
Farm safety starts with the farm owners and managers outlining and enforcing clear standards, said Brian Bothast, safety and occupational health specialist from the Peoria Occupation Safety and Health Administration office.
"All businesses and farms should have clear rules and expectations to make sure all employees understand them and the importance behind them and to follow through to make sure all are following them," he said. "Management must have an effective enforcement program set and good communication to keep everyone safe."
The primary goal of OSHA is to ensure a minimum standard of job safety and health that all employers must follow to protect their employees as well as themselves and their business, he said.
Bothast outlined some solutions to prevent accidents involving the hazards commonly found on the farm. These include labeling and training employees and family on the operating procedures of machinery and equipment, teaching employees proper care and maintenance of what is being used, and learning why, when and how to wear a respiratory protection mask correctly and safely.
He also reviewed proper safety procedures including using clip ropes to climb a grain bin, safely climbing ladders, and safety features needed to avoid electrocution.