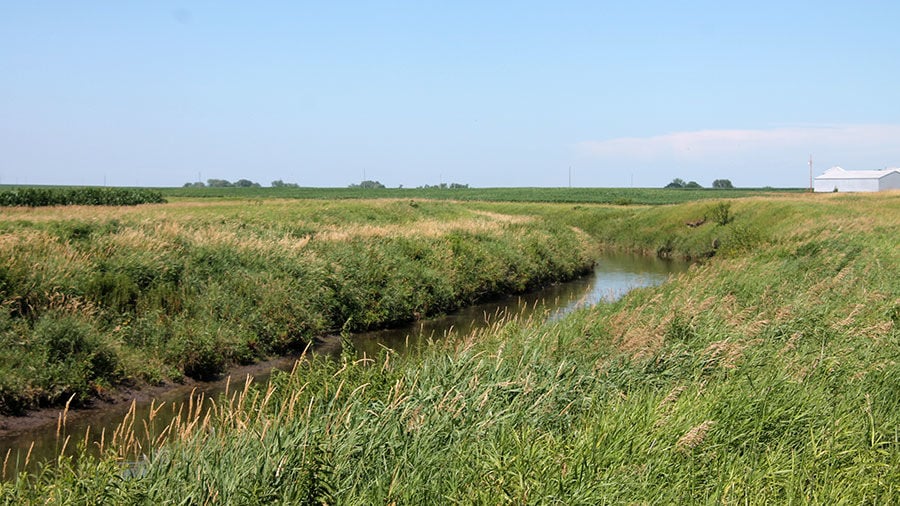 WALNUT, Ill. — Michael Ganschow uses a number of conservation practices on his north central Illinois farm, including no-till, cover crops and now installing a bioreactor to improve water quality.
He "most definitely" looks at the legislation regarding water quality around the nation and is glad to be able to make the choices that be believes are best for his farm.
"We want to make sure we are doing our part," he said.
But voluntary practices are not the standard everywhere.
"We talk a lot about the Des Moines (Water Works) lawsuit. Lawsuits push a sense of urgency," said Lauren Lurkins, Illinois Farm Bureau director of natural and environmental resources.
And farmers in Ohio, for example, had a voice in two rounds of legislative rules controlling fertilizer applications to improve Lake Erie water quality, but a third round this summer, where farmers weren't part of the process, is getting resistance, said Joe Cornely, Ohio Farm Bureau spokesman.
Minnesota Buffer Law
Other states have new legislation to mandate a particular practice. Farmers in Minnesota are preparing for the Minnesota Buffer Law, which was signed into law in 2015. The law, to take effect Nov. 1, makes it mandatory to have buffer strips near waterways and ditches.
"It's a hot topic," said Matt Helgeson, business development and sales manager for Albert Lea Seeds in southeast Minnesota.
Under the new law, landowners are required to have perennially rooted vegetative buffers of an average width of 50 feet with a 30-foot minimum along public waterways, such as lakes, reservoirs, wetlands, rivers and streams. For ditches, 16.5-foot-wide buffers are required. The law stipulates that the buffer vegetation cannot impede future ditch maintenance.
If the buffers aren't in place by Nov. 1, a fine can be enacted. The wet spring in some areas prevented farmers from getting buffers planted as planned, Helgeson said. Other planting options work best when plants go in at dormant stage between Nov. 15 and Dec. 15 — after the deadline. He said he hopes that enforcement of the new law gives some farmers leeway to get the right plants in at the right time.
It is a burdensome project for some farmers who farm land parallel to a waterway, Helgeson said. They might have to put as many as 20 acres of a field out of production for buffers.
"That can eat a lot of land," he said.
Cost-share funds for such projects help some farmers. But if a farmer isn't eligible for cost-sharing programs, and with current low commodity prices, Helgeson said his conversations with farmers are usually fairly negative.
Frustrations include buffer requirements in areas that might not be in danger of runoff — "water doesn't flow uphill," Helgeson said.
Incentives through property tax might help farmers, he said.
In May, bills were introduced in the Minnesota House and Senate to help ease the burden on farmers in implementing the buffer law. Famers would receive a $50 per acre credit for eligible farmland converted to buffers. If passed, it was estimated at the time, the tax credit would total $27.3 million by 2021.
"Personally I feel that doing this has a positive impact on water quality," said Helgeson, who lives over the border in Iowa. His family voluntarily put in buffer strips along private ditches 10 years ago, which has also provided good habitat for wildlife, he said.
Ohio's approach
Ohio farmers are also midstream in actions to protect Lake Erie water quality. In the last few years, two new legislative actions were put in place affecting farmers directly, Cornely said.
SB 150 requires farmers statewide who are applying fertilizer on more than 50 acres to be certified.
Senate Bill 1 is targeted at just 24 counties in northwest Ohio near the Lake Erie basin. It requires limited nutrient application depending on weather conditions, including when the soil is frozen or saturated.
"The fines escalate for repeat offenders," Cornely said.
Farmers recognize they have a role in cleaning up Lake Erie, he said. The Ohio Farm Bureau encouraged farmers not to fight it and be involved in the process.
"There is acceptance that sometimes regulations are the way to go," Cornely said.
Other times it is harder for farmers to accept. Earlier this year, Gov. John Kasich declared eight watersheds on the Maumee River "watersheds in distress," requiring tighter controls on nutrient and manure management.
"It caught us completely off guard," Cornely said. Farmers and their representatives weren't consulted.
The governor's initial plan didn't get a single sponsor in the state Legislature, so he imposed an executive order on July 11. The order would require nutrient management plans from 7,000 farmers across 2 million acres by 2020.
The Ohio Soil and Water Conservation Commission had to sign off for the state to go forward, but it diverted the issue to a committee for further study.
"We think that's a good thing," Cornely said of the delay.
"Farmers need to own a piece of this. If they don't act voluntarily, they will be under a regulatory thumb," Cornely said.