MANTENO, Ill. — There is something about seeing two combines harvesting together in the same field, especially when they are being run by a father and a son.
Scott Granger started cutting soybeans Oct. 8, about two weeks late but pretty much like everybody else in his neighborhood in the northeastern part of Kankakee County, Illinois. He was scanning the front of the field as he finished the third round, when he looked up and saw his 18-year-old son, Josh, had arrived.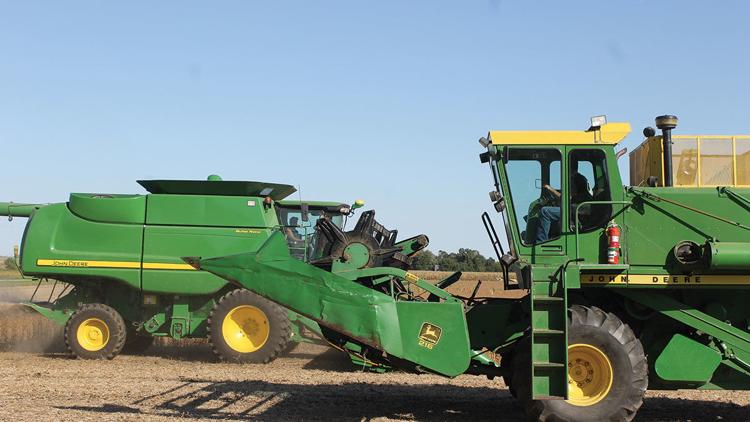 The high school senior climbed into his own combine and got ready to join the harvest.
Yes, the 18-year-old owns his own combine, his father says, smiling ear to ear when he saw the little old John Deere lumber into the field and start to work.
"He loves that little combine. I hope it doesn't blow up," Scott joked of his son's 1977 machine.
Josh's "new" old combine has a 16-foot head compared to his dad's combine with a 30-foot soybean head. The '77 combine came with a corn head, but Josh had to buy the soybean head separately, and it sports a few dents.
Josh first met this combine at Joliet Junior College when he was doing a college shadow visit at the school his girlfriend attends. The combine had been donated to the school and was about to be retired because a newer model had recently been donated.
"They gave me an offer I couldn't refuse," Josh said.
He bought the combine, and soon he and his dad had a project. They replaced parts and worked together to get it up and running for harvest.
"We really enjoyed tinkering on it," said Josh, adding it is in good shape for its age.
"There's a lot of memories for people at the college," Josh said of all the seasons the combine worked there. "I bought it and brought it back to life. Initially, the brakes didn't work and it took about $500 in repairs to get things going. There's still a clutch that may require a little more investment."
Scott said his son is an 18-year-old who is like an 80-year-old man — he loves old-time things.
He is not the only one drawn to older combines. As of Oct. 14, Tractor House had 21 listings for 1977 John Deere 6600 combines with asking prices from $1,000 to $7,832.
Josh's combine is a fun distraction for the Grangers, who have had a challenging growing season like many in the Midwest. Planting was late, so it is too early to know how the season's yields will turn out. Josh's combine doesn't have a yield monitor, and Scott was just getting started, but he thought the soybeans in this particular field would yield about 50 bu./acre.
Scott was expecting light test weight for corn this season, but he has a plan for that. He saved some corn in his bins from last year that he can blend with the corn this year.
While Josh combines soybeans in the field with his dad, he sometimes thinks of the future. He is considering studying ag production and management at Joliet Junior College, where he might be driving the newly donated combine that replaced the one he now owns.