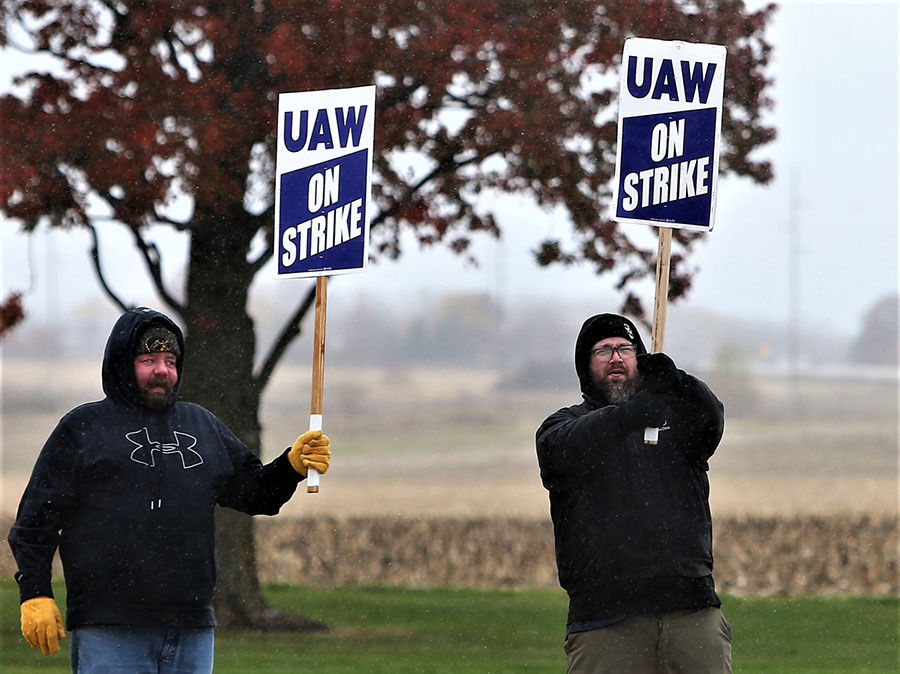 The UAW has voted to ratify the latest offer from Deere & Co, ending the strike.
Other than minor changes to Deere's Continuous Improvement Pay Program, the company's third offer presented the same benefits as a second agreement turned away Nov. 2 by a 55%-to-45% vote, with support from some Quad-City union locals but rejection from shops in Waterloo and Dubuque.
This time, union members approved the deal overwhelmingly, 61% to 39%. At Davenport Works, the contract was ratified 77% to 23%.
John C. May, chairman and CEO for Deere, said in a press release that together, workers and the company have a "bright" future.
"I'm pleased our highly skilled employees are back to work building and supporting the industry-leading products which make our customers more profitable and sustainable," May said. "John Deere's success depends on the success of our people.
The ratification vote marks the end of a strike that "captured the mood of a nation" in search of better benefits, said Brian Rothenberg, spokesperson for the UAW, in a press release.
"UAW John Deere members did not just unite themselves, they seemed to unite the nation in a struggle for fairness in the workplace," said UAW President Ray Curry in the release. "We could not be more proud of these UAW members and their families."
The six-year contract covers about 10,100 production and maintenance employees at 12 facilities in Iowa, Illinois and Kansas.
With the ratification of a new agreement workers are expected to return to their jobs. Workers should consult with their local union representatives to see whether they report back to work on Thursday morning or later this week, Rothenberg said.
On the UAW 281 Local Facebook page, it reads "Company will contract you on when to report to work."
Jen Hartmann, spokesperson for Deere, said she was informed "operations will resume this evening for third shift."