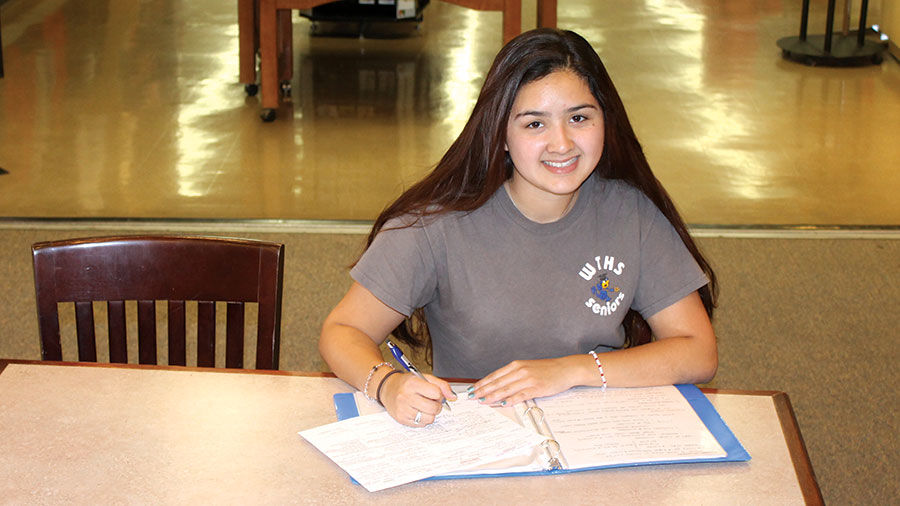 NORMAL, Ill. — Sometimes Julissa Navarrete, who grew up in Gurnee, a northern suburb of Chicago, notices there aren't many other students in her Animal Science program at Illinois State University who look like her. But that isn't stopping her from seeking a career in agriculture and encouraging other minorities to do the same.
The U.S. Agriculture Census data shows that Black or African American, American Indian, Asian and Hispanic farmers make up a small percentage of the industry in the Midwest. In Illinois, these groups make up about 1.3 percent of farm operators; in Iowa, 0.8 percent; and in Missouri, 2 percent.
While Illinois State University as a whole has increasingly diverse enrollment this year — with international student enrollment up 30 percent this fall — agricultural classes are still predominantly white.
In part, Navarrete, who is of Mexican heritage, says she feels like a minority because of her urban background. Many students in agricultural programs come from rural backgrounds and start with more general knowledge of agriculture.
Because of this, Navarrete said she is sometimes shy in conversations, "scared about what they think" about her lack of general agricultural experience before she came to school.
Navarrete, inspired by her father's interest in farming, chose a different educational route than many of her urban and suburban friends. She couldn't find agricultural degrees at schools in the Chicago area, so she looked downstate Illinois and at neighboring Iowa before settling into the Bloomington-Normal community three years ago.
When she was a freshman, the university was starting a chapter of the national Minorities in Agriculture, Natural Resources and Related Sciences (MANRRS) group. She signed up and is the club's president this year, her junior year of school.
There are only six active members at the moment, but they are recruiting more. The organization provides role models and networking opportunities on campus and with the business community, Navarrete said. It also offers students opportunities to enhance leadership, organizational and public speaking skills.
Members include students of Hispanic, black and white heritage, she said.
"I like to consider it a safe place for us to talk," Navarrete said.
She hopes to work for a large agricultural company someday or start her own business, and expects she will be working and living in a rural community.
"I was always interested in agriculture," she said. Her father grew up with an agricultural background and the family had chickens and a horse. That sparked her interest in animal science.
But often urban students don't even consider agriculture as a career opportunity, said Diana Rodriguez, coordinator of urban agricultural education and recruiter for the College of Agricultural, Consumer and Environmental Sciences at the University of Illinois.
While students in the Chicago area may consider careers in veterinary sciences, food services, engineering or communication, they usually don't immediately think about those jobs as agricultural, she said.
Rodriguez, who is based in Chicago, spends much of her time educating Chicago high school students about some of the possibilities at the downstate school.
She said her job is to introduce city students to the business, engineering, communication, human development and family science programs available at the College of ACES.
"I bring awareness," she said. She tells the urban high school students about the opportunities at the school, including internships and international travel, and helps them learn about scholarships and federal assistance.