After years of dramatic expansion, wind power may be facing some blowback.
"I think we see some people who don't like it," says Greg Alvarez, deputy director of external affairs for the American Wind Energy Association (AWEA). "I don't think we're seeing universal backlash. Wind is still pretty popular."
There is little doubt that wind energy production has increased at a dramatic pace across the country in recent years and especially in states such as Iowa, Kansas and Texas. Close to 40% of the electricity generated in Iowa today comes from wind energy, according to the AWEA.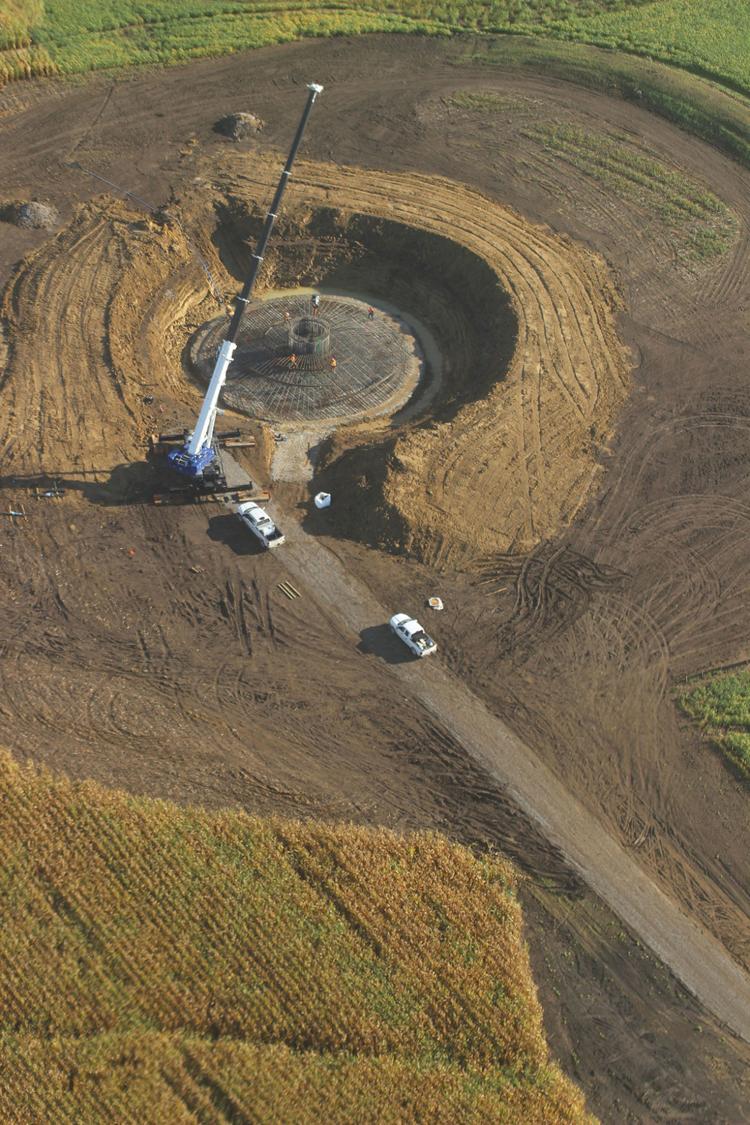 But Kim Brenneman is part of a group of residents fighting efforts to build a wind farm near her home in Parnell, Iowa. For her, the rosy picture that has been painted of wind energy is a mirage.
"There are questions about tax credits, land use, health, etc.," she says. "It's not a very pretty picture."
For Brenneman and other opponents of new wind farms, there are a number of concerns. One is a simple matter of process. Too often, she says, local boards of supervisors see development dollars and are willing to sign off on just about anything. That can mean a local government that doesn't listen to concerns from residents and which cuts too many corners or offers costly tax credits.
There are also concerns regarding the turbines themselves. She cites health issues related to noise from the turbines and shadow flicker from the moving blades, as well as concerns about bird death, especially for eagles nesting along the nearby English River.
Roads and property rights are also issues. Unless a contract includes language requiring the company building the wind turbines to pay for road repairs from large machinery, that can be a big expense.
And while many counties have passed ordinances requiring separation distances between turbines and residences, not all apply to neighboring property lines. That effectively reduces property values for landowners who may wish to build on another piece of their property in the future.
"If it sounds too good to be true, it probably is," Brenneman says.
Finally, there are some concerns about what happens at the end of a turbine's operative life such as who is responsible for removing the turbine, whether the blade disposal is an environmental concern and whether the deep cement base that was poured for each turbine presents an environmental or drainage problem.
Ed Hatcher, who farms with his son near Grinnell, doesn't share the same concerns. Three wind turbines now stand on Hatcher's land and he is thankful for the payments from the power company for those turbines.
"To me it's got a tremendous amount of positives and very few negatives," Hatcher says.
He says the income from the turbines is helpful at a time when the farm economy has been weak. He says the tax income generated by the turbines is helping to pay for road improvements in his county.
Kerri Johannsen, energy program director for the Iowa Environmental Council, says there are legitimate concerns about wind energy, but the industry is on balance a huge economic and environmental positive.
"What we have seen is that an overwhelming percentage of people are still supportive of wind," she says.
A debate is percolating in several states whether items such as separation distances should be set by the state rather than by individual counties, she says, and that idea may gain traction, although it is unlikely to pass in Iowa this year.
The Iowa Environmental Council issued a paper in 2018 about successful wind siting practices. At that time, the most common requirement in Iowa counties was for separation distances from residences of 1,000 to 1,250 feet and from property lines of about 1.1 times the height of the turbine or about 600 feet. Those numbers vary from county to county.
Some turbine contracts also contain language regarding disposal at the end of the turbine's useful life, although not all include that language.
When it comes to environmental impact, the IWEA's Alvarez says the industry is working on new ways to deal with blade disposal because the blades are built using materials that are not easy to recycle. But he stresses that the blades last for approximately 20 years. He says the industry estimates they are looking at 2.1 million tons of material between now and 2050, or roughly the same as the amount of similar material from plastic plates and cups that will be generated in the next two and a half years.
Johannsen says the overall environmental impact of the wind industry is a tiny fraction of the impact of other types of non-renewable energy production.
"The difference is mind-boggling," she says. "The waste problem is really a red herring. It's not even comparable to coal, for example."