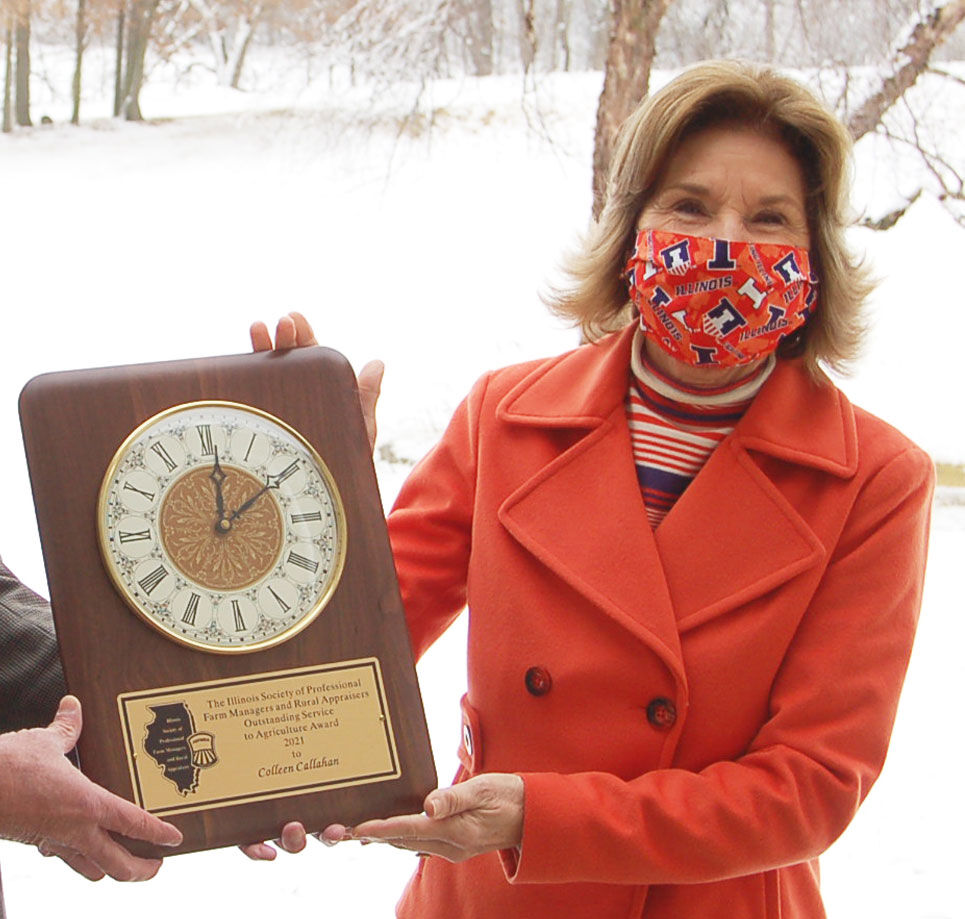 When Holly Spangler attended her first meeting of the Illinois Society of Professional Farm Managers in 1998, the 22-year-old university graduate was struck by the fact that most of the participants were white older men.
This year at the 93rd ISPFM annual meeting, not only were attendees more mixed in ages and gender, Spangler was the moderator of a panel talking about the evolving role of women in agriculture.
The recipient of the society's most prestigious award to a non-member also happened to be a woman this year. Colleen Callahan, Illinois DNR director, was recognized for her career working with and for Illinois farmers and others in agriculture.
"She lives and breathes our agriculture and is obviously very proud of it," said Rob Woodrow, immediate past president of the society during the presentation Jan. 28.
Callahan, an award-winning farm broadcaster, communicator, financial advisor and politician, operates a cattle farm with her husband, Dick Burns, in Peoria County. She was also a member of the panel speaking about how the roles of women in agriculture have changed over the years, at the virtual annual meeting of the almost 100-year-old organization.
On the topic of succession planning, Callahan's advice comes from a German baker, "Do your giving while you're living. Then you're knowing where it's going."
She said the attitude that some people have to not make a succession plan and let the next generation "figure it out" doesn't usually work out well.
More women come to succession planning and to write loans today "not just for a signature," said panel member Katie Huffman, a financial officer for Compeer Financial.
"It's incredible to see that change even at my young age," said Huffman, who is also a farmer.
Her original career goal was to be a company CEO, but she missed farming with her family. She now identifies herself as a farmer and financial officer
"I have a dream to buy another farm and I'm going to make that happen," Huffman said.
Ruth Hambleton, founder of Annie's Project, which helps women expand their farm knowledge and skills, said "debt load" is usually the highest concern for women on the farm. Her survey of farm mangers and appraisers at the meeting showed they had identified that as the top concern.
At the speed of an auctioneer, Hambleton listed names of organizations focusing on women in agriculture, from those determining policy to those helping teens explore careers.
"None of these existed when I was embarking on my career," said Hambleton, a retired farm business management and marketing educator at Southern Illinois University.
Marji Guyler-Alaniz also spoke at the meeting. She started telling stories of women like the panelists through photographs in 2013 because she saw a lack of images of women as farmers.
Her FarmHer photo "project" grew to what Spangler describes as an "empire," including an RFD-TV television show telling the stories of women who grow food, raise animals and care for the land. In the last six years, Guyler-Alaniz has photographed 400 women, done 125 TV episodes and more than 3,000 podcasts and radio shows and countless speaking engagements.
"These people open up their doors and let me in," she said.
Guyler-Alaniz welcomes all opportunities at a running pace with her arms wide open, she said. As she plans what's next, it will include wrapping those arms around her young children. She said there are still many FarmHer stories to tell, but maybe at a slower pace.