STONINGTON, Ill. — Ben Curtin has endured a dozen surgeries on his left leg in his young life, but that hasn't slowed him from hitting the ground when running when it comes to accomplishments.
At age 21, the agricultural engineer and entrepreneur has already received national recognition for his skills.
When he graduated from Purdue University with a degree in agricultural engineering on May 11, he already had a job lined up as a new product engineer at GSI, a steel storage bin manufacturer, in Assumption, Illinois — not far from the family farm in Christian County where he helps out.
Curtin also runs a metal fabrication business, Curtin Creations, with welding and plasma cutting machines making both useful agricultural items and home décor. This business led him to be named the national 2018 FFA Star in Agribusiness.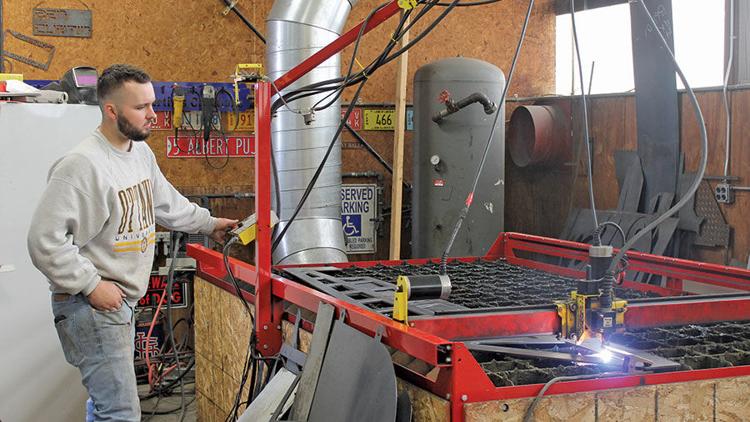 Curtin started young. When he was in kindergarten, his parents, Susan and Steve Curtin, gave him a two-car garage to practice his woodworking skills. By the time he was in middle school, he was a young businessman.
"In fourth grade I sold wooden airplanes and tugboats," he said.
By the sixth grade, he had some pretty major woodcutting tools.
"My mom wanted me to find something less dangerous," he said. So Curtin transitioned to metalworking and soon purchased his first welder.
"I became our farm's fabricator, streamlining things," Curtin said. Soon he was doing things for neighbors as well.
"If it was broken, I'd fix it," Curtin said.
When he was a high school sophomore, a teacher encouraged Curtin to offer his services to the public. Soon the teenager was making industrial tables and chairs. Curtin's Creations became his supervised agricultural experience for the Taylorville FFA Chapter.
While a student at Purdue, Curtin expanded his metalworking business by adding two computer numerical control (CNC) machines: a plasma cutter and a wood router.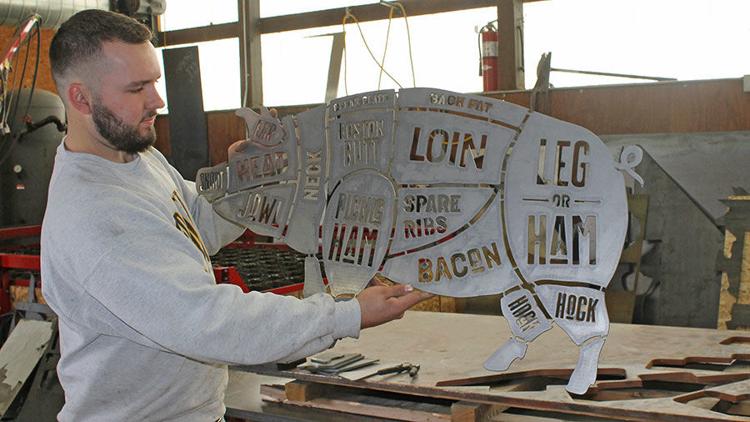 Often the metal signs he makes feature a rural life or patriotic theme, such as pork cuts, family farm logos and an American Flag. He estimates 95% of his business comes from his Facebook page. He also attends a few local events and shows, but it takes a lot of effort moving his signs and products.
Last year he was excited to be among the finalists in the national FFA Star in Agribusiness contest. He didn't think he had much of a chance because one of the other finalists had more than $1 million in sales.
"I didn't sell anywhere near $1 million worth," he said.
But the judges saw the merit in the work he did.
Curtin said it was a tribute to his 100-hour work weeks. Sometimes in order to meet deadlines, he works all night.
His business has taken over a building at the family farm.
"My dad tries to run a farm out of here," he said of the building that holds Curtin's plasma cutter and other machinery, stacks of his signs and other creations.
Curtin is ready to give that space back to the farm as he moves his business and equipment to a site a few miles down the road. Currently he has equipment in four or five places at the farm and says it will be nice to have everything together.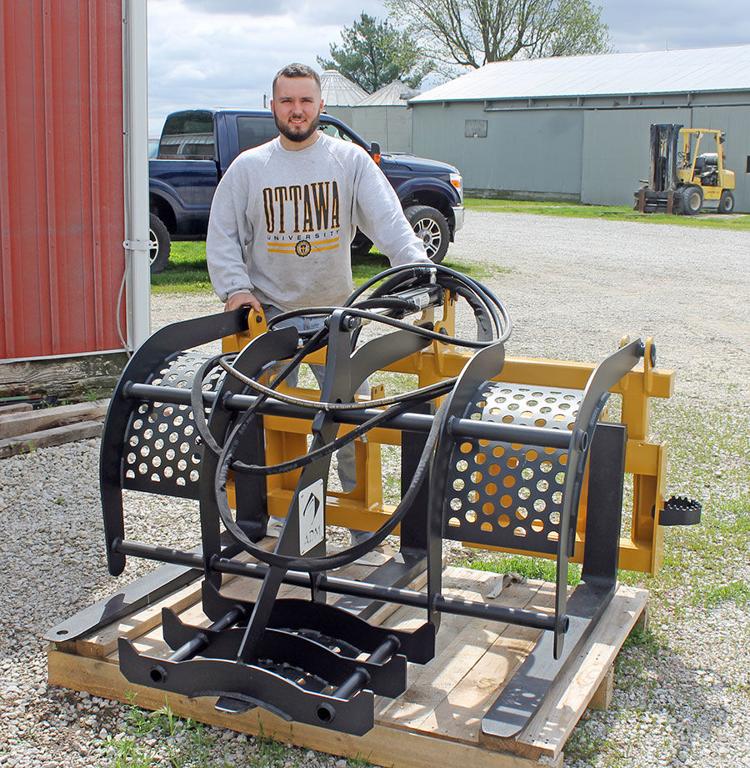 Along with the décor side, he still likes focusing on "real world applications" of metal fabrication. He has used his metal skills on ramps and grapples. One of his grapple designs is used by ADM. The design was part of his senior project at Purdue.
The newest division of his business will use the wood router on rubber and hard plastics to help him do contract work for an electrical engineer and others.
His long-term dream includes running a successful ag business, but now he is also excited to put his college education to work for GSI as a new product engineer for grain storage and accessories.
He said it still surprises him sometimes when he realizes he already has 10 years' experience in metalwork.