My new truck comes with an amazing array of technologies including something called FordPass Connect. This app allows me to monitor and control the vehicle from just about anywhere.
I can schedule starts and stops to warm or cool the cabin, lock and unlock doors, check fuel and fluid levels, get vehicle health alerts and service reminders, and even schedule service.
At first, I was a little skeptical about all this, but I have to say, the app has been quite useful and well worth the small monthly investment.
Of course, ag equipment companies are offering many of these same technologies and more to give you increased control over your equipment and ultimately reduce labor and improve profits.
Matt Olson, product marketing manager in precision ag at John Deere, says his company's wireless data and sensor technologies "simplify operational decisions, enable machines to talk to other machines, and provide solutions that help farmers more easily manage their fleets."
"That communication of information — people-to-people, machine-to-people and machine-to-machine — continues to be important as farms evolve and more technology is utilized," he says.
One example of machine-to-machine communication is John Deere's Gen 4 Machine Sync that automates grain cart control while unloading on-the-go, he says. A wireless network between the tractor and combine enables on-the-go unloading by synchronizing tractor speed and direction with travel of the combine.
"Automating this task reduces operator stress and can increase productivity," Olson says.
John Deere JDLink remote management tools can help anyone who needs to be in two places at one time. Each JDLink offering has a method to share location and basic machine usage. Once a fleet is equipped with JDLink, managers can logon to the JDLink website, mobile application or the John Deere Operations Center to view all equipment or a single machine — to check on equipment location and monitor fuel, engine hours, machine performance and so on.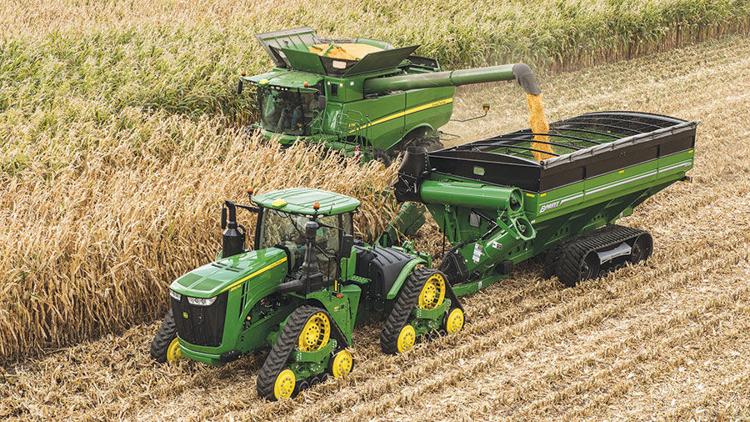 Machine communications and fleet management are also on the minds of the folks at AGCO.
AGCO Connect is a fleet management tool that enables remote and real-time monitoring and decision making. Machine data can be used to make informed operational decisions on logistics. You can be anywhere with a mobile device and have access to information such as geographical position, fuel level, fuel consumption and hours to service.
In his recent blog, Chris Rhodes, business development director for AGCO's global Fuse smart farming team, says, "Connectivity is the foundational step that will make our machines smart, meaning they will more often be gathering data, processing it and adjusting automatically. For example, the ideal combine has smart features such as self-calibrating and self-correcting sensors that enable growers to make decisions immediately in the field.
"Another example is with Precision Planting's SmartFirmer tool that uses sensors to measure the furrow as it is firming each seed into the bottom of the trench, which provides growers the ability to see what environment the seed is being placed in and what type of variability a grower may have in the field."
Then there's AFS Connect Fleet from Case IH. The company states that this system will help producers proactively manage their operations. By remotely monitoring your fleet's activity, you can view and coordinate equipment performance to make quicker, more-precise operational decisions based on equipment parameters, status and location.
With AFS Connect Fleet maintenance planning, you can plan and manage routine service requirements on connected vehicles to reduce downtime. This includes monitoring fuel level, Diesel Exhaust Fluid (DEF) levels and service intervals.
You also can manage permissions, providing information to off-site farm managers, owners and selected dealers, with built-in notifications for fault codes. This allows those parties to better support your operation.
And configuring alerts straight to your mobile phone notify you when parameters such as speed, temperatures, fuel or fluid levels are less than, equal to or greater than limits that you specify.
All this, according to Case IH, is to help maximize "uptime," especially when you work with your local Case IH dealer to remotely diagnose maintenance and service issues and get the parts you need to stay up and running.
Each of these companies presses the point that they try to make their systems simple to operate and workable across multiple platforms.
Of course, some equipment monitoring can be as basic as having a camera with a monitor in your tractor or combine cab. I checked out Farmtronics.com where you can get a variety of implement and vehicle cameras, including a cabled rear-view system, a digital wireless quad camera system, and a camera that allows you to see color in the dark.
From the simplest electronics to the most sophisticated vehicles and ag machines, monitoring systems keep getting better, easier to use and more valuable year after year.
---
Michael Gustafson has written for and about farm equipment companies, their products and dealerships for more than 40 years, including 25 years with John Deere. He lives on a small acreage in Dennison, Ill.